Since the Fed meeting, as I predicted on March 10, we've had 5 straight green days for gold. For those of you who have bought in with me around 1200$/oz, I'd say this rally so far has been all that we have hoped for. For those that were looking for a secular uptrend in gold prices before buying in, well we've got it now, and the momentum traders are beginning to pile in.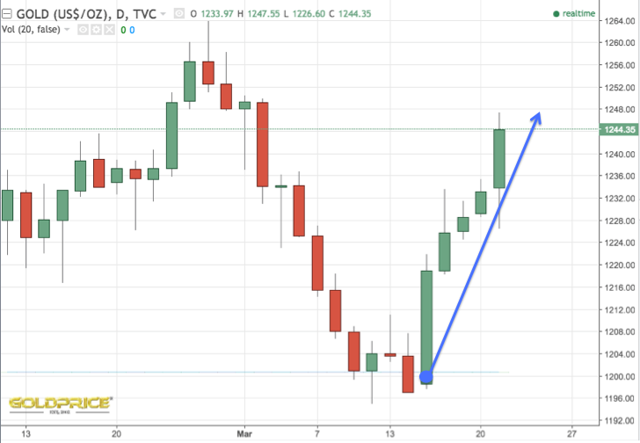 (Source: Gold Price)
Gold was up around 11 bucks today, an 0.89% gain on the day, and the gold ETF (NYSEARCA: GLD) closed with around a dollar gain per share, an 0.90% gain on the day.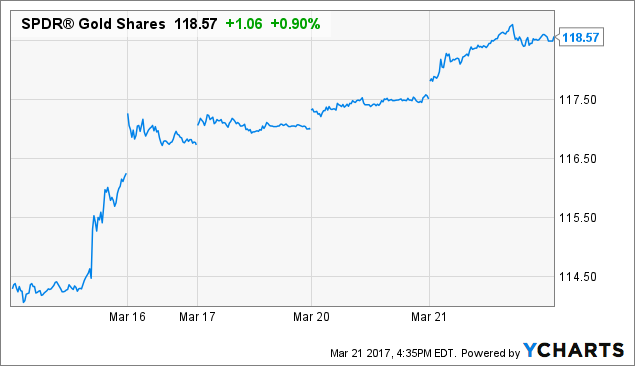 For those buying GLD, I'll be providing my thoughts on the current macroeconomic environment influencing gold prices as well as technical analysis, and my thoughts on future prices.
GLD Macroeconomic Factors
As I mentioned a few weeks ago, I saw the markets needing a correction, and it seems the beginning of one came about today. As of this writing, the Dow (NYSEARCA:DIA) is down over 200 points. The Dow, the S&P 500 (NYSEARCA:SPY), and the Nasdaq (NASDAQ:QQQ) are all down more than 1%. For the S&P 500, we haven't seen such a bearish move since January 30 this year. The CBOE Volatility Index (VIX) has spiked, and investors are fleeing to gold and GLD for safety.
Meanwhile, investors also loaded up on Treasuries as a safe-haven asset, driving bond yields on the 10-year lower. The lower market interest rates drove the financial sector stocks lower as bank lending profits became squeezed. The low rates of interest, however, boosted the demand for gold. Historically, gold performs well when interest rates cannot keep pace with inflation.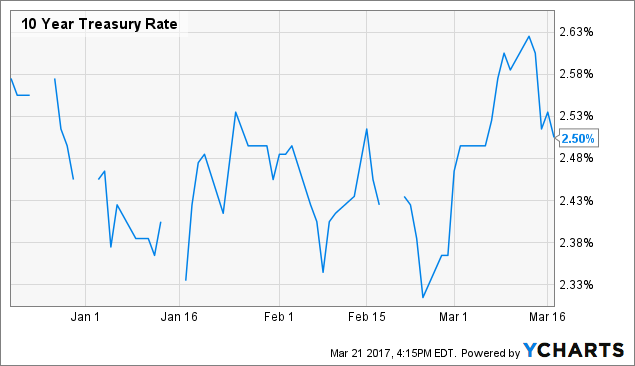 10 Year Treasury Rate data by YCharts
The inflation fears are creeping in, and it isn't just me warning about them anymore. The investors interviewed on CNBC this morning opined that inflation was actually much higher than even what the market currently expects. People will begin to realize that the Fed is way behind the curve. While the Fed should be sending a more hawkish tone, it has instead reiterated its dovish stance. Recent statements from Fed officials after their March meeting show that they're still dovish. Just recently, Neel Kashkari, the president of the Minneapolis Fed, said he didn't see any indication of it. The doves in the Federal Reserve wouldn't be able to see inflation if it were right under their nose, but the market has already started to price inflation expectations into gold prices. Once inflation accelerates, we can be sure GLD will match it.
Uncertainties due to whether Trump's tax cuts and other business-friendly policies will come to avail are also headwinds for the overall market and result in a bullish sentiment for GLD. FBI Director Comey has found no evidence of wiretapping in Trump Tower, the Trump budget cuts seem to be dead on arrival, and the American Health Care Act looks shaky heading into the vote on Thursday. The BAT, if passed, would destroy retailers, and more and more people are realizing this even as the retail bubble deflates. All of these represent setbacks for the Trump administration, and as the Trump trades are unwinding, the safe havens and GLD will take advantage of this.
The dollar index continues to weaken after the Fed meeting, and doesn't show signs of stopping. In fact, the dollar is down about 2% since the rate hike.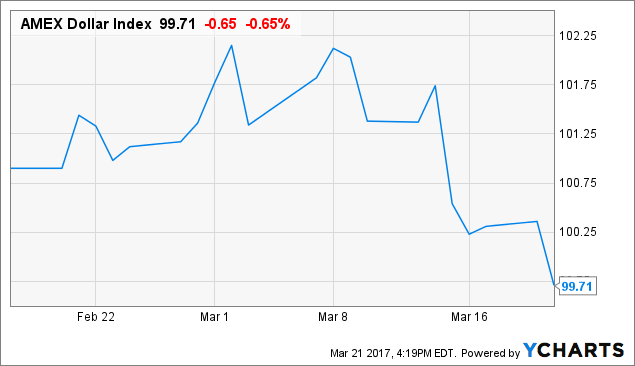 A weaker dollar makes for higher gold prices, as gold is priced in dollars. This, in turn, results in higher GLD prices.
GLD Technical Analysis
As I've stated before, gold prices move like currency, and the primary tactic to analyze currency movements is with technical indicators.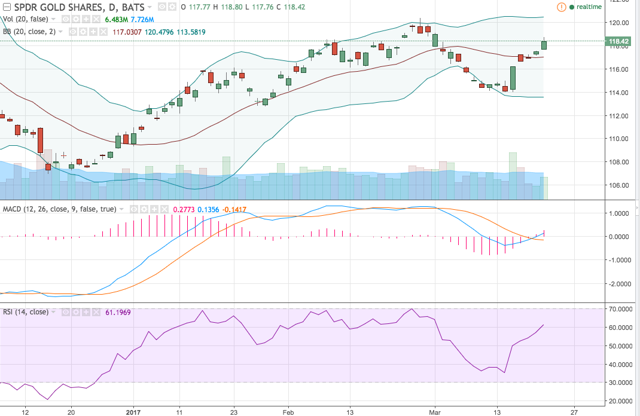 (Source: TradingView)
Looking at GLD technicals, one can see that the momentum trade has a while to go before it gets exhausted. The MACD, as a lagging indicator, has just crossed the signal line to the upside, and the histogram is beginning to widen. That means there's still more upside if you've missed the earlier movement.
Meanwhile, we should also keep an eye out on the RSI. While we enjoy seeing the trend confirmation of the MACD, once the RSI signals a price that is overvalued, we should liquidate our positions and sit out until a favorable price is once again attained. The RSI, as of this writing, is currently hovering around 60, and there's still movement left to go before it crosses the 70 threshold, where investors can begin to contemplate selling.
These technicals show us that profits can still be achieved in the next couple of days.
Conclusion
GLD still has potential for an upward move. Once the technical indicators announce a warning sign, I will liquidate a portion of my current gold holdings and take dollar profits. I will buy in again once the price is low. Investors willing to take larger risks can make the same trades with the junior gold miners ETFs (NYSEARCA:GDXJ) or leveraged gold ETFs (NYSEARCA:JNUG).
Disclosure: I am/we are long GDXJ, JNUG.
I wrote this article myself, and it expresses my own opinions. I am not receiving compensation for it (other than from Seeking Alpha). I have no business relationship with any company whose stock is mentioned in this article.
Additional disclosure: I hold gold bullion. This article is based on public information that I assume to be true and correct. My assumptions and forecast may be wrong. This investment may not be suitable for all investors. Always consider your specific investment goals and styles before investing money.