Self-service data analytics software company Alteryx (Pending:AYX) is set to go public this Friday, the 24th. The purpose of their platform is to help organizations enhance their business analysis and, therefore, improve business decisions and outcomes. Their competitors include heavy hitters, such as IBM (NYSE:IBM), Microsoft (NASDAQ:MSFT), Oracle (NYSE:ORCL), etc., as well as smaller companies that offer more niche data preparation option, such as MicroStrategy (NASDAQ:MSTR) and TIBCO Software.
They Have Strong Growth
It's not surprising that Alteryx is experiencing strong growth. If they weren't, then this IPO would be dead on arrival. For 2016, revenue was approximately $86 million, up from $38 million for 2014. This represents a CAGR of 50%. There is no question that their focus is going to be on growing their top line in the upcoming years, but this will likely not be cheap. Customer acquisition is not cheap and probably the primary strategy of growth for Alteryx. For 2016, sales and marketing accounted for more than 67% of total revenue. The company also plans to expand within their existing customer base and increase their value proposition. This can also become pricey as it would likely indicate more investing in research and development as well as strategic acquisitions. One of these acquisitions took place in January of this year to enhance their governance capabilities.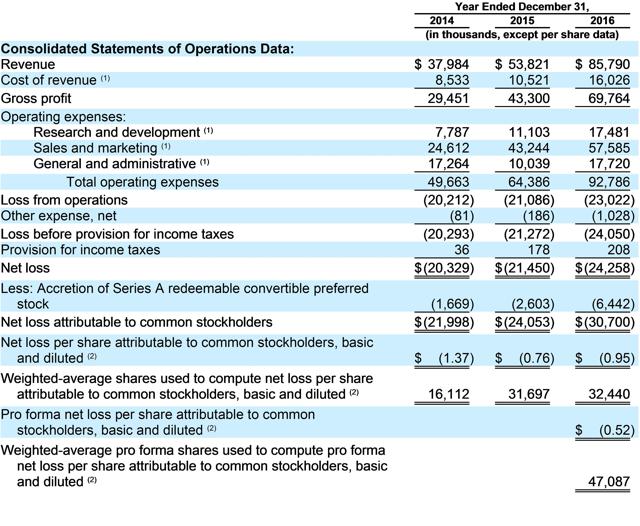 Source: Alteryx's S-1
There Is a Lot of Risk
This is an emerging growth company with limited operating history in a competitive industry. Alteryx has been licensing their platform only since 2013, which makes it very difficult to evaluate their business model. Since the company is still young and top-line focused, they are expected to invest heavily in their future growth, and their ability to grow and manage that growth is not easily predictable. The industry is also very competitive and new standards from innovation from competitors can be unpredictable and have a significant impact on Alteryx's business. Alteryx has also never shown profitability and these losses over the long term can cause the company to become heavily leveraged and hinder their operations.
Below is their balance sheet, which is pretty much what one would expect from this type of company coming to market. They have some decent cash on hand in comparison to their current liabilities. Considering their current liquidity situation, the IPO proceeds, and future ability to add leverage if needed, I think that they would be well positioned to fund R&D, acquisitions, sales and marketing, etc.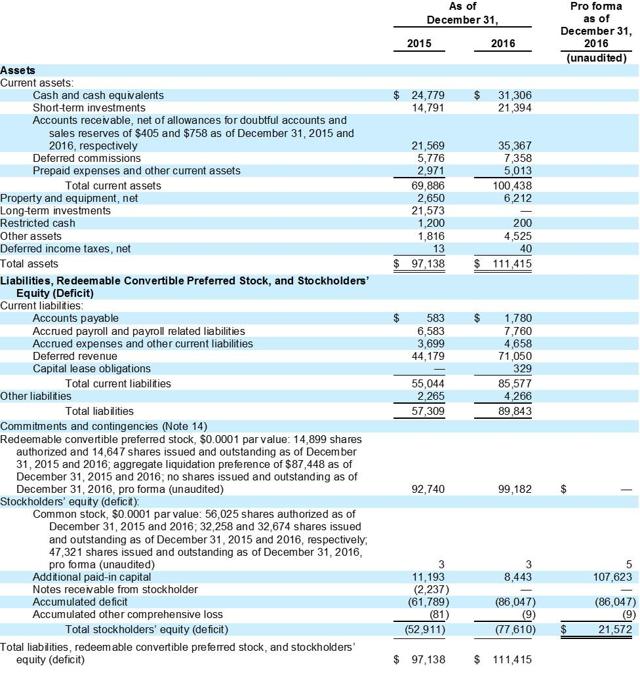 Source: Alteryx's S-1
It's A Little Pricey, But It Will Be Successful
The $12-14 price range would place Alteryx's valuation between $676 and $788 million, with $732 million being the midpoint. That midpoint places them at a P/S ratio of 8.5. That's not a cheap price and about 60% higher than the software industry average, but it's also not an expensive price. So, considering the risk and valuation, why do I believe this will be successful? I think it's partially due to the AppDynamics (Pending:APPD) acquisition by Cisco (NASDAQ:CSCO). Right before AppDynamics made it to the market, Cisco bought them for a 95% premium compared to their IPO pricing. The acquisition price was for $3.7 billion, which represents a P/S ratio of approximately 16; nearly double Alteryx's projected P/S ratio at the midpoint. This should still be very fresh in the minds of investors and may impact the way some view the Alteryx IPO.
Conclusion
I don't find this IPO to be particularly good or bad, but rather I just see it as being typical. It's almost exactly what you would expect from an emerging growth software company. I think the valuation at $12-14 per share is fair, but I have a feeling the stock will close around $19-21 on the opening day of trading, which is high. This IPO is not for everyone, but if you are not risk-averse and looking for a high growth enterprise software company, then Alteryx would fit your bill. However, use caution when pulling the trigger. I would expect some serious short-term volatility and withdraw interest at more than $18 per share.
Disclosure: I/we have no positions in any stocks mentioned, and no plans to initiate any positions within the next 72 hours.
I wrote this article myself, and it expresses my own opinions. I am not receiving compensation for it (other than from Seeking Alpha). I have no business relationship with any company whose stock is mentioned in this article.