As dedicated REIT investors, we are constantly analyzing the REIT universe to see where the opportunities lie. We will open by seeing how REIT valuation has changed over recent years and then dig deeper to ascertain how pricing has skewed within REITs.
Cheaper, bigger dividends and higher spreads
REITs have had a rough go in market sentiment lately with P/FFO declining materially over the past 52 weeks.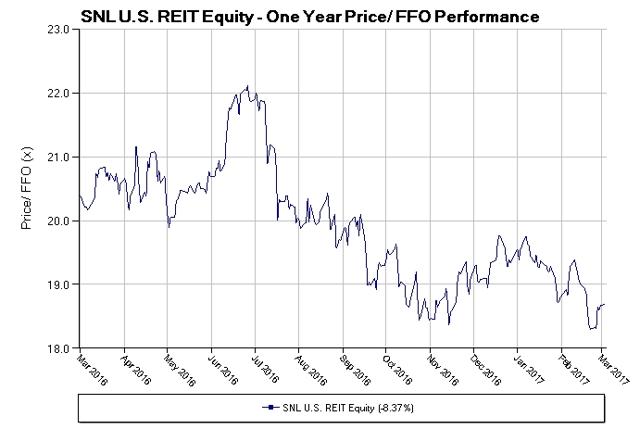 Source: SNL Financial
At its new valuation, REITs are cheaper than they have been historically relative to other asset classes. Looking at a 3-year span, P/FFO is roughly flat with some fluctuation.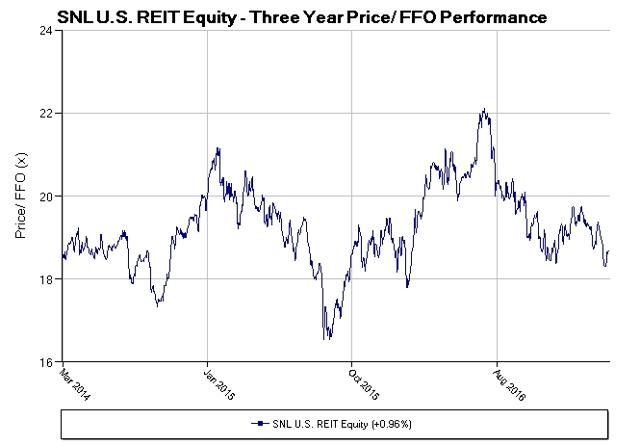 Source: SNL Financial
With REITs trading at a flat multiple over 3 years, they got relatively cheaper as the broader market's multiple has expanded substantially with the S&P trading at all-time highs. Bonds are similarly pricey with yields still quite low.
REIT prices, however, have only kept up with growth while dividends expanded.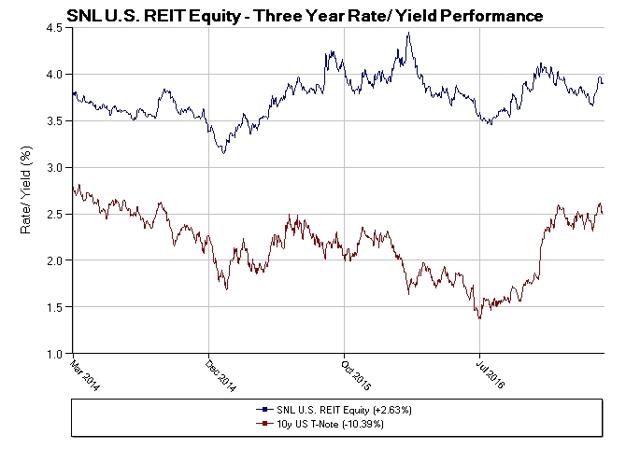 Source: SNL Financial
REIT yields are up over 3 years while treasury yields are down. This means the spread to treasuries has increased and REITs are arguably more attractive relative to treasuries than they were in 2014. From an NAV standpoint, REITs also look cheap at a 5.3% discount on average.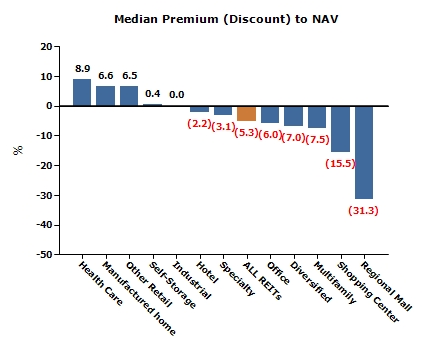 Source: SNL Financial
Historically, REITs trade approximately at NAV, so this represents a better-than-average entry point.
Bears would argue that REITs are in trouble if interest rates rise, but I think much of this fear is priced in. Overall, we are mildly bullish on REITs due to valuation and moderately strong fundamentals.
Internal skew
REIT valuation has fluctuated as we showed above, but the overall sector's changes are minimal compared to the skewing within the sector.
With the overall REIT index trading at 18.5X 2017 estimated FFO, one would think that is where the average REIT trades. This is not the case.
The mean REIT trades at 15.7X 2017 estimated FFO and the median REIT at 15.3X 2017 estimated FFO. The mean and median are about 3 turns cheaper than the index because there is a tremendous valuation skew in favor of the large caps. Over the past 3 years, large-cap REITs returned 37% while small and mid caps returned about 20%.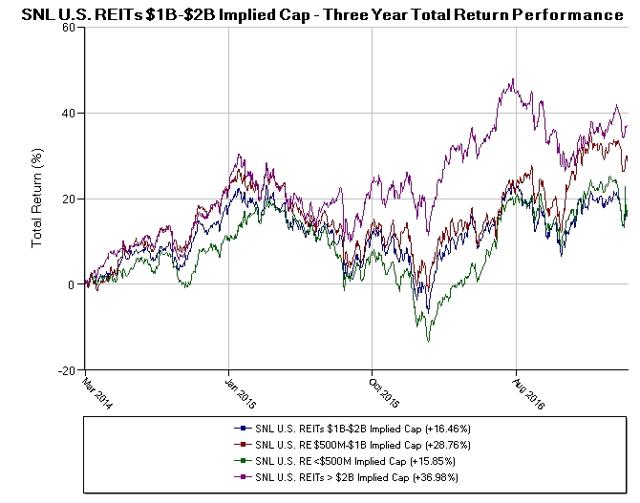 Source: SNL Financial
We anticipate much of this move was caused by massive inflows to the Vanguard REIT Index (NYSEARCA:VNQ), as Vanguard now owns over 15% of many REITs. Due to the nature of the ETF, these purchases came without regard for valuation. and REITs are put in the VNQ largely based on market cap. As such, virtually all large-cap REITs received the benefit of these inflows, while most small and mid caps did not get to participate.
This benefit was strictly to the market price, without any benefit to company fundamentals. Therefore, we are inclined to believe small and mid caps are opportunistic relative to large caps. In owning small caps, one can easily achieve a yield of 5% as compared to only 3.8% for large caps.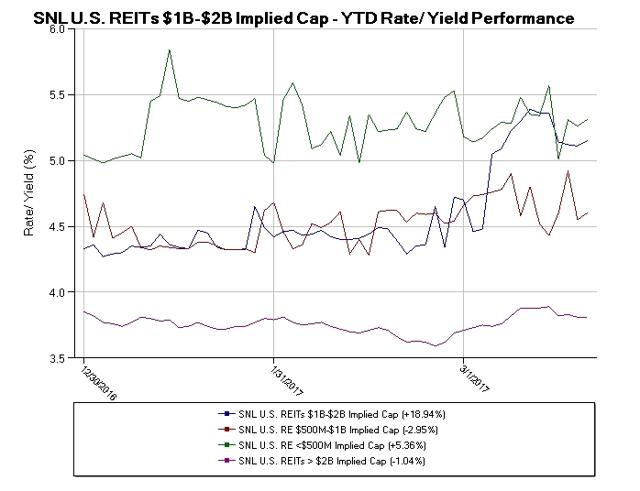 Source: SNL Financial
Digging even deeper to the individual stock level, there are many REITs trading at larger discounts and larger yields. The rise in prevalence of ETFs and other passive investing has increased mispricing as there are now fewer correcting forces (discerning money) as a portion of overall investment dollars. Given this environment, it is entirely possible to create an entire diversified REIT portfolio that yields north of 7% with a weighted average 2017 estimated P/FFO under 12X. Further, because the source of the excess yield is mispricing, it can come without increased risk.
In summary, REITs are reasonably well positioned today, so one could make an acceptable risk-adjusted return with passive REIT investment like the VNQ, but there are better ways to gain REIT exposure. Small caps and mid caps are presently better on average than large caps and a clever investor can find the best within those pools. It is a stock picker's market. Do the independent research and take advantage.
Disclosure: This article is for informational purposes only. It is not a recommendation to buy or sell any security and is strictly the opinion of the writer. Investing in publicly held securities is speculative and involves risk, including the possible loss of principal. The reader must determine whether any investment is suitable and accepts responsibility for their investment decisions. Dane Bowler is an investment advisor representative of 2MCAC, a Wisconsin registered investment advisor. Commentary may contain forward looking statements which are by definition uncertain. Actual results may differ materially from our forecasts or estimations, and 2MCAC cannot be held liable for the use of and reliance upon the opinions, estimates, forecasts and findings in this article.
Disclosure: I/we have no positions in any stocks mentioned, and no plans to initiate any positions within the next 72 hours.
I wrote this article myself, and it expresses my own opinions. I am not receiving compensation for it (other than from Seeking Alpha). I have no business relationship with any company whose stock is mentioned in this article.