Since the collapse in natural gas pricing mid-2014, a key term for energy MLP investors has been "commodity exposure." The vast majority of energy MLP investors are seeking the stability offered by fee-for-service business models and not profits that are directly tied to the rise and fall of energy commodity pricing. For those who were not well-versed on the term pre-2014 and its implications, they sure should have learned an important lesson.

Dorchester Minerals, L.P. (NASDAQ:DMLP) is an interesting energy master limited partnership utilizing an oil and gas royalty and net profit interest NPI business plan. It is exactly this unhedged, commodity exposure that DMLP offers investors. Between 2010 and 2013, I wrote several articles on SA reviewing DMLP and have been a shareholder since early 2006. For full disclosure, I am not an oil guy, I am not a natural gas guy, I am not a petroleum engineer guy. However, based on my research of DMLP and my personal history of 10+ years of ownership, I still believe DMLP is a core energy portfolio holding for income, for diversification, and for overall oil and gas exposure.
Most oil and gas royalty companies use a Royalty Trust structure and are usually limited to a specific geographic area or field. Many are spin-offs of E&P companies and could have a termination date or production limits after which the Trust expires worthless. Some may take on debt, many do not. Income to the Trust is usually tied to commodity prices, some firms hedged and some do not and to production levels for the specific acreage, coupled with the potential for generating new lease bonuses.
DMLP is structured as a MLP and issues a K-1 to its unitholders. There are advantages and disadvantages for investors and discussions continue as to their inclusion in portfolio construction. What interests me are the business attributes of DMLP rather than its structure, but I consider the MLP structure to be desirable, especially in taxable accounts. While UBTI always seems to be a topic of conversation, DMLP issues the following in the risk section of the 2016 10-K:
Tax exempt investors may recognize unrelated business taxable income. Generally, unrelated business taxable income, or UBTI, can arise from a trade or business unrelated to the exempt purposes of the tax-exempt entity that is regularly carried on by either the tax-exempt entity or a partnership in which the tax-exempt entity is a partner. However, UBTI does not apply to interest income, royalties (including overriding royalties) or net profits interests, whether the royalties or net profits are measured by production or by gross or taxable income from the property. Pursuant to the provisions of our partnership agreement, our general partner shall use all reasonable efforts to prevent us from realizing income that would constitute UBTI. In addition, our general partner is prohibited from incurring certain types and amounts of indebtedness and from directly owning working interests or cost bearing interests and, in the event that any of our assets become working interests or cost bearing interests, is required to assign such interests to the operating partnership subject to the reservation of a net profits overriding royalty interest. However, it is possible that we may realize income that would constitute UBTI in an effort to maximize unitholder value.
Dorchester Minerals is a 2003 roll-up of three firms. DMLP owns the rights to over 3 million gross acres, net 377,000 acres, and operates both as a net profit interest partner and as a leaser of land in exchange for a royalty on any production. In addition, DMLP has the capabilities of issuing more shares in exchange for additional reserves, as they did in 2010. The ability to grow over time through share issuance is a relatively unique aspect for a royalty firm. DMLP has no long-term debt and is prohibited by its charter from taking on debt.
One important aspect for me is ongoing oil and gas reserves versus production. If reserves are not replaced then a Trust will eventually terminate, as it runs out of revenue and its shares become worthless. DMLP has a history of increasing proven oil and gas reserve, and in many years, reserve increases exceed production. This growth is derived from organic reserve expansion on acreage controlled but not previously developed. Management's ability to expand reserves on existing properties is a substantial reason I buy into DMLP. From its 2015 Annual Report Presentation dated May 2016: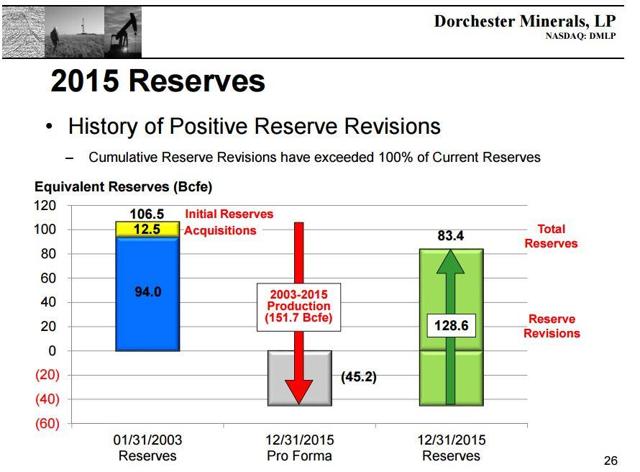 As shown, from 2003 to 2015, DMLP replaced 85% of its production, with 90% of the replacement from organic expansion.
The most recent reserve information is from the 2016 10-K filings as well and is offered below from page F-13.

From 2014 to 2016, management replaced its oil production by 175%, but natural gas reserve replacement was only 15% of reserve sales and production. This is worthy of following. The table notes seem to indicate the reason for the downward revision was a factor of low natural gas prices. It would seem to imply management's belief that organic reserve growth will improve with better market conditions.
The diversity of land under DMLP's control is quite interesting as it includes many of the more prolific and promising fields. Below is a map of the location of acreage and a pie chart of December 2015 proven reserves by area. As shown, 31% of reserves were in the Permian Basin and that area has been getting a lot of interest recently. In addition, the chart outlines the split of reserves between Royalty and NPI. These are also available in the 2015 Annual Report Presentation linked above.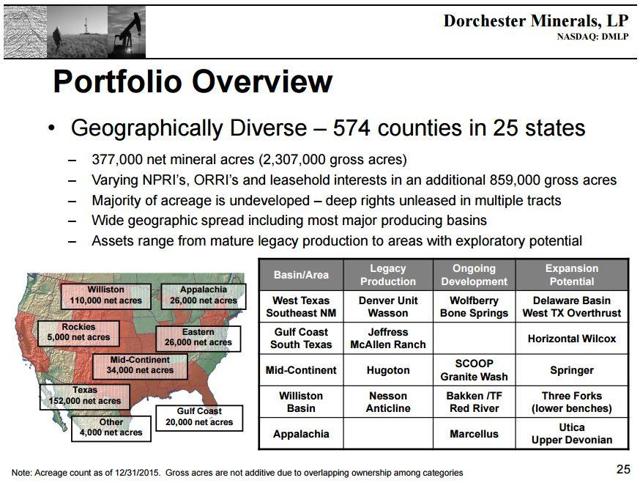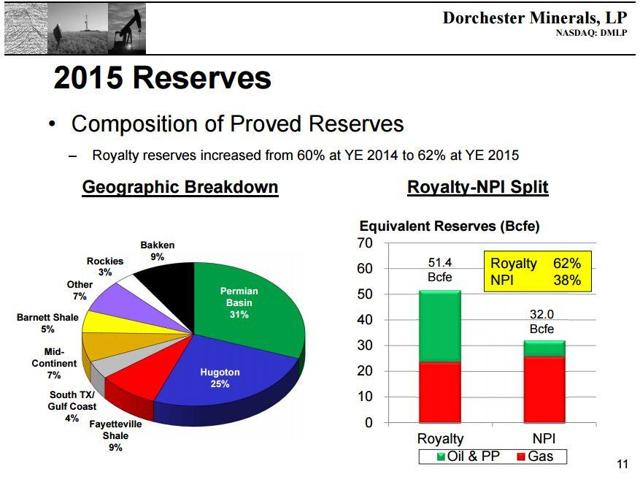 It is not unusual for DMLP to offset the risks associated with exploration taken by its drillers/customers. It is not uncommon for contracts to stipulate the royalty or NPI is not payable until the operator has recouped 150% of the cost to drill the well. In reviewing SEC documents, there will be references to wells that are operating but not currently paying out and these assets will be in the future.
Unit prices have been quite volatile, to say the least. Below is a 5-year chart of DMLP's price-only action. In addition, the chart offers insight into the volatility of earnings as well, with either up green arrows indicating year-over-year quarterly earnings growth or a down red arrow indicating the opposite. Compared to the broad-based Alerian MLP ETF (NYSEARCA:AMLP) benchmark price-only 4-year chart, DMLP has performed about in line with the MLP sector.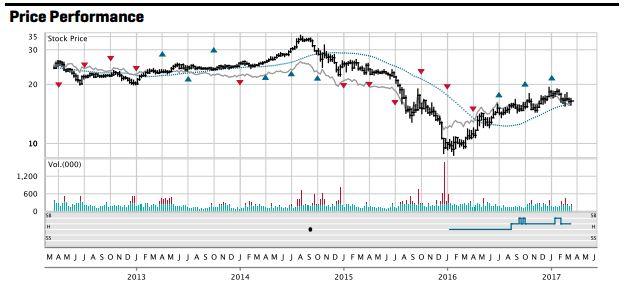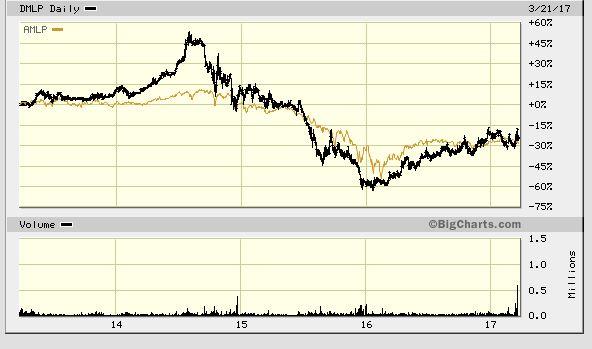 As with most MLPs, unit price only is not the sole criterion for owning DMLP as a significant goal could be to generate tax-advantaged income. Over the previous 10 years, I have collected $18.53 per unit in distributions. However, as DMLP's revenue is directly tied to production volume and unhedged commodity price, and as distributions are directly tied to revenue, investors should expect a lumpy and variable quarterly distribution. The current yield is 5.52%, not out of range for a MLP competitive yield.
A mainstay fundamental graph that should be included in most investors' research is the 5-yr Total Return graph comparing the company with its peers. This graph used to be shoveled off as part of the Proxy Notice that few people read, but is now part of the Annual Report. Of interest to DMLP investors is not only its outperformance on a total return basis, but the "Index" the company uses for peer comparison. Below is the information, also available in the 2016 10-K linked above: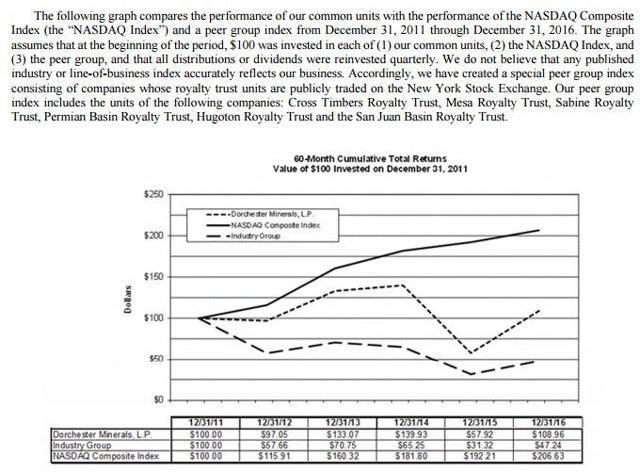 Interestingly, DMLP investors fared about breakeven on an annual total return basis of 1.8% over the past 5 years, but shined compared to the -10.6% annual total return of its royalty peers.
Management generated a 12-month trailing return on equity of 29.9%. As the firm utilizes no debt, return on invested capital is an impressive 30% as well.
There is little financial analysis on Dorchester Minerals and the firm is not covered by most brokerage researchers. With a market cap of $535 million, an MLP structure and a variable dividend, DMLP has, and probably will be, mostly a retail selection. Kurt H. Wulff's latest company review is from last May, 2016, and is linked. Wulff has followed DMLP for a number of years and publishes McDep LLC, an energy research service. This in-depth review pegs a fair value for DMLP at $24 a share when units were trading at $13. As of February, 2017, Wulff maintains his "buy" recommendation and $24 price target, even though prices have moved up to $17. Over the years, I have learned to appreciate the work Mr. Wulff offers.
I am not in the business of forecasting the future of energy prices. However, I believe over time the price of energy will increase or at least will do no worse than today. Understanding the niches of energy investing, there is a place for a more speculative, high commodity exposure investment, and DMLP is my choice.
Dorchester Minerals offers several investment attributes that I focus on:
1) unhedged exposure to rising energy prices;
2) continued organic expansion of reserves;
3) about equal exposure to oil and natural gas;
4) diversified land holdings;
5) ability to acquire additional reserves;
6) tax-advantaged income;
7) a management team I have come to appreciate and respect.
I am pleased with my holdings of DMLP and have no intention of selling anytime soon.
Author's Note: Please review disclosure in Author's profile.
Disclosure: I am/we are long DMLP.
I wrote this article myself, and it expresses my own opinions. I am not receiving compensation for it (other than from Seeking Alpha). I have no business relationship with any company whose stock is mentioned in this article.