Cliffs Natural Resources (NYSE:CLF) closed at $8.35 on March 21, 2017. The stock price performance during 2016 was outstanding. However, it remains below the price where it was when the new management team took over.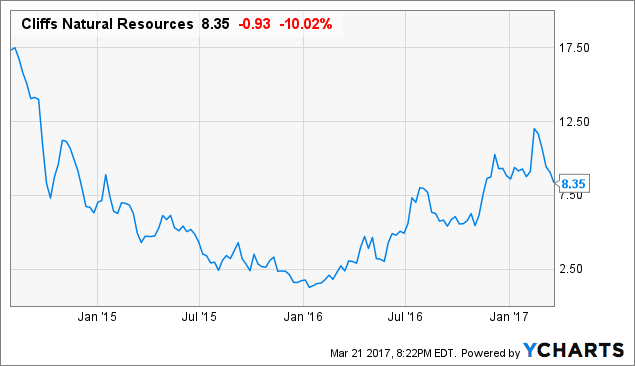 The recent proxy statement available at the SEC website makes for interesting reading. The proxy statement mentioned a September 2016 new hire, Mr. Celso Goncalves, as assistant treasurer. The disclosure was required due to Cliffs' related party policy. The hire itself is nothing major, as the experience listed for Mr. Goncalves makes him well suited for the roll. What caught our eye was the $203,993 provided for relocation expense and the $20,000 signing bonus. The details are shown below:
In September 2016, Cliffs hired Mr. Celso Goncalves, the son of our Chairman, President and CEO, as our Assistant Treasurer. Cliffs had an opening for a candidate with a strong investment banking background as well as a potential successor to our Treasurer role. Mr. Celso Goncalves has a depth of senior level investment banking experience with Deutsche Bank and Jefferies, LLC as well as other relevant experience and was an appropriate match for the role. With respect to fiscal year 2016, Mr. Celso Goncalves was paid a salary of $58,333.31, earned incentive compensation under the Management Performance Incentive Plan of $59,444.00 and participated in other regular and customary employee benefit plans, programs generally available to our employees. In addition, in September, 2016, Mr. Celso Goncalves was granted a Restricted Stock Unit Award of 3,000 common shares, which had a grant date value of $16,020, received a signing bonus of $20,000 and relocation assistance of $203,993. The foregoing compensation arrangement is considered a Related Party Transaction under our policy. This transaction was reviewed and approved by our Audit Committee in accordance with the policy.
A Large Investor Exits Position
During the third-quarter conference call on October 27, 2016, Mr. Goncalves mentioned that he was the second-largest individual shareholder after Mr. Connell. Recent filings by Mr. Connell suggest he no longer owns any shares, thus making Mr. Goncalves the largest single individual shareholder.
On February 10, 2017, a form SC 13G/A was filed by Mr. George Connell. The form indicated that an event took place on December 31, 2016, that required the filing. The form indicated that Mr. Connell was no longer a holder of more than 5% of the stock; in fact, it did not list any shares. On January 28, 2016, a form SC 13G/A was filed showing holdings of 14,300,000 shares, or 9.32%, for December 31, 2015. A major shareholder decided to exit in 2016.
On February 9, 2017, Cliffs sold common stock at $10.75; this was good timing by the company given today's closing price of $8.35.
Why has the stock been weak?
The infrastructure spending that President Trump talked about appears to have taken a back seat to healthcare reform. This may have dampened the expectation for greater steel demand.
Tax reform may not happen during 2017.
The Buy American steel proposal might result in trade issues or a trade war. If U.S. firms were all required to purchase only U.S.-made steel, then the economy could experience a decline of the steel industry, which may lack the capacity to supply all the steel demanded, resulting in demand-pull inflationary pressures. U.S. steel firms that export products may have their export markets dry up if countries adopt the buy local-only mindset. The result might depressed steel prices, with lower steel prices lowering margins.
The proxy statement wants approval to increase the number of authorized common shares to 607 million, from 407 million. A 200 million share increase, with 15 million additional common shares for the 2015 Equity Plan.
Shareholders might be worried about future dilution.
Uncertainty over the economy to continue growing, with increased uncertainty with regard to Congressional action and international developments (Brexit), etc.
There remains $540 million of secured debt on Cliffs' balance sheet.
Steel shares have fallen the past month (see chart). Cliffs has been hit the hardest.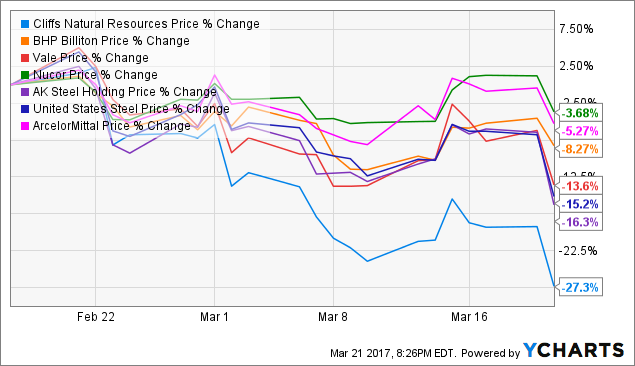 Bottom Line
The company's balance sheet has been improving, thanks to the sale of equity to reduce debt and extend maturities. There is a secured debt issue outstanding, $540 million 8.25% First Lien Notes due 2020. Up to 35% of the notes may be retired before March 31, 2018, at 108.250% of par with proceeds from an equity offering. The redemption price drops to 100.000% on or after June 30, 2019.
Commodity prices and stock valuations can vary and appear out of sync depending on the assumptions made by the investor. Given the uncertainty of fiscal policy, the demand for steel may be less than some expected not long ago.
The key for the stock price is continued bondholder confidence and a better economic outlook. Given the recent headlines on the healthcare reform vote expected Thursday, March 23rd, and details in the proxy statement, the sell-off in the shares makes sense.
There are two risk-averse ways to gain equity exposure to Cliffs. The first would be to purchase one of the bonds and use the interest earned to purchase shares of stock. The other method would be the sale of put options to purchase the stock at a discount to the current price or earn the option premium. The latter method is being considered, but no action has been taken.
What do you think?
Disclosure: I/we have no positions in any stocks mentioned, and no plans to initiate any positions within the next 72 hours.
I wrote this article myself, and it expresses my own opinions. I am not receiving compensation for it (other than from Seeking Alpha). I have no business relationship with any company whose stock is mentioned in this article.