This comes as a surprise, I'm sure, to anyone not following Mexico closely. The country's benchmark index, the IPC, hit a new all-time high on Tuesday. The previous record was set last August at 48,600. Yesterday, the IPC briefly topped 49,000 before moving back down with the rest of the globe's markets.
It's easy to get caught up in the heat of the moment. As recently as January, we were hearing from all sides that Mexico was heading for huge troubles following Trump's election. The peso plunged, Mexico's president appeared impotent, less-than-peaceful protests broke out across Mexico and the mood fell into despondency.
At that point, many investors surely pulled the plug on Mexico. It took a major flow of money to drop the peso 15% so quickly from November on into January, after all. Which institutional investor is going to admit that they got caught long Mexico into the election and held on as it continued to apparently sink endlessly into January? This is the sort of situation that creates forced sellers, irrational thinking, and huge opportunities for those that remain calm.
All the more so in the case of Mexico, since the economy has been quietly humming along for years now and its stock market has gone with it. Mexico largely sidestepped the Latin American slowdown that's been hitting the region since 2012. In fact, Mexico's markets hit new records last August and have stayed technically in a bull market, only dropping 10% following Trump's victory. Here's the context you probably didn't see on CNBC: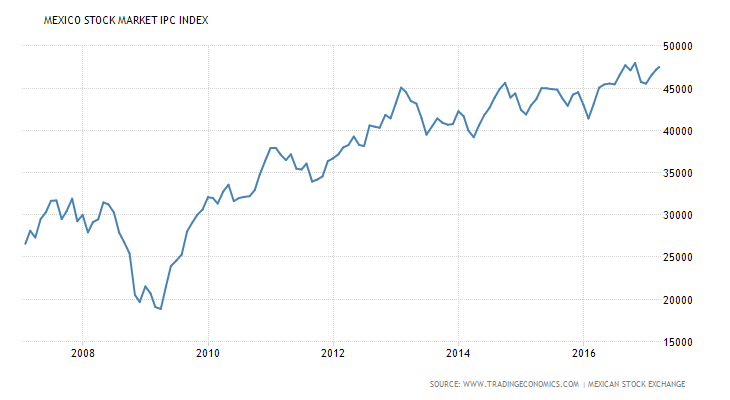 That little wiggle over on the right was the Trump effect. Doesn't look so bad when you take a look at the broader picture.
Even zooming into just the past year, the market didn't really move much in local currency following Trump's victory. A 10% immediate decline, followed by steady solid recovery, and now the move to new highs: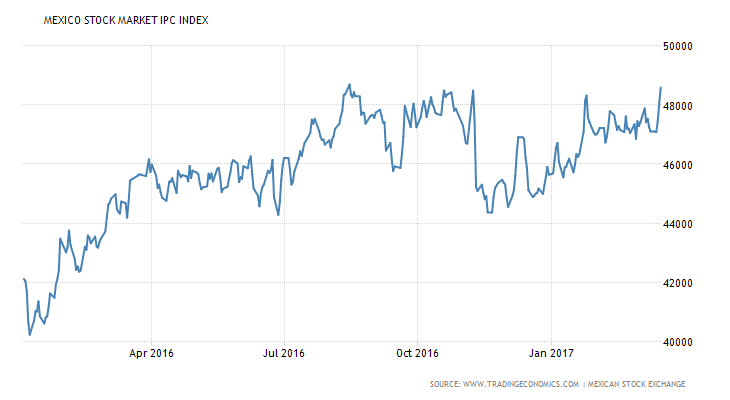 Sure, charts of US-listed Mexican companies looked terrible in November. But that's because American and European investors raced to dump all their Mexican assets, driven into an irrational frenzy. This sent the peso tumbling from the 18s to 22. Now we find ourselves back at 19 even on the peso, a 100% recovery of the post-election-day losses.
While foreigners panicked, calmer investors stepped in, bought Mexican stocks, and are now reaping the rewards. People say market timing is impossible – and it's certainly not easy – but buying the "blood in the streets" moments will never go out of style. When Mexico was dropping, it was the center of media attention, now as its market surges to new all-time highs, virtually no one in the media is talking about it. Add in the effect of the currency rebound, and the Mexico ETF (EWW) has put in a 20% rebound off the low:
When I named Grupo Aeroportuario del Pacifico (PAC) as my top pick for the year at $73, hardly anyone wanted to touch any Mexican assets. Now, I'm getting more queries about buying Mexican stocks - "Is it safe now?" people ask. PAC, for reference sake, is now at $92.
Sure, we're pretty safe at this juncture. It's become increasingly clear that Trump isn't actually going to hit Mexico with anything particularly harsh on trade. But that "safety" cost you a 26% move on PAC and 20% on Mexico as a whole. Anyone buying Mexico today is now buying the index at a fresh all-time high in local currency; if you want bargains you have to buy when there's panic.
Mexico has traded sideways for years now - the IPC has hardly advanced since 2013. So there's no reason why the index couldn't move upwards to 60 or even 70,000 now that's breaking out of a long-standing technical resistance area. Emerging indexes tend to fly up a lot faster than developed markets ones. Remember, the Mexican index was at 12,000 as recently as 2005 - a higher-quality emerging market can realistically quadruple or quintuple in a dozen years; something you'll only most rarely see in a developed market.
By the time CNBC rediscovers Mexico, its index will probably be up to 60k or even higher and it will feel easy to buy Mexico – it's calm and has a great track record they'll say. But the big profits come from buying when people are in a frenzy, not when it's emotionally easy to hit the ask.
Can The Gains Continue? My Outlook
From this point forward, look for the Mexican index itself to do the heavy lifting. The peso has recovered almost 15% since January, and realistically probably doesn't have much more upside in the near term. 19 was my recovery target for year-end 2017 and we already made it there in March. Some consolidation is in order.
That said, the break to new highs on the IPC index should carry it to 50k easily (investors love round numbers) and then well past there. Just remember how quickly the Dow shot up the moment it finally topped 20k for a reference point.
Mexico is a quality emerging market with a great demographic picture, a robust structurally-balanced economy, reasonably good governance, and a fading political/macroeconomic headwind. While you've missed the best prices if you're buying now, you'll probably still be happy with returns from here, at least compared to the S&P 500.
Disclosure: I am/we are long PAC.
I wrote this article myself, and it expresses my own opinions. I am not receiving compensation for it (other than from Seeking Alpha). I have no business relationship with any company whose stock is mentioned in this article.
Additional disclosure: This is a modified version of an article that first appeared in Ian's Insider Corner last week. Additionally, I own many other individual Mexican stocks; no position in EWW.