Genuine Parts Company (NYSE:GPC) distributes automotive and industrial replacement parts, office products, and electrical/electronic materials in the United States, Canada, Australia, New Zealand, Mexico, and Puerto Rico. GPC has four divisions: Automotive Parts Group [APG], Industrial Parts Group or Motion Industries [MI], Office Products Group or S.P. Richards, and the Electrical Products Group or EIS.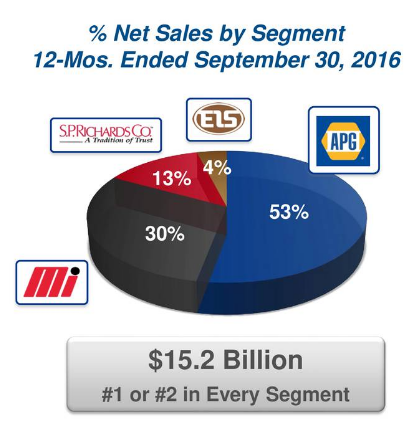 (Source: seekingalpha.com)
The last year has been a disappointment for GPC shareholders, down 0.6% and underperforming the GICS Distributors subindustry by 3%. The subindustry includes LKQ Corporation (NASDAQ:LKQ) which is an auto parts distributor, and distributors in different market segments such as Pool Corporation (NASDAQ:POOL) and Core-Mark Holding Company, Inc. (NASDAQ:CORE). GPC's weak stock performance is primarily due to poor revenue growth, impacted by challenging market conditions.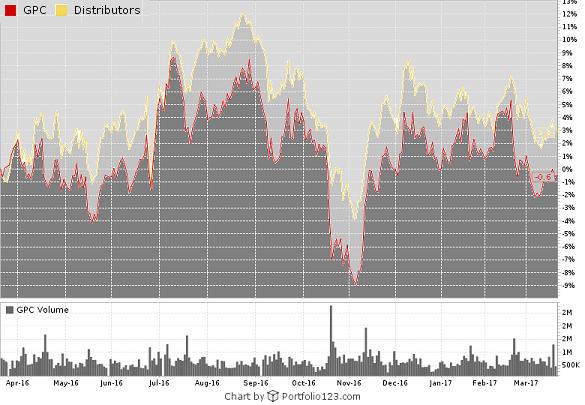 (Source:Portfolio123*)
* Portfolio123 is an affiliate link which give new sign-ups a 30-day free trial instead of 15 days.
Company Fundamentals
Both revenues and profits have been essentially flat for the last three years. According to GPC management, the U.S. sales environment has been challenging, but international operations in Canada, Mexico and Australasia, outperformed with stronger, more positive results.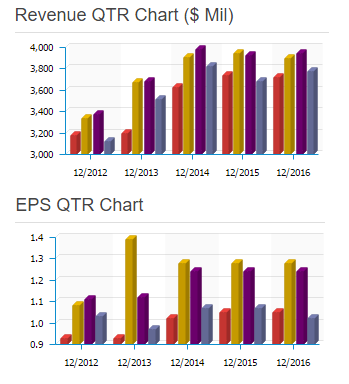 (Source:Portfolio123*)
GPC management has indicated that guidance for 2017 is 3% to 4% growth in sales net of a slight headwind from currency translation. Earnings per share is projected to be in the range of $4.70 to $4.80 for 2017, representing a low to mid-single-digit increase from the prior year. The full year earnings growth will likely be weighted towards the third and fourth quarters of 2017.
The table below highlights how GPC compares to the GICS Distributors industry. Note that the industry includes companies in different market segments than the four that GPC is conducting business in.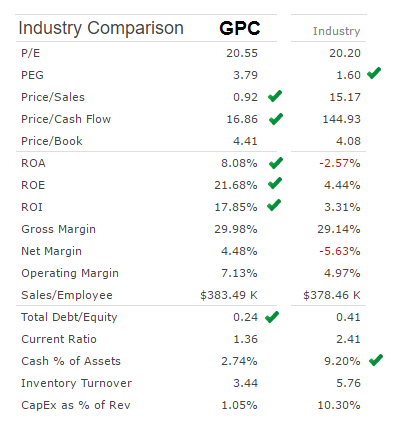 (Source:Portfolio123*)
GPC has superior fundamentals in certain areas. The P/S Ratio is lower because it is a mature company. Returns (ROI, ROE, ROA) are better. This is a reflection of the company management objective which is to acquire and maintain businesses that have a high Return on Invested Capital and low Weighted Average Cost of Capital.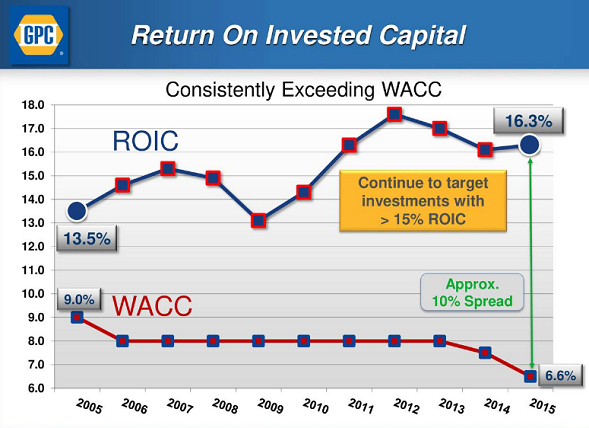 (Source: seekingalpha.com)
GPC has a relatively low Debt/Equity Ratio of 0.24 which puts the company in good shape for rising interest rates. The company also grows by acquisition, and the strong balance sheet is important in that respect.
Analyst Estimates
Sales and EPS have missed analysts' estimates on several occasions, meaning that the company is either providing optimistic forward guidance or is having difficulties forecasting future company performance. I tend to believe it is the latter, as GPC has been acquiring companies on an ongoing basis. In any case, the message here is that investors should be prepared for disappointments in future quarterly reports, although the misses aren't all that bad.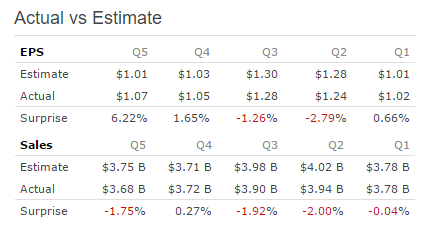 (Source:Portfolio123*)
The average recommendation for GPC is 3.0 on a scale of 1 to 5 with 1 being a 'Buy' and 5 being a 'Sell'. GPC's average rating is not particularly good for the distributors industry. For example, LKQ has an average recommendation of 1.5, while POOL has an average recommendation of 2.0.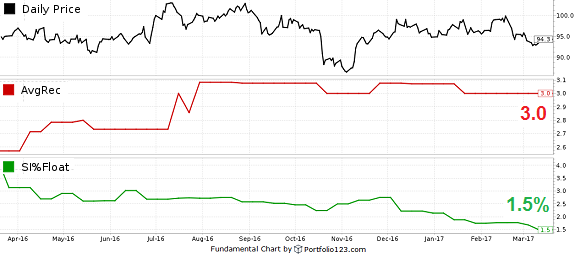 (Source:Portfolio123*)
The stock short interest is at 1.5% of float, down from ~4% a few months ago. 1.5% short interest is a better than average for the distributors industry.
Technicals
On the daily chart, the stock price is on a downward trend and sitting just above a support level of ~$.92.75.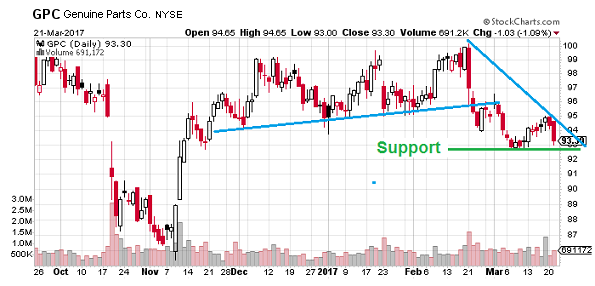 (Source: stockcharts.com)
On the weekly chart, the stock price appears to be confused as it is not really going anywhere. There is a long-term ascending trend line supporting the price at its current level. If the trend line is breached, then the stock price could fall to the next support level at ~$86.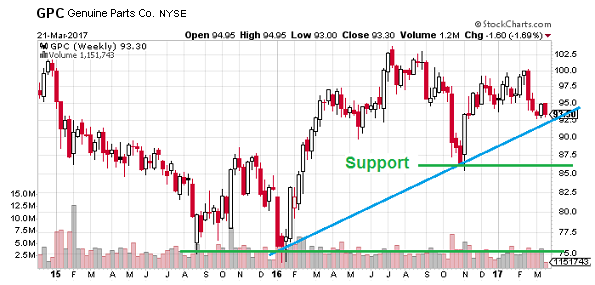 Investing in GPC
GPC is not a high growth company, but there are reasons why investors should consider buying and holding this stock. Simply put, it is the undeniable king of dividend growth with 60 years of increasing dividends.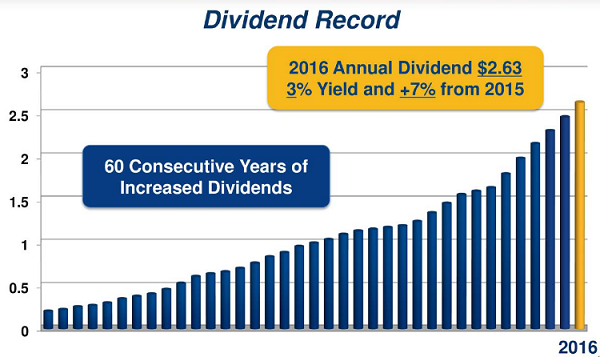 (Source: seekingalpha.com)
The company has a very strong commitment to return cash to shareholders, not only by means of dividends, but also share repurchases.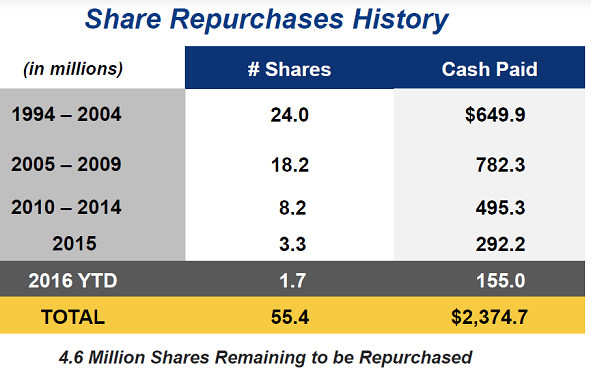 (Source: seekingalpha.com)
The question isn't 'Should I invest in GPC?' but 'Is now the right time to invest in GPC?'.
The answer really depends on the investor's general market outlook. If the investor has a bullish outlook and has a strong desire to hold a company with a history of increasing dividends, then it would be appropriate to buy shares now.
My market outlook is bearish and I suggest that other bearish investors wait until the share price of GPC drops to ~$87 before buying shares. If you are really bearish on the stock market (as I am), then start accumulating shares between $75 and $80. There is no rush to buy.
Wrap-Up
GPC has four separate divisions: Automotive Parts Group, Industrial Parts Group, Office Products Group, and the Electrical Products Group. Each division is a market leader or close to being one. The stock performance has disappointed over the last twelve months. Sales and earnings have been essentially flat for three years. Growth will return when the economy improves. GPC strives to achieve a high rate on invested capital along with a low weighted average cost of capital, resulting in high ROI, ROE, and ROA. GPC has a strong balance sheet and will be able to weather interest rate increases and grow by way of acquisitions. GPC has a history of returning cash to shareholders by dividends and share buybacks. I suggest waiting for a lower price before investing due to bearish market outlook.
Disclosure: I/we have no positions in any stocks mentioned, and no plans to initiate any positions within the next 72 hours.
I wrote this article myself, and it expresses my own opinions. I am not receiving compensation for it (other than from Seeking Alpha). I have no business relationship with any company whose stock is mentioned in this article.