There have been a number of recent articles, here on SA, unequivocally expressing that the U.S. equity market is super stretched. Some are more hyperbolic than others, but it has become a cottage industry to express this view point. Among the articles, my favorites are written by SA Contributor, Mark Bern, in his recent series "Convincing Traits Of Market Bubbles". Although I disagree with some of his points, I am 100% in agreement that U.S. large capitalization stocks are very stretched, perhaps driven by the proliferation of investment inflows into ETFs. As it way too complex, at least for me, to dig into the 500 companies in the S&P 500 (NYSEARCA:SPY), today, I am targeting Kellogg Company (NYSE:K).
Before we begin, let's look at Kellogg's valuation. As of yesterday's close, shares closed at $73.60. If we multiple by its share count of 351.1 million shares, we arrive at a market capitalization of $25.84 billion. Kellogg also has $6.7 billion in long term debt, so its enterprise value is $32.5 billion. The company is trading at 18.6X FY17 earnings and its EV/Sales is 2.56X.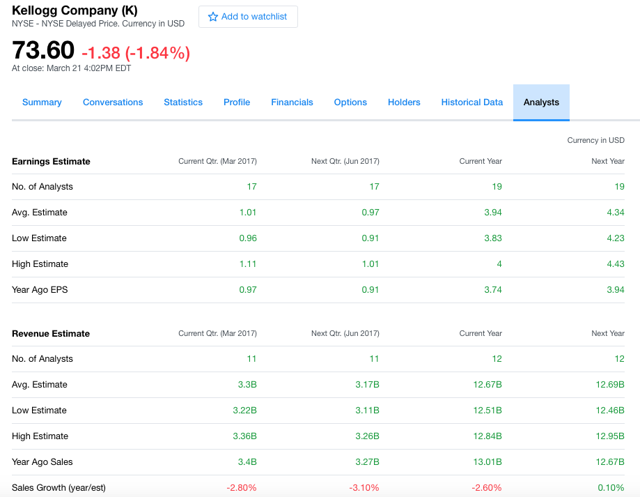 Next, let's look at Kellogg's cash flow from operations. As we can see, cash flow is stagnate. So Kellogg's cash flow from operations to enterprise value yield is 5% and its free cash flow yield is roughly 3%. Nothing to write home about.
Next, I looked at its revenue growth (or lack thereof) as well as operating profits for its major reporting segments. As we can see, very uninspiring.

If we look at Kellogg's brands, outside of Eggo and Special K, nothing really jumps out at me.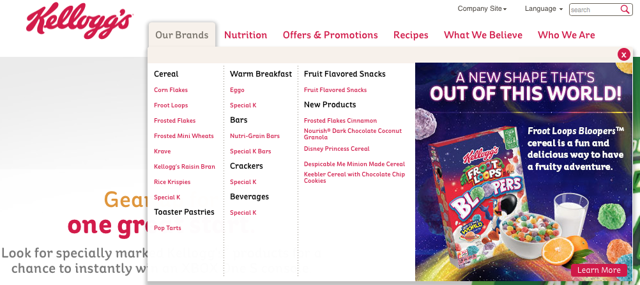 Finally, I was reminded by one of my avid readers that Kellogg's management made a very splashy and pubic exit by pulling its advertising campaign from website Breitbart. Let me be clear, I don't read Breitbart news, but I understand that this site is super popular among President Trump's strongest supporters. It is safe to say that many of these folks probably buy some of Kellogg's products. It was not smart for Kellogg to make a big splash about pulling its advertising from Breitbart. It is fine that they did, but they could have done so if a much more lower key way. This move will only continue to pressure Kellogg's weak sales and some Breitbart readers will boycott Kellogg's products.
See USA Today headline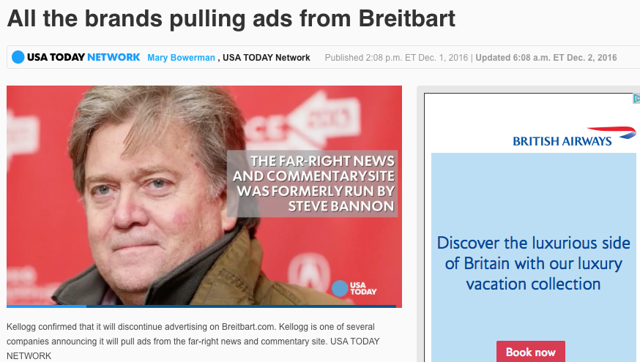 See Bloomberg headline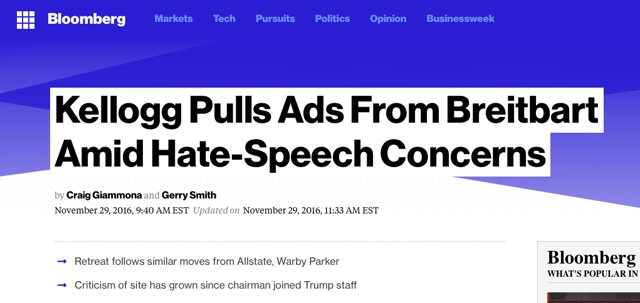 See Washington Post headline

Takeaway
Investors have been, until recently, successfully hiding in large capitalization dividend stocks. During that time, the steady and modest dividends and solid stock price performance give them a false sense of security and comfort. Now that the Trump rally may be ending, due to numerous self inflicted missteps by #45. If/when investors actually do some fundamental analysis, they will quickly realize that Kellogg is a sell at $73.60 and probably a good short, in the high $70s.
Disclosure: I/we have no positions in any stocks mentioned, and no plans to initiate any positions within the next 72 hours.
I wrote this article myself, and it expresses my own opinions. I am not receiving compensation for it (other than from Seeking Alpha). I have no business relationship with any company whose stock is mentioned in this article.