Beginning with the well-known "Swensen Six" ETFs as identified in David Swensen's book, Unconventional Success: A Fundamental Approach to Personal Investment, this article walks the reader through what is known as the Tranche Momentum Model (TMM). I've written several other Seeking Alpha articles on the "Swensen Six" and here is the link to one that gives additional background to this diversified group of securities. I now use VEA for Developed International Equities instead of VEU found in the referenced article.
The "Swensen Six" is constructed to be a Buy, Hold, and Rebalance type of portfolio. Think of this as a passive approach to investing. This is certainly a viable investing model and one I use with several portfolios. The Tranche Momentum Model is an active investing style and is designed to keep the investor out of deep bear markets. In addition it helps the investor avoid asset classes that are not keeping pace with other asset classes. An analysis of the TMM requires an understanding of the Kipling REDA HA Version 2.1 spreadsheet as that is what I use for analyzing this "Swensen" portfolio.
I'll begin with the Main Menu worksheet. The key variables involve several look-back periods and the weights assigned to each. For example, the 60 trading day look-back is assigned a 50% weight while the 100 trading day look-back period is set to 30%. Low volatile securities are preferred and a 20% weight is the allocation.
For the "Swensen Six" I've set the maximum number of assets or ETFs to use at any one time to be three (3).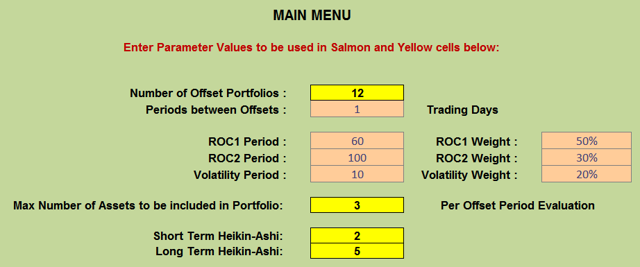 Portfolio: Listed below are the tickers and descriptions for the "Swensen Six." For this analysis I'll assume it to be a $100,000 portfolio.

Tranche Momentum Recommendations: Below is the critical worksheet. When I first look at this worksheet I identify which ETFs need to be sold out of the portfolio or to eliminate from the current buy list. Based on the latest data two ETFs are eliminated from current consideration.
VNQ is ranked below SHY, our cutoff ETF. Sell any ETF ranked below SHY. Note the red coding in column three (3).
TLT is the second ETF to be sold if held in the portfolio as it is currently priced below its 195-Day Exponential Moving Average (EMA). Note the red coding in column 11. Sell any security priced below its 195-Day EMA.
As for buy recommendations, we seek ETFs with a high absolute momentum ranking and the top three are: VTI, VEA (tied for #1), and VWO.
The next screen is found in the right-hand section of the worksheet, identified as REDA Expectancy. Here we are looking securities with Group rankings of 1, 2, or 3 with one (1) being the top possibility. While VTI holds a top ranking of one (1), there are warning signs coming from the Heikin-Ashi candles. Note that both H-A indicators are negative. Despite the number one ranking for VTI, it is time to lay off and not purchase this ETF at this time.
ETFs holding a Group ranking for four (4) or five (5) are designated as a Hold. If not already in the portfolio, do not buy, but if they are already in the portfolio, continue to hold them so long as the H-A candles are positive. Based on current data, hold VEA and VWO if they are currently part of the portfolio, but do not buy additional shares.

This quick analysis does not go into what is behind the REDA Expectancy calculations. For additional details of how to analyze TMM portfolios, go to this link.
This is an overview of how to manage a Tranche Momentum Model portfolio. This is a relative new approach to portfolio management and I do not have back-testing results. Instead, I am testing this model with several real money portfolios that I hope to report on over the coming months.
Disclosure: I am/we are long VTI.
I wrote this article myself, and it expresses my own opinions. I am not receiving compensation for it (other than from Seeking Alpha). I have no business relationship with any company whose stock is mentioned in this article.