The first quarter of 2017 is almost over and it is time to assess the progress of my portfolio.
The portfolio, which was introduced here back in 2014, was aimed to deliver a 4% yearly dividend that was constantly growing.
The portfolio currently includes a total of 23 holdings:
Avista Corp. (NYSE: AVA), BHP Billiton (NYSE: BBL), Cracker Barrel Old Country Store, Inc. (NASDAQ: CBRL), Care Capital Properties, Inc. (NYSE: CCP), Cummins Inc.( CMI), CyrusOne ( CONE), Chevron (NYSE: CVX), Eaton (NYSE: ETN), Enbridge Inc. ( ENB), Johnson & Johnson ( JNJ), HCP (NYSE: HCP), Main Street Capital (NYSE: MAIN), National Health Investors (NYSE: NHI), Realty Income (NYSE: O), Omega Healthcare Investors (NYSE: OHI), Philip Morris International (NYSE: PM), Schwab U.S. Dividend Equity ETF ( SCHD), Tanger Factory Outlet Centers, Inc. (NYSE: SKT), AT&T (NYSE: T), Unilever (NYSE: UL), Vanguard REIT ETF (NYSEARCA: VNQ), Ventas, Inc. (NYSE: VTR) and WEC Energy Group, Inc. (NYSE: WEC).
Unlike the first quarter of 2016 the first quarter of 2017 was relatively calm in term of volatility post an Interest rate hike by the Fed. In fact in the recent several months there were two hikes, still the markets' reaction was relatively modest.
While the overall markets were calm, some of the sectors faced high volatility, which allowed me to take advantage of couple of deeps.
During the quarter I was able to add two new holdings to my portfolio: Tanger Factory Outlet Centers, Inc. and Enbridge Inc. were added in and were reported here in SA in real-time.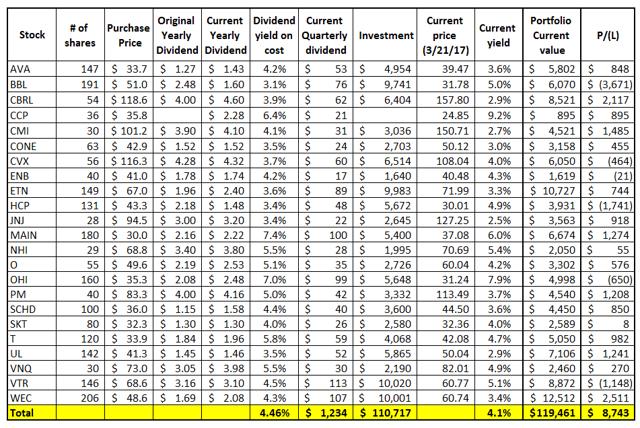 In term of the dividend that the portfolio delivers it grew from $1,136 per quarter to $1,234 per quarter.
Beyond to dividend provided by the two new holdings, seven companies and ETFs raised their dividends compared to last year's payout: Avista Corp, BHP Billiton, Eaton, National Health Investors, Realty Income, Omega Healthcare and VNQ.
The new holdings provided an addition of $43 per quarter while the raised dividend contributed the additional $55.
While the total value of the portfolio continues to fluctuate, the dividend trend is moving according to plan and I hope to see it exceed the $5,000 per year bar in the coming quarters.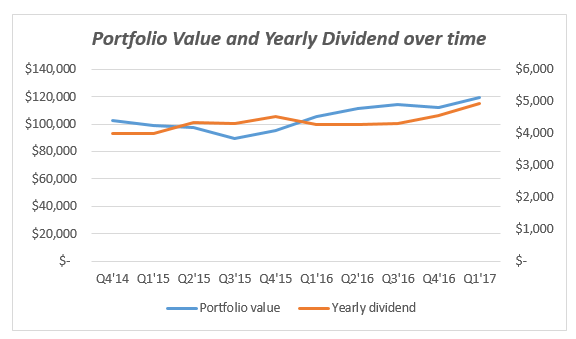 The motivation of a growing cash flow:
I have been asked by some of the commentators about my focus on dividend producing stocks while neglecting the growth companies.
The strategy that I am implementing, while might not be competitive with the overall market returns, is to take advantage of the piling up dividends and to reinvest them back during times of pullback in the market at buy-prices that I define well ahead.
I do not do automatic dividend reinvestment and I am aware that the taxes that I am paying throughout this process take a toll from my overall potential return, but by having cash landing in my account every couple of months allows me to enlarge the amount of holdings in my portfolio and by that build, step by step, the dividend machine I would like to possess in the long run. This is why I am focused on cash flow.
My current buy-list for an event of a pullback includes: OHI below $30, WEC below $56 and CONE below $40. I have elaborated about the reasoning behind it here.
Conclusions:
The portfolio that was aimed to deliver a 4% dividend yield and grow over time continues to produce positive results. In the recent quarter the quarterly dividend grew by $98. More than half of the growth was driven by dividend raises that were announced by the companies.
The nice thing about the portfolio is that even at the current prices it delivers a 4% dividend yield.
As always I would be happy to hear your comments.
Happy Investing.
Disclosure: I am/we are long AVA, BBL, CBRL, ENB, ETN, CVX, CCP, O, OHI, UL, VTR, HCP, NHI, WEC, MAIN, PM, T, SCHD, VNQ, SKT, JNJ, CONE, CMI.
I wrote this article myself, and it expresses my own opinions. I am not receiving compensation for it (other than from Seeking Alpha). I have no business relationship with any company whose stock is mentioned in this article.
Additional disclosure: The opinions of the author are not recommendations to either buy or sell any security. Please do your own research prior to making any investment decision.