Now North America's largest energy infrastructure company, Enbridge (NYSE:ENB) has closed its merger with Spectra Energy and has just entered the market as a powerhouse. The strong yield, the favorable risk/reward scenario for long-term investors, and significant growth opportunities all lend this stock to being one of the best midstream picks right now. The synergy potential, as well, could be revised upward if commodities ever pick up out of their temperamental trading, but, for now, I am highly encouraged by the combined company's prospects.

Source: Enbridge
Thinking About Capital Gains Potential
The stock has been on a slight downtrend, as have other midstreams recently, and the stock is just a session away from testing $40/share. This is down from about $44/share in late January and we're seeing some interesting activity in the moving averages. Taking a look at the 50 EMA, we're seeing a downtrend, while the 200 DMA, interestingly enough, is slightly upward sloping but trending towards flat. We should see an extension of this short-term trend, in my opinion, as crude oil continues to decline. On the plus side, natural gas is an uptrend and has been since bottoming out near $2.50/MMBtu late last month, but that doesn't seem to be reflected in current trading.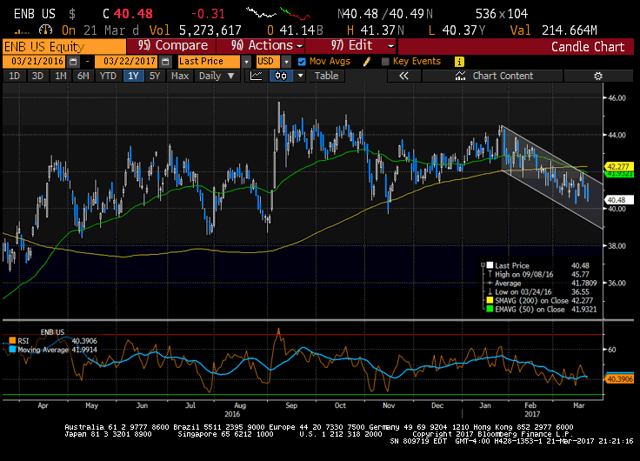 Source: Bloomberg
Focusing more on the long-term risk/reward scenario, from the five year perspective, Enbridge is still trading about $15/shy or about 37.5% from its early 2015 highs and about 40% off of its late 2014 highs. So, in the medium-term, we could see annualized returns, before dividends in the ballpark of 13%-20%, provided the stock sees decent upward pacing and commodity prices see strength. Factoring in dividends into the equation, at the current yield of 4.4%, this total return per year potential quickly shifts into 17-24%, which is nearly guaranteed to beat the broader equity market's return.
Think of the long-term potential this way. Crude oil is trading at $47/barrel, still relatively low compared to 2013 and 2014 levels, so a cyclical opportunity inherently presents itself. A simple $1,000 investment in Enbridge today, if it were to retrace 20% to the downside, means that the stock will be trading at $32 and you'll have lost $200, net of dividends. $32 is awfully close to the bottom ENB put in around $30/share back in Q1 2016, when crude oil prices were $27/barrel and natural gas prices were below $2/MMBtu.
It should become clear that the pacing between commodity indexes and Enbridge is off - as it is with most stocks - but it is skewed in the favor of investors. Over the long-term, as crude works its way back to late 2014/early 2015 levels, we can expect this stock to more than double, again net of dividends. So, it's really a strong risk/reward scenario and with the safety of a substantial growth profile and a 4% yield, investors can afford to wait to see this realized.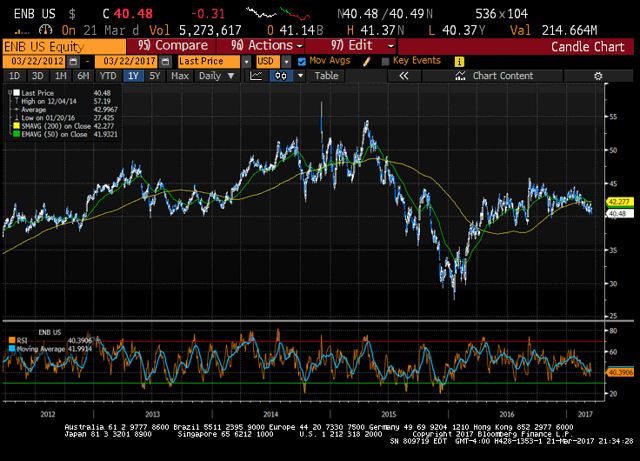 Source: Bloomberg
As an added note, one of the best parts about a deal closing is the synergy potential. Over the next couple of quarters, Spectra will be integrated with Enbridge, meaning synergies will start to come online and we'll see a noticeable effect on future financial reports. Right now, the prediction is $540 million in annual synergies by 2019, which is a staggering amount from the pure face value.
These synergies are going to absolutely help Enbridge outperform on earnings and it should be reasonable to expect a consistent beat on EPS as we trend towards 2019 and beyond. How does that help the long-term risk/reward? Enbridge has an average move on earnings of 1.69%, which a rather low vol move if I've ever seen it. But, it has missed EPS expectations in the past, so if it can start to generate a trend of beating earnings each quarter, shareholders will start to take home an extra 6.5%-7% every year.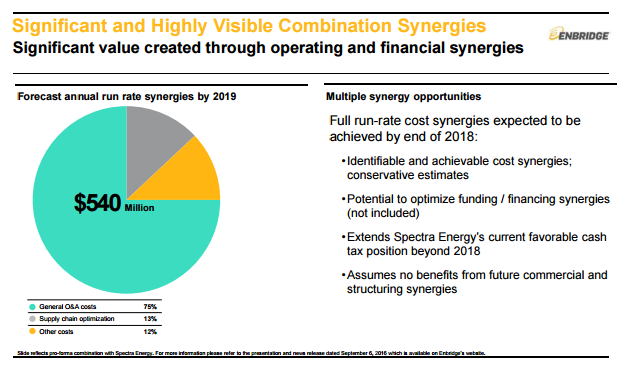 Source: Investor Presentation
The Dividend Is A Core Focus
The current yield is 4.4% and the next quarterly dividend will be declared during the last week of April, with the ex date coming two weeks after, so investors still have an ample amount of time to make an investment decision on this stock. The dividend is expected to grow by 15% this year and 10-12% through 2024. There are few midstreams that can outright project a consistent growth rate, let alone one of this caliber; but, this is a high expectation for the company. Should cash flows falter at any point and the company is unable to live up to this growth rate, we'll see sell-offs.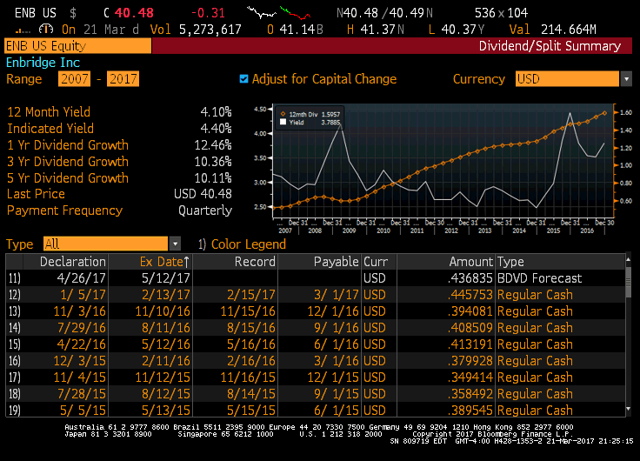 Source: Bloomberg
If you're constantly concerned about dividend safety, know that you can sleep well at night with this name. There's a few items to address in the category of dividend safety with Enbridge. First, the new debt burden. The below debt distribution isn't fully accurate as it just represents Enbridge's pre-close debt obligations. At YE 2016, this company had approximately $36.5 billion in LT debt, with $5 billion in ST debt. However, adding Spectra into the mix means the assumption of $15 billion in additional debt. Second, on a payout ratio of just 50-60% (estimated), the company isn't overextending itself to make this quarterly payment, which means there's substantial room to growth dividend over the long-term.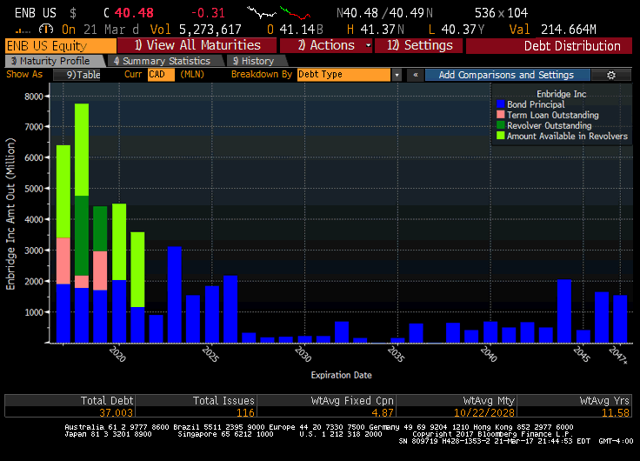 Source: Bloomberg
Next, there's the combined liquidity position and project cash inflows versus outflows. The company doesn't have a large cash position relative to assets, but $2.1 billion in cash is still sizable. Cash plus revolvers amounts to $12 billion in immediately available liquidity. Now, Enbridge has shown to draw on revolvers, as you can see in the above chart, to the tune of $8 billion. While these are payable in the medium-term, a liquidity position of $12 billion is enough to weather any storm that might come its way.
In terms of cash flow, Enbridge is projecting $14-18 billion in free cash flow from 2020-2024, but for now, a simple sources and uses for 2017 through 2019 shows a balanced use of capital, but the sources are being viewed net of dividends right now, so sources may slightly exceed uses in this first year unless commodity prices start to pick up materially. Last year, Enbridge grew ACFFO from $3.1 billion to $3.7 billion, so the company has shown its ability to surpass its obligations and make the most of its operating environment. The same can be said for both adjusted EBIT and earnings.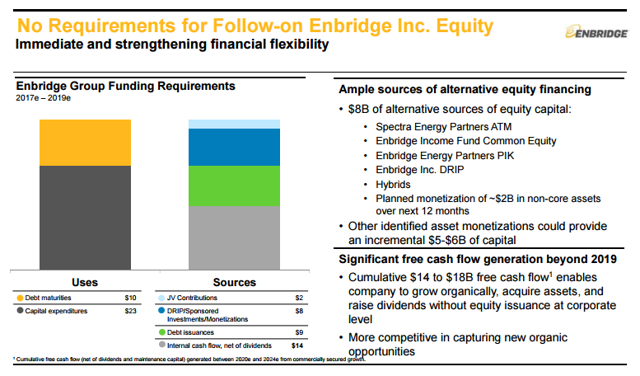 Source: Investor Presentation
Fortunately, the addition of Spectra doesn't add much to the debt due in 2017. There's just one issue, November 2017 9.7% notes, Enbridge will have to cover at $125 million CAD (approx. $93.42 million). That means the combined company gained breathing room for this year and closed the transaction at a stable time. It also means that once we get the Q1 2017 report, we'll have a better idea of what this company looks like from a pure financial perspective, notably its short and medium-term obligations, as well as the combined liquidity position.
Fortunately, as protection for the dividend, investors should know this company has a multitude of channels for growth. It's fair to have concern about a midstream's ability to grow considering that cash flow growth rates this year won't be too impressive considering the commodity recovery isn't progressing all that well right now. The new Enbridge now has $27 billion in combined growth opportunities. the key here is to recognize that this is secured expansion, not just possible.
This is the highest of any competitor, surpassing the closest peer, TransCanada (NYSE:TRP), by $4 billion. The additional set of growth opportunities that this company has amounts to $48 billion. These are not secured, but rather possible. Any way you slice it, the company has massive growth potential, which isn't something you see every day from a company of this enterprise value.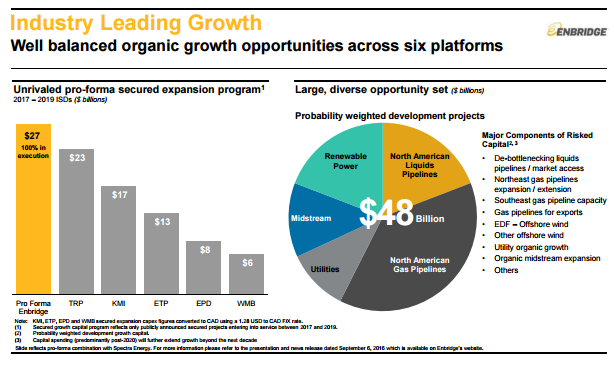 Source: Investor Presentation
Conclusion
Closing on a $43 billion merger is a massive achievement for this company. In the interest of being risk-averse, this is a stock that should absolutely be in any energy investor's portfolio, given the strength of the yield. The long-term risk/reward scenario seems highly favorable to me and while the stock is experiencing some short-term weakness, it's an opportunity for investors to take a true long-term position that will generate a substantial amount of current income.
Disclosure: I/we have no positions in any stocks mentioned, but may initiate a long position in ENB over the next 72 hours.
I wrote this article myself, and it expresses my own opinions. I am not receiving compensation for it (other than from Seeking Alpha). I have no business relationship with any company whose stock is mentioned in this article.