Thesis
PetMed Express (NASDAQ:PETS), better known by its brand 1800Petmeds, is a surprisingly good dividend stock. Throughout the article I will refer to the company as Petmeds. I believe that people will continue to spend more and more on their pets. I believe Petmeds will reward its shareholders through thick and thin.
About The Company
PedMed Express operates a pet pharmacy under the brand 1800Petmeds. The company's commercials are all over network television. It markets prescription and non-prescription pet medications directly to the consumer. Its product line contains roughly 3,000 stock keeping units of pet medications. The company has many brands. Some of the more popular include Frontline, K9 Advantix, and Heartgard Plus. In 2016 the company did $234m in sales. It is safely small cap with a market cap of about $400m. Petmeds is thinly traded with an average 200,000 shares per day. The company performs nearly independent of the S&P with a beta value of 0.28.
What I Like
One could make the argument that Petmeds is undervalued. In my opinion the company is about where it should be as far as value is concerned. The company trades at a slight premium to future cash flow. It has a P/E of 18.8 which is on the high end of acceptable for me. However, this is vastly less than the retailing industry as a whole. PEG for the company is 5.1 which bakes in considerable growth. Price/book is 4.6 which is again high by my standards but much lower than the retail industry. It is up to you how compelling of a value the company is. Valuation metrics are shown in Figure 1.
Figure 1: PetMed Express Valuation Metrics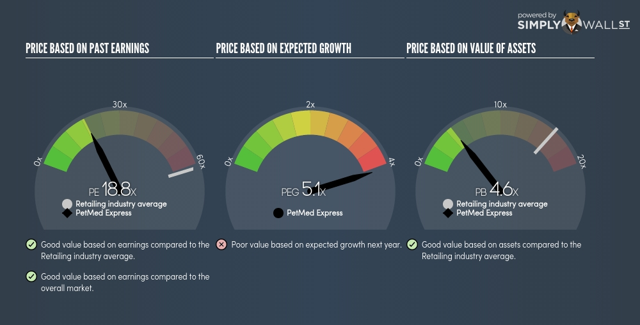 Source: Simply Wall St
Growth prospects are hit or miss. The company is expected to grow earnings 4% over the next year. There are no analyst predictions extending three years out. However, earnings are expected to grow just under 20% over the next two years. One of the things I like about the company is how it has responded to volatile sales. Sales have fluctuated quite a bit from 2012 through 2016. Despite this, net income and EPS have remained very stable. This is shown in Figure 2.
Figure 2: PetMed Express Four Year Performance

Source: PetMed Express Annual Report
As far as performance is concerned Petmeds has done exceptionally well. The company's return on equity, assets, and capital are 25.5%, 23.1%, and 39% respectively. This underperforms the retail industry with regards to ROE, matches with ROA, and exceeds the average ROC. This is shown in Figure 3.
Figure 3: PetMed Express Performance Metrics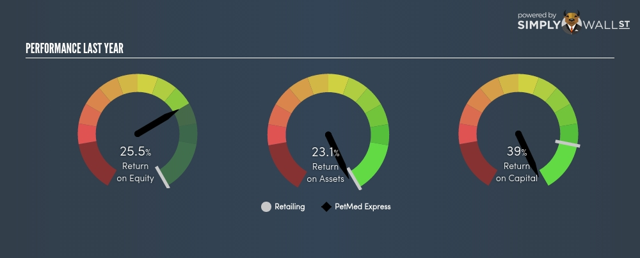 Source: Simply Wall St
This brings us to the company's balance sheet which is very impressive. Petmeds has no debt whatsoever. The company also boasts an exceptional dividend at 3.7%. The payout ratio is 70% which could be lower in my opinion. However, as shown in Figure 2, the dividend is stable and growing. Finally, the CEO of the company owns roughly 2.5% of the shares outstanding. This equates to roughly $10.4m. This is something that I like to see.
Opportunities And Drivers
As a millennial, everything on social media is puppies and kittens. The rise of enthusiasm for animals (perhaps due to social media?) is undisputed. In 2016 it was estimated that almost $63B was spent on pets. Furthermore, pet industry expenditures have gone up every single year since 1994, the first year data was collected. Of this $63B, nearly $15B comes from supplies or OTC medicine. Petmeds is the national brand leader and largest pet pharmacies. I believe the rational exuberance around our pets will lead to Petmeds continued success.
I believe Petmeds to be a stock suited to a long term dividend investor. The yield of the stock is high enough to attract most dividend growth investors. I believe that in addition to this, the company's EPS stability in times of high and low sales combined with low beta make it all the more attractive.
The company displays all the things I typically like to see. This includes sales growth, earnings growth, and margin expansion. Add dividend growth into this mix and we have a potential long term hold.
Risks
There was nothing too out of the ordinary in the company's 10-K form. There were things such as regulation compliance, purchasing from third party distributors and other unavoidable issues. I suppose one potential risk would be the unwillingness of owners to spend money on prescriptions for their pets. I don't see any reason for this to happen suddenly.
One risk I found interesting was the unwillingness of veterinarians to authorize prescriptions. According to Petmeds, veterinarians discourage pet owners from purchasing medications from internet pet pharmacies in favor of their own in house pharmacies. Petmeds competes directly and indirectly with veterinarians for the sale of pet medication products. This is something I had not thought of and I believe is an important thing to consider.
Final Thoughts
I think Petmeds is a good opportunity. The company is shelter from the storm of the broad markets. It has an impressive dividend yield. Finally, the company has no debt. I believe that excitement of and about pets will only continue to grow. I believe people will continue to spend more and more on their pets. I like PetMed Express.
Disclosure: I/we have no positions in any stocks mentioned, but may initiate a long position in PETS over the next 72 hours.
I wrote this article myself, and it expresses my own opinions. I am not receiving compensation for it (other than from Seeking Alpha). I have no business relationship with any company whose stock is mentioned in this article.