Valeant Pharmaceuticals' (NYSE:VRX) stock closed today (March 21, 2017) at $10.62 with the 5.625% bonds due December 01, 2021 last trade of 81.436. Since the November 8, 2016, article titled, "Watch Valeant Bonds For Signs Of Bottoming" the price of the bond has been somewhat stable in thin trading while the commons stock has declined, see charts. Bond chart is from the Finra website.
This is what was mentioned in the previous article:
The bonds offer a more attractive risk-reward trade at this time, though it is a high risk given the level of debt and the amount of revenue used to make interest payments. The bonds are not investment-grade, they are high-yield. An equity raise and/or debt-for-equity swap might help; this could help shareholders, as less cash would be used to service debt.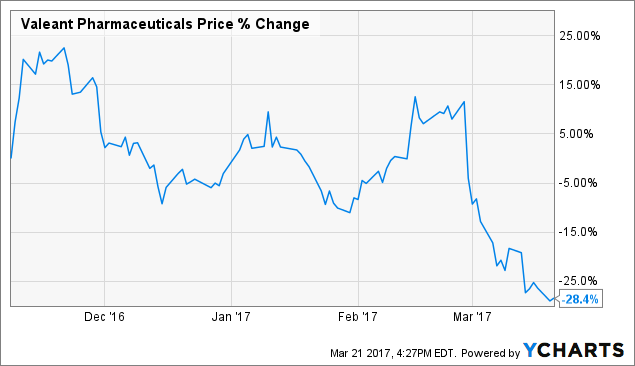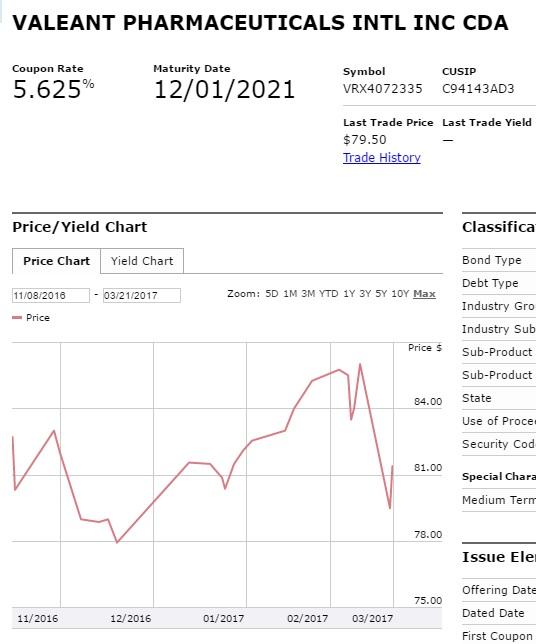 Secured Bonds proceeds used to redeem Unsecured Notes.
The ability of Valeant to raise $3.25 billion of secured debt might be of some comfort for bondholders as the repayment wall has been extended.
Valeant tendered for $600 million of its 6.75% Notes due 2018 at 102.906. They plan to use the funds raised via secured notes due 2022 and 2024 to fund the redemption.
Unsecured bondholders have $3.25 billion worth of secured debt ahead of them in the capital structure. There is $1.25 billion of 2022 secured debt with a 6.50% coupon while the $2.0 billion of the 2024 secured debt carries a 7.00% coupon.
The ability of Valeant to raise funds via a secured debt offering at the level they did was impressive. It could be seen as a sign of bondholder confidence in the assets securing the bonds.
Credit Rating Outlook
The 10-K on page 70 states Moody's rates the corporate credit rating at B3 with a negative outlook while Standard and Poor's assigns a B rating with a stable outlook. Interest expense during 2016 totaled $1.836 billion or 19% of the $9.674 billion of revenue. Long-term debt was $29.845 billion; therefore, it would take 3.08 years of revenue to pay off the debt at the current rate.
Valeant is also paying down $1.1 billion of its senior secured term loans and working on amending its current credit agreements.
Bond Performance is Key
Stockholders should pay attention to bondholder confidence. Given the size of Valeant's debt load having bondholder confidence is key for the share performance. In addition, a large Valeant shareholder, Pershing Square Capital Management, no longer owns any shares according to a 13D/A filing. They sold the stock at $11.00 and closed their put and call option positions.
The stock price is expected to remain under pressure. The balance sheet restructuring is taking place and political headlines can impact the stock price. The pricing of the secured debt was at a decent interest rate; this might provide some relief for the shareholders and bondholders. However, Valeant has more work to improve its balance sheet. It would not be surprising that during the next year or so an equity raise takes place to reduce leverage and help reduce interest expense.
Bottom Line
For investors interested in Valeant, the bonds appear to offer a better risk-reward than its common stock at this time. Investors that would like an equity exposure might consider using the interest earned to purchase the common stock.
What are your thoughts?
Disclosure: I/we have no positions in any stocks mentioned, and no plans to initiate any positions within the next 72 hours.
I wrote this article myself, and it expresses my own opinions. I am not receiving compensation for it (other than from Seeking Alpha). I have no business relationship with any company whose stock is mentioned in this article.