Recently, the Census Bureau February retail sales report was rather weak. In the midst of very strong consumer confidence (at 17-year highs), February retail sales were muted, with several categories including general merchandise and clothing even printing negative: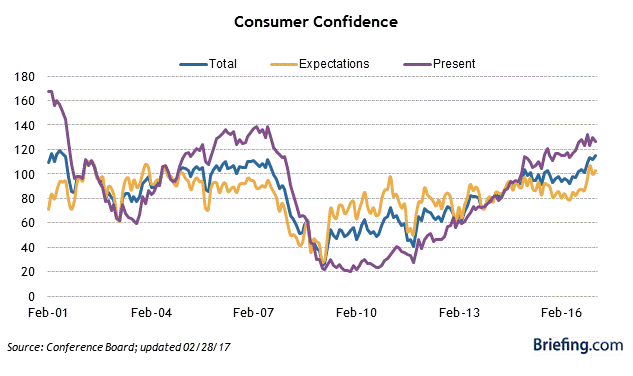 Source: Briefing.com; Conference Board

Source: Briefing.com; Census Bureau
There have been some one-off effects which were cited for this behavior, including unseasonably warm weather. However, there's one particular effect which I haven't seen getting much coverage. This article will highlight that effect and what it should imply.
The Effect
So, what effect am I talking about, which punished February retail sales? I am talking about tax refunds. The "Protecting Americans from Tax Hikes (PATH) Act of 2015" started affecting tax refunds this year when it comes to refunding earned-income tax credits (EITC) and the additional child tax credit (ACTC). For these, the IRS had to wait until February 15, 2017, before starting its processing.
As a result of this, literally tens of billions of dollars didn't reach consumers. Moreover, given their nature, EITC and ACTC will be claimed mostly by lower-income families whose propensity to consume their income is much higher than the general populations. As a consequence, it's likely that retail was starved literally of those tens of billions of dollars during February.
Retail Behavior
Retail has been one of the worst-performing sectors for a good while. Using the SPDR S&P Retail ETF (NYSEARCA:XRT) as a proxy, we can visualize just how bad things have been: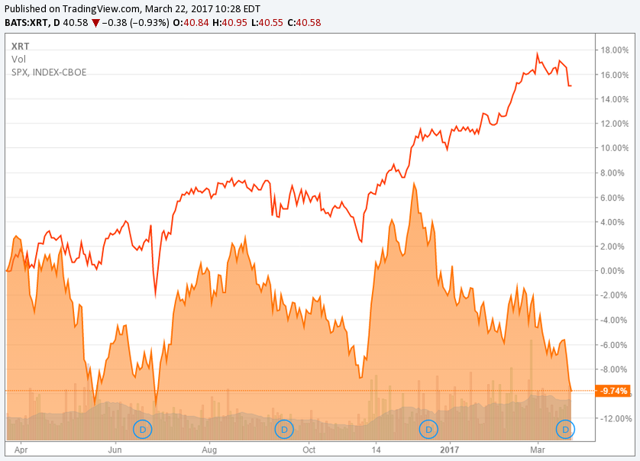 Source: Seeking Alpha
The chart also shows that things have been especially dire since mid-February and into March. This behavior was likely affected by ongoing retail weakness stories which were then confirmed by the economic data releases, as well as multiple lower guidances by retail players.
As we saw, at least part of this behavior might have been the result of consumers having less cash to spend, simply because the government hadn't sent in their refund check yet. Obviously, this is far from being the only factor, but clearly, the amounts involved make this a relevant factor.
Implication
The implication was that retail sales during February were reduced by the tax refunds which came late during 2017. On a series, which totaled to $422 billion in February, tens of billions are relevant.
However, these tax refunds were just late, not gone. A second implication is thus that come March, the money will be spent. As a result, March retail sales are likely to benefit from a rebound due to this effect.
Conclusion
All other things being equal, March stands a higher likelihood of seeing a rebound in retail sales. This is so simply because some spending must have shifted from February to March on account of later-than-usual tax refunds.
It could happen that this effect will produce some rare and unexpected positive news for retail as March goes and is reported on.
Disclosure: I/we have no positions in any stocks mentioned, and no plans to initiate any positions within the next 72 hours.
I wrote this article myself, and it expresses my own opinions. I am not receiving compensation for it (other than from Seeking Alpha). I have no business relationship with any company whose stock is mentioned in this article.