Top Ships Inc. (NASDAQ:TOPS) is a small, Greece-based operator of modern, fuel efficient, eco medium range product tankers. The company's fleet is currently comprised of seven vessels with four of them being outright owned, two tankers chartered in as a result of a previous sale and leaseback transaction and a recently acquired 40% stake in a newbuild vessel.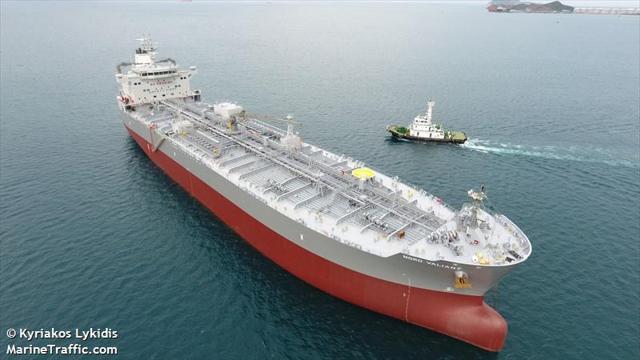 Picture: MR2 eco product tanker "Nord Valiant" - Source: MarineTraffic.com
All tankers are operated under time charter contracts with an average remaining contract duration of more than 30 months.
Top Ships is effectively controlled by the company's president and CEO, Evangelos J. Pistiolis. In addition, Pistiolis' controlled entity Family Trading has provided financing on a revolving basis to the company in recent years.
The company's stock price has been subject to meaningful volatility over the past few months as the shares have occasionally been picked up by the momentum crowd, mostly due to the very low public float. Over the past year, Top Ships' shares have traded as high as $8.40 and recently reached a new all-time low of $1.03.
Last week, the shares managed to stage a more than 100% rally from recent lows as the stock was picked up as a proxy to recent momentum crowd favorite DryShips (NASDAQ:DRYS), as Top Ships also recently entered into an equity purchase agreement with Kalani Investment Limited ("Kalani") at similar conditions like DryShips albeit at a much smaller scale.
So, is Top Ships indeed a good trading tool or even worth an investment at this point?
Let's first try to calculate a net asset value per share. Fellow contributor J Mintzmeyer provided me with a $106 million number for the four vessels outright owned by the company. We need to add $6.5 million recently paid for the above-mentioned stake in another newbuild tanker.
After a couple of recent financing actions, I estimate the company's current cash balance at roughly $5 million while total debt amounts to $89.1 million. Deducting the debt from the company's estimated $117.5 million in assets, net asset value calculates to $28.4 million.
Based on the company's outstanding shares of roughly 10 million as of March 16, net asset value per share calculates to $2.84. This number does not account for the time charter contracts which most likely would add further to net asset value per share.
Unfortunately, quite similar to DryShips, net asset value per share will have to take the backseat for the time being, given the potential for further, significant short-term dilution caused by the company's past and recent financing moves, for example:
On February 2, the company entered into an equity purchase agreement with Kalani for the sale of up to $3.1 million of common stock at a 7% discount to the lowest daily value weighted average price (VWAP) over a certain pricing period subject to a floor price of $0.50.
On February 14, Top Ships entered into a securities purchase agreement with an investor affiliated with Kalani, pursuant to which the company sold 7,500 newly issued Series C Convertible Preferred Shares for $7.5 million. The Series C Convertible Preferred Shares are convertible into a number of common shares equal to the quotient of $1,000 plus any accrued and unpaid dividends, late charges and applicable make-whole amount divided by the lesser of the following two prices: (i) $3.75 and (ii) 75% of the lowest daily VWAP of the company's common shares over the 21 consecutive trading days expiring on the trading day immediately prior to the date of delivery of a conversion notice, but in no event will this conversion price be less than $0.25.
On March 20, the company amended its equity purchase agreement with Kalani by more than doubling the amount potentially being raised from $3.1 million to $6.9 million. As of March 17, the company has sold 2.3 million shares for aggregate proceeds of $3.1 million.
The company also has a number of warrants (exercisable at 75% of the lowest daily VWAP over a certain pricing period) and Series B convertible preferred shares outstanding (convertible at 85% of the lowest daily VWAP over a certain pricing period) with the potential for further substantial dilution.
Top Ships has repeatedly issued material amounts of shares to Pistiolis' controlled entity Family Trading in lieu of required cash payments
Given the recent involvement of Kalani, CEO Pistiolis has obviously reached out to his old buddy George Economou to orchestrate a miniature version of the recently executed financing transactions with DryShips. Economou has been already involved with Top Ships back in 2008 when a takeover attempt collapsed due to deteriorating market conditions.
That said, investors would be well served not to construe another potential takeover speculation at this point just because George Economou has shown up on the map again. As for now, Top Ships remains firmly under the control of its CEO and even adopted a poison pill back in September 2016. Given these issues, any takeover approach would have to be amicable.
Bottom line:
DryShips reloaded. Despite trading substantially below its estimated net asset value per share, Top Ships doesn't qualify as an investment given the potential for further material dilution through its recently amended equity purchase agreement with Kalani and other past and recent financing transactions. Just like DryShips, the stock might serve as an interesting trading vehicle though, particularly for investors speculating on the ongoing Kalani dilution to be finished rather sooner than later.
Personally, I have accumulated a good chunk of the company's shares after the amended Kalani agreement and a new $2 billion shelf registration recently filed by DryShips caused many momentum traders to exit the stock this week.
Remember, I accumulated the position solely for daytrading purposes and do not view the stock as a suitable investment for the long term. I will not hesitate to exit the position, should the share price move below its previous all-time low of $1.03.
Disclosure: I am/we are long TOPS.
I wrote this article myself, and it expresses my own opinions. I am not receiving compensation for it (other than from Seeking Alpha). I have no business relationship with any company whose stock is mentioned in this article.
Additional disclosure: The disclosed long position in the company's stock has been accumulated solely for trading purposes and I might decide to exit the position at any time going forward.
Editor's Note: This article covers one or more stocks trading at less than $1 per share and/or with less than a $100 million market cap. Please be aware of the risks associated with these stocks.