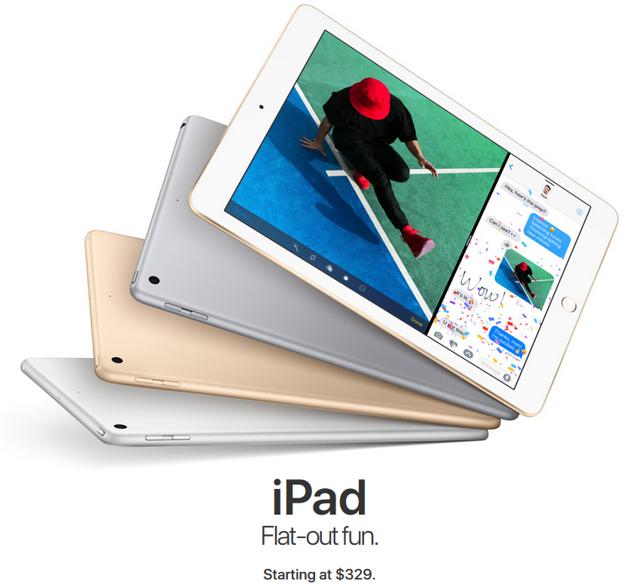 I have mixed feelings on the iPad announcement made by Apple (NASDAQ:AAPL). Clearly, they've lowered the price of the entry level iPad to $329 in response to competitive pressure in the tablet space.
Furthermore, Apple has yet to deliver material success in low-end price segments, as the iPhone SE is on track to sell 22.68 million units cumulatively since launch. Perhaps, slightly more depending on device sell-in, but you get the drift. It's not a major category.
If we followed conventional economic rationale, a lower price should have resulted in correspondingly higher demand. Yet, the iPhone SE couldn't come anywhere near close to the iPhone 7 and 7 Plus in terms of unit shipments. Likewise, the introduction of a cheap iPad caters to a niche category of price-sensitive consumers that are inherently incompatible with Apple's product/branding strategy.
Therefore, I'm expecting very minimal contribution of unit shipments/sales from the introduction of the $329 iPad.
So, should we worry over a cheap iPad?
Entry level iPad pricing is now below price equilibrium of the PC market. So, if you had to imagine an entry-level PC that was portable, sleek and has great app functionality, the iPad would fit the bill. Though, it's worth noting that iPads aren't always geared towards productivity (no matter how much Tim Cook wants you to believe otherwise). Hence, the direct PC comparison is meant to be more illustrative, as it's not a PC.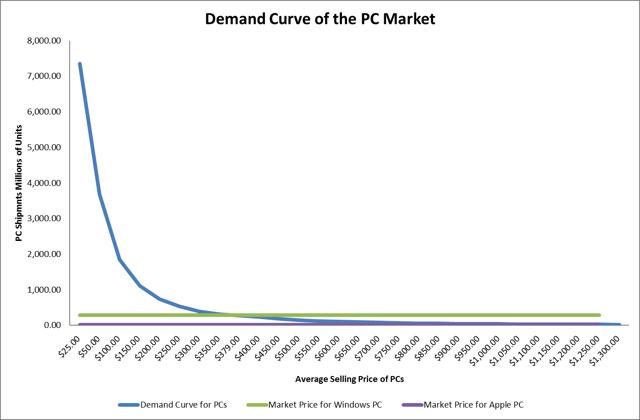 Source: Cho's Tech Research
Using conventional economics, the PC market's current price equilibrium point is 265 million units at an average price of $379. The iPad at $329 would compete within the mid/low-end of the tablet/PC market. So, the pricing strategy seems sound, but whether this has the intended result remains debatable.
Furthermore, tablet shipments fell by 15.6% in CY'16 and totaled out to 174.8 million units, according to IDC.
Correspondingly, Apple sold 45.59 million iPads last year, which corresponds to 26% market share. The degree to which Apple has maintained share in the tablet segment is impressive, but whether that translates into meaningful share gains following the introduction of an ultra-cheap iPad is subjective at best.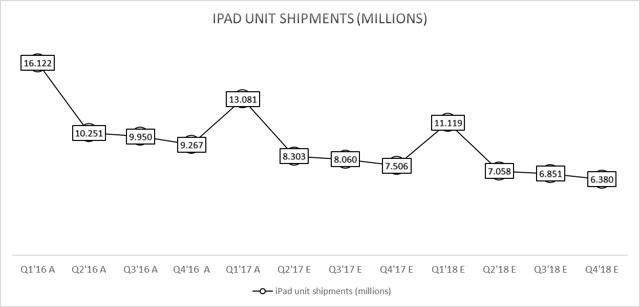 Source: Cho's Tech Research
Notwithstanding, I maintain the stance that unit shipments will likely trend lower. Not because Apple isn't price competitive, or hasn't stretched the product stack lower to address low-end consumers, but because the product category itself is being squeezed by entry-level PCs and Smartphones.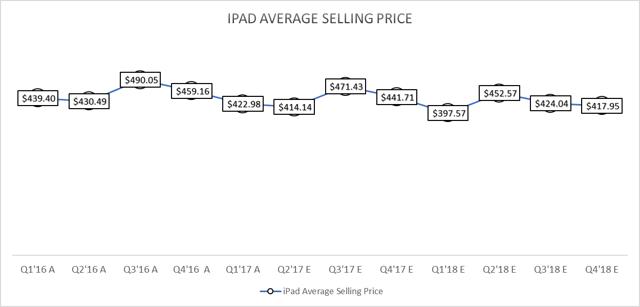 Source: Cho's Tech Research
The introduction of the $329 iPad will likely drag ASPs (average selling price) lower. However, I expect less than 10% unit mix from the recently introduced iPad, which implies an average ASP (average selling price) of $440. I currently forecast ASPs of $435 for the iPad segment for FY'17, so my initial estimate remains conservative and has already captured the risk of lower pricing from the introduction of an even cheaper iPad.
It's worth noting low-end volumes aren't going to be "that" consequential to Apple's results. I generally believe reduced gross margins from the iPad gets offset with iPhone 8 units (expected to be more expensive) next fiscal year.
As such, I don't feel compelled to make any adjustments to my financial model considering this news. I also want to emphasize that a cheap iPad may prop up unit shipments, and may delay unit deceleration. But, given Apple's pre-existing poor track record of moving down market with cheaper Apple product variants, my expectations on iPad shipments/pricing remains muted.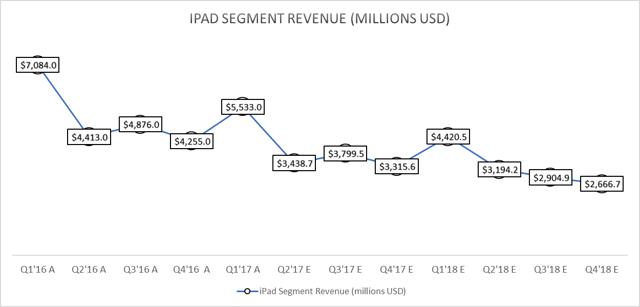 Source: Cho's Tech Research
I anticipate iPad segment revenues to decline by an average 13.86% over the next three years. This is mostly driven by refresh rate elongation. I'm expecting refresh trends to mirror that of PCs (roughly 5 to 6 years). I'm expecting financial results to improve from FY'19 onwards, as iPad shipments were most elevated in FY'14 suggesting timing of refresh in FY'19.
Furthermore, I intend to confirm my thesis on iPad segment results once Fiksu releases the usage monitor data on the $329 iPad.
Assuming, modest mix-shift to the entry level category, the impact on ASPs and margins will remain modest. But, if usage mix exceeds my initial forecast assumptions, I may readjust my iPad shipment model higher, but on lower ASPs.
Though, it's worth noting that impact on pricing/ASPs won't be too substantial given segment ASPs of $452 already hover near $329.
Final thoughts
Apple's efforts to broaden its iPad offerings to address lower price points is noteworthy. Though, I don't anticipate material impact in terms of sales/margins. In other words, until proven otherwise, investors should rein in their excitement.
Apple needs to introduce a vastly improved iPad beyond its outgoing flagship Pro model, especially if it wants to reignite excitement among enthusiasts, which is the bulk of Apple's current installed base. Whether, Apple ran out of ideas, or is on the cusp of reinventing the category is not known to us currently. But, when operating off historical data from the iPhone SE, I'm expecting minimal mix-shift to lower-priced units.
I continue to reiterate my high conviction buy recommendation and $156 price target.
About Cho's Technology Research
Cho's Technology Research is SA's premier technology research package that gives investors and traders an additional edge when investing into tech companies. It's a trade publication, research service and an idea generator. It includes short-term trade ideas that yield 5%+, long-term small cap investment ideas that yield 25% This service comes at a low annual subscription cost of $20/month. The promotional price period will end soon! Subscribers get a free two-week trial upon checkout and can cancel at any point in time. For more information click here.
Disclosure: I/we have no positions in any stocks mentioned, and no plans to initiate any positions within the next 72 hours.
I wrote this article myself, and it expresses my own opinions. I am not receiving compensation for it (other than from Seeking Alpha). I have no business relationship with any company whose stock is mentioned in this article.