Twitter (NYSE:TWTR) gets a lot of hate for being a social network, and supposedly the most useless one at that, but is it justified? When people analyzed the SnapChat (NYSE:SNAP) IPO many asked: Is it a Facebook (NASDAQ:FB), or a Twitter? Implying the former a winner and the latter a loser. I wonder if things may be too simplified in the market's mindset, and with everyone focused on where Snap is trading today, maybe there is an opportunity available for the savvy investor.
Recent News and Low Expectations
When scanning the headlines in Seeking Alpha's Wall Street Breakfast recently, I caught the following:
"Pressure is growing on Twitter CEO Jack Dorsey to step down, according to the SundayTimes, after a report from the University of Southern California and the University of Indiana alleged that up to 48M of its accounts - equal to 15% of its users - were robots not people (that's nearly twice the company's own estimate). The news is a fresh blow to Twitter (TWTR) in its attempt to lure more advertisers to the platform."
The 48M accounts referenced are likely Monthly Active Users, different from the Daily Active Users typically referenced with LinkedIn and Facebook. This fact was used to reiterate that the market wants Jack Dorsey to leave the company he helped found.
My initial thought here was that Twitter should dip on greater concerns with regards to the size of their user base, but that wasn't the case. Twitter opened around $15/share on Tuesday, March 20th, dipped to $14.80 in early trading (down 1.3%), and subsequently rallied back to $15.00 by end of day to close flat. This was on a day where the S&P closed down and the Nasdaq closed up 0.1%, so not exactly a notable deviation.
Reading into this, you can take away that expectations for Twitter are low. (As an aside, Cramer recently asked on CNBC ("Who would go LONG $TWTR and SHORT $SNAP [on a relative value trade]?" and absolutely no one said they would. Unfortunately I can't find the clip). What happened to get Twitter to this low?
Management Changing & Recent Earnings
Recently, Dick Costolo stepped down from the CEO position amidst controversy of his stewardship. Original founder Jack Dorsey was brought in and named permanent CEO in October 2015. He's been at the helm for less than half a year and the media is already calling for his resignation. Adam Bain, previously the President for Global Revenue and Partnerships, was named COO in September but stepped down shortly thereafter. I am assuming that the biggest thing here is that value really has been destroyed over the past year.
The interesting thing about the miss is that while subscriber growth was positive, ARPU was lower than expected. Many suspect this to be all about Trump, because while users are flocking to the site, Dorsey has been reworking the delivery of ads on the platform to increase engagement, which reduced ARPU. Advertisers may be skittish to advertise on the site, similar to the way Brietbart has been treated, but it's too early to claim such a strong influence at Twitter, and no news stories support the idea.
I am finding such calls unfair, especially because Dorsey purchased $7mn of stock back in February. (As an aside, on politics, we are facing an administration being investigated for potentially treasonous actions, so you never know how long such level of increased enrollment could last).
Cash Flow Considerations
At first glance, I was pleasantly surprised by what I saw in Twitter, especially after evaluating the more highly valued Snap, Inc. Twitter generated about $550mn in free cash flow in FY2016, with $765mn in CFO and $215mn in CapEx. At the ~$11bn market capitalization, that's a 5% free cash flow yield. Assuming any growth (and last year revenue grew 14% - $2,220mn to $2,530mn - while the incremental cash flow margin was 122%), this is a pretty fair initial valuation for today's market.
For those not as involved in the industry, Facebook currently has a 3.6% FCF Yield, while Snap burned almost $700mn last year and has ~$3bn on the balance sheet today after their IPO.
Unfortunately, there is another expense that is inflating cash flow: Stock-based compensation. This was $615mn, down from $680mn in FY2015. While some will be adamant to ignore such an expense, or do a fancy calculation to negate issuances by considering stock buyback agreements and expected accretion, there is no reason to do so with Twitter because a quick glimpse of the recent 10-K reveals no buyback agreement in place.
For comparison, Facebook issued $3.2bn in stock last year (remember: $400bn market cap!) and has a $6bn stock buyback program in place. Snap issued $32mn in stock in FY2016, but it is known that post-IPO this non-cash expense typically skyrockets.
The recent conference call made no allusions to buybacks or reducing this expense, so I'm not enthused.
Takeout Valuation Considerations
I have a hard time investing in something based on the aforementioned unless some changes are made, but no article on Twitter right now is complete without a discussion on what Twitter would be worth in a takeout scenario. This is especially true after Chris DeMuth's podcast discussed it being a likely takeout candidate recently.
Book value at Twitter is $6.38/share ($4.6bn/721mn shares) while intangible assets and goodwill make up $2.96/share of that value. This leaves tangible book value at $3.41/share, or less than 1/4th the current value in the marketplace. There's no surprise that Twitter has an asset-light model that is earning a lot of income, and is based on hiring the best software talent (hence, the high stock-based compensation expenses), but it does leave a lot of downside in case things start to break down in the future on the income statement.
Many are discussing the idea of Square (NYSE:SQ) somehow being combined with Twitter, which would likely make an interesting Venmo mobile pay app that could be useful for the ~150mn DAUs at Twitter (especially in emerging markets) but I'm not sure the market has enough faith in Dorsey to ascribe the company a premium for projected synergies. Square has a market cap of $6bn, cash of $500mn, and $375mn available for drawdown on their revolver.
Also, LTM CFO was a mere $23mn while stock-based comp Expense was $140mn. This leads me to believe that Twitter would have to lever up to buy out Square, or work on some sort of merger agreement, and doing so would be dilutive to Twitter's P/B multiple, EPS and Cash Flow/Share metrics. It seems unlikely such a deal would move forward here.
Relative Value
With stark reality setting in against the idea of investing in Twitter, I decided it's worth a last-ditch effort to look into relative valuations for the space to see what takeout potential could be, mainly by utilizing Facebook and LinkedIn's historical valuations. I graphed them both on a scatter plot referencing trailing revenue growth and revenue multiples, as well as user growth and multiples. You'll see that LinkedIn was taken out at roughly 6.5x TEV/Rev, or slightly more than double Twitter's current 3x. However, LinkedIn was growing their revenue at 34% year over year at the time, more than double Twitter's LTM revenue 14% growth rate.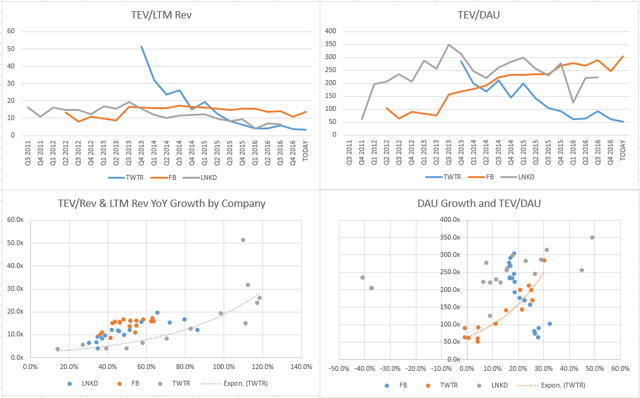 When analyzing TEV/DAU growth things look a little unique for an industry. An initial look reveals no correlation across companies. This is because FB users appear to be valued more and more as the company grows, leading to a unique negative relationship between growth percent and valuation multiples. This is the opposite of the TEV/Rev growth valuation dynamics, and opposite LinkedIn (& Twitter) which have positive TEV/DAU growth relationships.
When it comes to revenue multiples, you'll see that Twitter is by-and-far the most volatile (which makes sense since it has the smallest revenue base, greatest D/A & D/E in the space, and smallest market cap, hence a higher beta), and there is a general relationship that can be analyzed to conclude that Twitter should be valued at a higher multiple if its growth re-accelerates, although it would have to be at a rate much higher than the past twelve months (growth re-acceleration was a key component of the most recent conference call, after all).
You'll also notice Twitter is valued at the lowest of any social network on a TEV/Rev basis excluding one quarter where LinkedIn was hit (1Q16, where lower guidance really led to overselling and a quick revision), but revenue growth at Twitter of 14% in the LTM is also the lowest of any social network that has been public. This negative dynamic is exacerbated by the valuation-bleed at Twitter that has been rough and slow versus the emotional selling you saw with LinkedIn back in 1Q16.
Maybe you could argue trading Twitter today because the expectations are weak, as consensus values are calling for a 6% decline in revenue year over year, but with Snap entering the game and fighting for more online advertising market share, you can't say that Twitter has a grip on any percentage of the market today. With Twitter only generating $2.5bn in revenue and Snap looking at growing from $400mn in the LTM to $2bn by the end of 2018, you're looking at a sizeable and material competitor entering the ring.
Conclusions
While Twitter is valued at the lowest on comparative valuation metrics, both fundamental and industry specific, the high P/B makes me hesitant to declare it a potential investment for those who want to avoid risk. Free Cash Flow is strong, but only because the company is displacing cash expenses by paying employees 23% of its revenue in stock (or 7% of the current market cap paid out last year).
Expectations are clearly low, but with Dorsey in the midst of re-jiggering the ad delivery, and user growth likely accelerating past expectations last quarter solely because of Trump, I don't see the upside potential being worth the downside risk. This is exacerbated further by Snap coming into the ring as a competitor for mobile and online ad spend. Pass on Twitter today.
Disclosure: I/we have no positions in any stocks mentioned, and no plans to initiate any positions within the next 72 hours.
I wrote this article myself, and it expresses my own opinions. I am not receiving compensation for it (other than from Seeking Alpha). I have no business relationship with any company whose stock is mentioned in this article.