AMD (NASDAQ:AMD) is hovering near multi-year highs. And while the underlying investment thesis has not changed, the degree to which the stock price may correct in a broad-based market correction should be addressed.

To directly address the reader's comment: I weigh the likelihood of a pullback highly likely though it's not attributed to AMD's core business fundamentals, but rather market fundamentals.
Expectations have gotten a little too carried away on Trump's tax reform, border adjustment tax, and stimulus spending. Absent of meaningful legislation, the market looks a little frothy, and it's extremely likely that fund managers will trim momentum names.
Addressing near-term volatility to small-cap tech
The over exposure to technology creates inherent risk, as implied in the March Fund Manager survey released today (March 21 st) by Bank of America Merrill Lynch (below).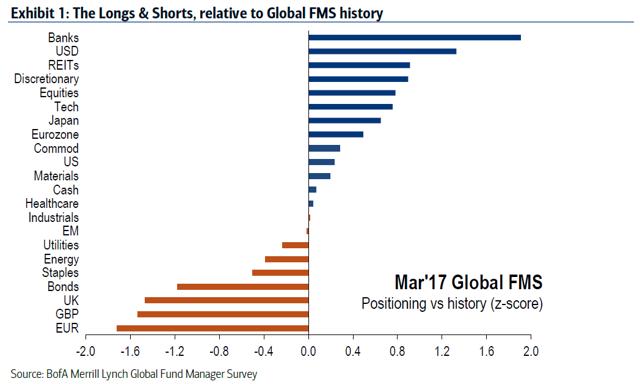 Source: BofAML
Given AMD's astronomical performance in the past year, it seems like an opportune time for active day traders to bag whatever profits they do have, and move to the sidelines. This is not a recommendation to short AMD shares, as it's directionally incorrect with business fundamentals.
I stand by my fundamental thesis because the business has yet to fully price-in material earnings/sales growth. I've seen countless traders/investors lose money on shorting growth/momentum stocks (Netflix (NASDAQ:NFLX), Tesla (NASDAQ:TSLA) and Facebook FB)) just to name a few. It's not a sustainable strategy because long-term risk/reward invariably favors the bulls as growth stocks typically trade on forward sales/earnings momentum.
Furthermore, there are tons of publicly traded companies with problematic business fundamentals that would decline even quicker over the course of a 10% to 15% market correction. I intend to publish short ideas that are actionable on a two-week to four-week basis at Cho's Tech Research to take advantage of shifting asset allocations.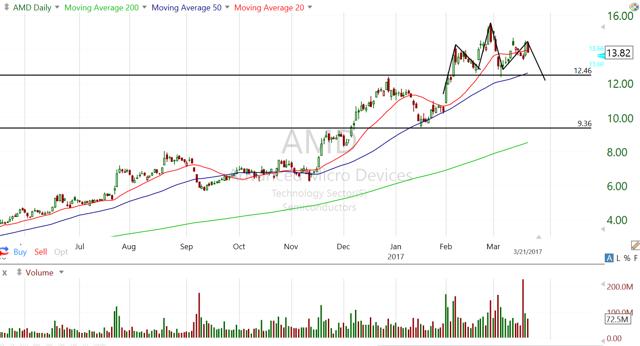 Source: TC 2000
Though, I'm not a pure technical analyst, I do acknowledge that there are risks to this trade set-up as it would only add conviction to a sell off. The stock is hovering dangerously close to the 20-Day Moving Average and is more likely to move toward the $12.46 neckline of the head and shoulder formation, assuming expectations of a market correction fully materialize.
Keep in mind, long-term investors may not want to participate in active re-allocation (whether it be for tax purposes or so forth). In that case, buying AMD on dips makes much more sense as the underlying growth thesis seems intact and valuation in a scenario of rapidly expanding earnings/sales implies substantial upside.
However, if investors do panic, and we do witness a sell-off - those on the sidelines may finally regain another window of opportunity to make a strategic re-entry into AMD.
Keep in mind, I'm not the only person raising concerns over broad macro issues. The economists/sector analysts at Credit Suisse came out with a market report reasserting what we mostly know, but don't want to acknowledge.
The key highlight from the 31 page Credit Suisse report:
In this context, we have grown a bit more concerned about the possibility of a near-term pullback in US equities, particularly given our economists' view that global IP (industrial production) momentum may modestly tick lower in the short term (which could raise concerns about the health of the economy in the minds of investors) and our view that investor expectations for stock market friendly legislation out of Washington (corporate tax reform, infrastructure spending) will continue to be dampened (our own view is that there is a decent chance a smaller package will get done on corporate tax, but in 1Q18 at the earliest; we doubt that anything will get done on infrastructure).

If a pullback in US equities does occur, we would view it as a temporary event, and would be watching for the S&P 500 P/E to fall to ~16.6x. This would be in-line with the lows of 2015 and 2016, which could take the S&P 500 down to ~2100 (assuming no change in underlying EPS assumptions).
10% to 15% market corrections tend to occur frequently (either every year or every other year). Of course, we have the perfect concoction of macro/market fundamentals to drive shares lower after the Trump rally took us to Dow 21,000. In this extreme market scenario, I think some strategic reallocation away from growth/momentum names makes sense.
Furthermore, small-cap tech would be a major victim of a broad sell-off given heightened Fund Manager exposure to tech. AMD's price chart wasn't going to move upwards indefinitely. Eventually, every stock is poised for a pullback on well-expressed concerns over valuation or risks. But more importantly, the tactical reallocation towards safety seems highly likely over the next three months.
What about AMD's server efforts?
Recent data on Naples Server adoption was relatively weak, according to Barclays Analyst, Blayne Curtis:
Server units are expected to grow 6-7% y/y with AI focused/GPU accelerated applications remaining strong (+20% y/y). On the AMD front, demand for Naples appears much more limited with no interest from US cloud players and only some demand from Chinese cloud companies (vs. our Nov trip when US hyper scale players were targeting 10 - 15% of purchase volumes). China traction seems to be around CPU/GPU bundling, but still only 1-2% of total server market.
Keep in mind, I never embedded estimates of meaningful AMD server revenue contribution, and I'm glad I didn't. Clearly, Intel (NASDAQ:INTC) was never going to concede the server space to AMD, but the degree to which modest market erosion could negatively affect Intel should not be underestimated. Hence, I re-rated Intel from Hold to Sell because risks whether perceived or real are dragging shares of "chipzilla" lower this year.
Furthermore, AMD went from having a near non-existent customer base to having some interest from Chinese Cloud Vendors. Hence, they went from negligible market share (perhaps 1% to 2%) to perhaps a couple percentage points of added share from just China alone. Hence, the analogy of "having nowhere to go but up" still seems to apply here.
Final thoughts
AMD has given investors out-sized returns in the trailing twelve-month period, as the stock is now up 435% from its 52-week low. The likelihood of a market correction remains high, and the impact on small cap, tech momentum will be outsized in comparison to other high beta plays.
Unfortunately, AMD sits between all the concentric circles of what investors would look to trim in an adverse market correction. Hence, traders head for the exits, and long-term investors should hedge their AMD position on the realistic assumption that things will look ugly on the charts before they become better again.
Notwithstanding, I continue to reiterate my 12-month $20.42 price target and high conviction buy recommendation. While the recent Naples commentary from Barclays confirms what many on the buyside were thinking, some speculators were out in full-force harping the potential upside in servers as opposed to consumer PC markets, or semi-custom revenue (due to console refresh).
In other words, the investor thesis remains intact as it's based on heightened wafer inventory leading into Q2'17 paired with Intel's concession of losing some consumer PC market share. If wafer inventory is up, yet Intel is guiding weakness in CCG, that would only imply AMD is soaking up meaningful consumer market share in MPUs.
I explain AMD's GPU market position in more egregious detail in the GPU Industry report released exclusively to Cho's Tech Research subscribers.
About Cho's Technology Research
Cho's Technology Research is SA's premier technology research package that gives investors and traders an additional edge when investing into tech companies. It's a trade publication, research service and an idea generator. It includes short-term trade ideas that yield 5%+, long-term small cap investment ideas that yield 25% This services comes at a low annual subscription cost of $20/month. The promotional price period will end soon! Subscribers get a free two-week trial upon checkout and can cancel at any point in time. For more information click here.
Disclosure: I/we have no positions in any stocks mentioned, and no plans to initiate any positions within the next 72 hours.
I wrote this article myself, and it expresses my own opinions. I am not receiving compensation for it (other than from Seeking Alpha). I have no business relationship with any company whose stock is mentioned in this article.