It has been a painful couple of weeks for shareholders of Frontier Communications (NYSE:FTR). The stock is down almost 40% YTD with the latest drop coming after a harsh downgrade to sell from Goldman Sachs. Indeed, analyst Brett Feldman set Frontier's price target to just $1.50 (a 50% drop from $3) and sees a possible dividend suspension to address debt maturities.
A look at the dividend payout ratio
Looking at Frontier's cash flow numbers, the current $0.42 per share dividend appears to be well covered. Frontier generated $921 million in adjusted FCF in 2016 and has guided for $800 million to $1.0 billion for 2017. Indeed, Frontier's payout ratio was just 52% of the 2016 FCF and would be 48-60% of the 2017 estimate.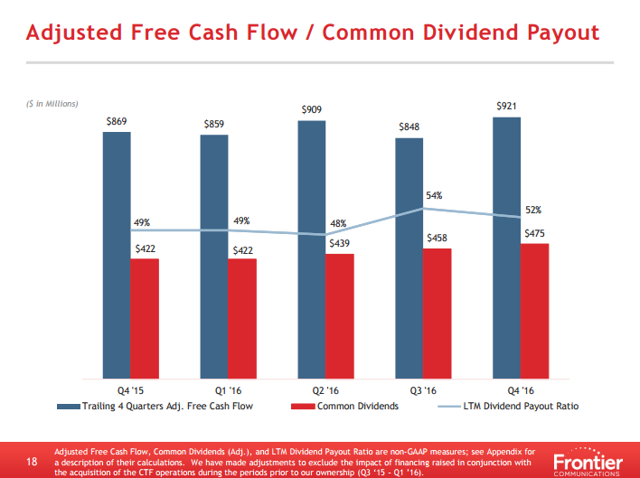 Frontier may need cash to reduce debt and leverage
However, a dividend cut for Frontier is not going to be because of lower cash flows. Rather, it's the outsized debt load. Frontier acquired a large portion of Verizon's (NYSE:VZ) former wireline assets in 2016. With these came a boatload of debt and debt-like preferred equity. This has pushed Frontier's leverage to well above 4x EBITDA, though still under the 4.5x covenant limit.
In addition, Frontier's access to capital was severely hampered when its credit rating was cut to BB- from BB with a negative outlook by Fitch after the Q4 2016 report. Fitch cited the weak revenue and subscriber trends for its downgrade.
Another issue for Frontier is that it has a ton of debt coming due as shown below. For 2017-2019 over $1.9 billion is coming due. For 2020-2022 Frontier will need to either repay or refinance over $7.6 billion in those 3 years. In other words, Frontier has $9.6 billion in debt coming due over the next six years.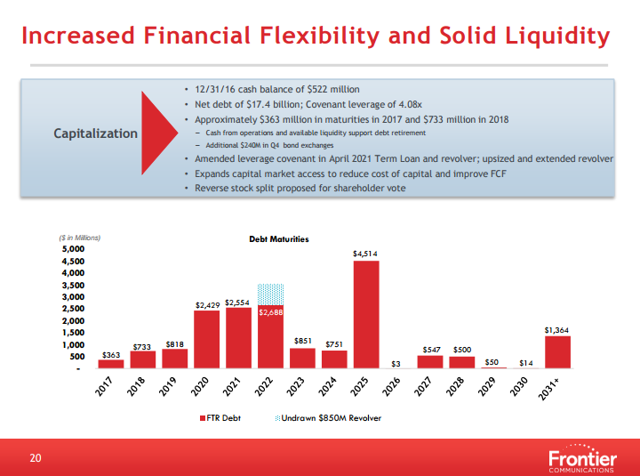 Let us do some math. Assuming no changes to the capex budget or dividend and the midpoint for FCF, Frontier's "excess" FCF will be around $425 million in 2017. Assuming this stays flat through 2022 (highly unlikely given Frontier's wireline business model), this totals ~$2.5 billion of FCF, which leaves over $7.0 billion needing to be refinanced.
Assuming the dividend is suspended, Frontier's excess FCF more than doubles to ~$900 million per year. Though, this still leaves ~$4.2 billion of debt in need of refinancing.
In other words, even with a dividend cut, Frontier will still need to refinance a ton of debt. However, with the recent credit downgrades, any new debt may come at a hefty interest rate.
Downside catalyst: execution risk
One side note. Frontier could in theory lower capex to help pay down debt. The 2017 guidance has capex spending at $1.0 to $1.25 billion. However, Frontier's reputation with the former Verizon customers has been lackluster at best. Just search online and it becomes obvious Frontier needs to improve its service or face even worse revenue declines. Capex is the last place Frontier can afford to be Frontier penny pinching.
Conclusion
As an investor with many high-yield investments, the current situation with Frontier is unfortunately not a new one for me. Sometimes these companies are forced to choose between returning capital to shareholders or fixing the balance sheet. Oftentimes this is dictated by market factors and not fundamentals.
Frontier's saving grace is that it has a ton of cash coming in. However, the market, by the price action in both the equity and bonds, is telling management that it wants it to address the debt issue ASAP. This IMHO means a dividend cut is incoming. For us common shareholders, there is not much we can do about it.
My thinking is in line with Goldman: a dividend cut to funnel cash into debt repayments. Though, an outright dividend suspension seems like a bridge too far. With a 50% reduction, Frontier can still pay a decent yield (~ 10% at current prices), keep the payout at ~25% of FCF, and get leverage under 4x by late 2018/early 2019.
I expect a dividend cut to occur at the May 2017 Annual Meeting along with the proposed reverse stock split (between 1-for-10 and 1-for-25). Paradoxically, a lower dividend should improve Frontier's credit outlook as it is by definition a credit positive move.
Note: If you liked this article, please consider following me. It really helps a lot and will allow you to get more of my work even faster. Thank you.
Disclaimer: The opinions in this article are for informational purposes only and should not be construed as a recommendation to buy or sell the stocks mentioned. Please do your own due diligence before making any investment decision.
Disclosure: I am/we are long FTR, VZ.
I wrote this article myself, and it expresses my own opinions. I am not receiving compensation for it (other than from Seeking Alpha). I have no business relationship with any company whose stock is mentioned in this article.