AT&T (NYSE:T) has performed well these past few years with even better times ahead. Investments in different markets have been made in order to accelerate growth. It looks like these efforts will bring AT&T the profit boost that it has been waiting for. The shares are currently traded close to a 52-week high, but considering the expected growth, we might very well see a breakthrough to a new high in the near future.
Strong revenue growth
Since 2009, the company has seen revenue grow annually without exceptions: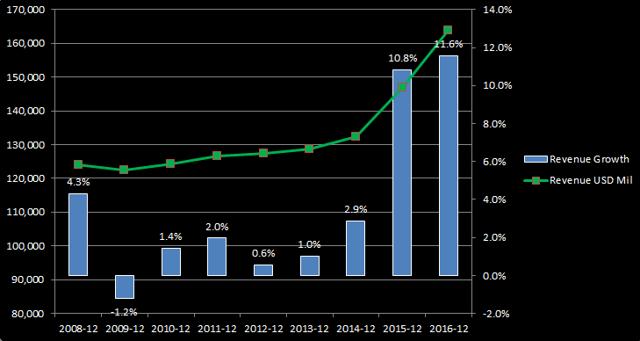 Especially, the most recent two fiscal years have displayed a significant acceleration of revenue growth. Besides performing well on the revenue front, a record-breaking cash flow from operations was realized over the course of fiscal year 2016. The cash flow from operations grew 9.7%, bringing it to over $39.3 bln for the full year. Management has been working hard on making sure it does what is needed to drive future growth in revenue and cash flow.
Between fiscal years 2012 and 2016, it has spent about $140 bln on investments in wireless and wireline networks, and acquisitions of wireless spectrum and operations. Management understands that it has to be a leader in developing new technologies. This way, AT&T will not have to rely on other parties and will enable it to have a lower cost structure.
Furthermore, there are concerns about margin pressure on the company's 4G plans, but not too long from now, its 5G plans will be brought on the market to offset these pressures. Later this year, AT&T will test 5G plans in Austin and Indianapolis. So I would not worry about 4G too much.
DIRECTV as a growth driver
While AT&T is a well-known giant in the telecom industry, there is another market where the company is trying to make it. In 2015, DIRECTV was acquired for $48.5 bln. Thanks to this acquisition, the company is the largest provider of Pay-TV in the US with more than 25 million subscribers. DIRECTV provided the scale in content relationships needed to assemble the entertainment for the new DIRECTV NOW video streaming service, which was launched towards the end of the most recent quarter. It was reported that within the first month of its launch, DIRECTV NOW saw 200,000 subscribers. But this is just a small part of the plan.
In order to build further on DIRECTV, AT&T has announced a takeover of Time Warner (NYSE:TWX) for $85.4 bln last October, adding tons of extra content. Earlier this month, the takeover was approved and is expected to be closed before the end of 2017. This is another step in the plan to become an enormous distributor of premium content. It is expected that Time Warner will be accretive to EPS and FCF within a year.
AT&T is currently evolving into a company that is much more than just a telecom company. This diversification of its business has the possibility of driving the current trend of revenue growth. Despite already being a stock with annual revenues of $163.8 bln, there is a strong possibility that we will see the revenue growth rate in double digits for some time to come.
Possible plus: Tax reform will result in even more investments
Something that could turn out to be an enormous plus for AT&T (and US companies, in general) is the possibility of a tax reform. While a tax reform is far from certain, if we would see this happen it could be huge. In the most recent fiscal year, the company's effective tax rate was 32.7%. But management believes there is a very strong possibility that this could go down to 20-25% as was mentioned in the most recent earnings call:
"In fact, we know at AT&T, if you saw tax rates move to 20% to 25%, we know what we would do; we would step up our investment levels and there are things we would like to accelerate, if we had a more favorable tax environment. So, John, my guess in terms of where this lands is probably no better than yours. But, I do think a lower corporate tax rate is likely, I think it's more than possible, I think it's likely."
Management sounds very optimistic about this possibility. If tax rate reform were to become a reality, AT&T's profitability would see a strong jump. This would mean that the current forward P/E ratio of 13.9 would become even lower, which would be a very low valuation for a company that has such great prospects. This ratio currently stands at 20.
Besides getting a lower P/E multiple, a lower tax rate means that the company has much more room to spend money on further investments to make sure it does what is necessary to drive future profitability without deteriorating the balance sheet.
Lower debt
Another plus is that management will have more money to lower its debt. The past few years, AT&T has seen both its debt and proportion of Debt/Equity rise: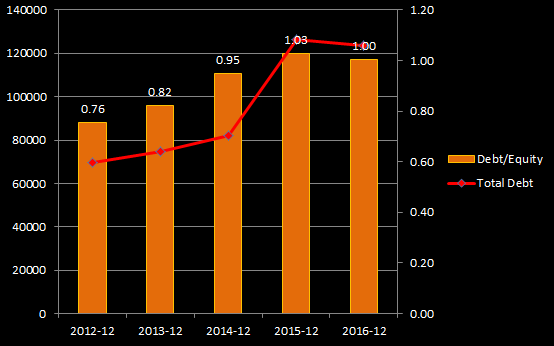 Now, the plan is to bring this down. This will be done by using FCF after dividends for the next four years. A lower tax rate means that there is more capacity to improve its balance sheet, meaning lower interest payments as well.
Valuation and concluding remarks
At current levels, AT&T's stock has a dividend yield of 4.66%, a very attractive yield for long-term investors. On top of that, AT&T has seen its dividend per share grow for 33 years straight. And since the future seems to hold higher revenues and cash flows, there is no reason to think that this trend will stop anytime soon.
The stock's forward P/E of 13.9 makes it fairly valued. But since the company is expanding in new markets and getting ready for the success of 5G plans, EPS growth is expected to accelerate. This means at current levels, AT&T's P/E multiple should reduce. Beside this, the Debt/Equity ratio is expected to decline as well, indicating a healthier balance sheet.
Between 2012 and 2015, AT&T's share price more or less moved sideways. It only started to pick up steam in 2016. Every development surrounding this stock now seems to indicate that this upward trend will continue in 2017. A new high can be expected at any time.
Disclosure: I/we have no positions in any stocks mentioned, and no plans to initiate any positions within the next 72 hours.
I wrote this article myself, and it expresses my own opinions. I am not receiving compensation for it (other than from Seeking Alpha). I have no business relationship with any company whose stock is mentioned in this article.