Stage stores is tempting due to extreme pessimism both in the group and in the company. The cashflow, dividend, and extremely negative sentiment are appealing, but the lack of earnings and less than attractive balance sheet, makes it only worth watching, not buying.
Stage Stores: (NYSE:SSI), Operates 750 Family Apparel stores in the US under a variety of brand names. (SSI website)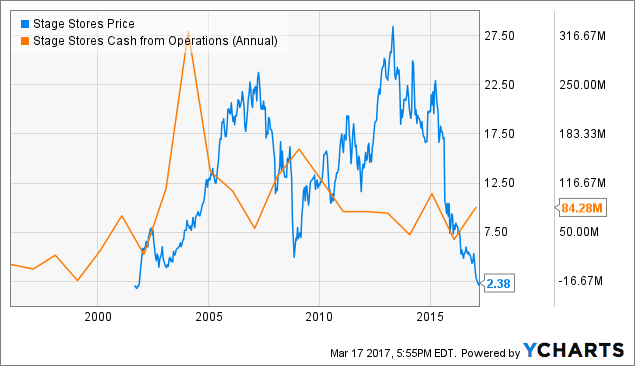 Earnings:
The company competes directly with Amazon and Wal-mart in many of its product categories. Earnings are weak due to competition and general weakness in retail. The company explains all of their issues on the recent conference call including weak traffic, margin pressure, promotional activity. It is a very negative environment, but the valuation in the shares reflects the pessimism.
Earnings overview: (via Stage Stores website)
Michael Glazer, President and Chief Executive Officer, commented, "Our fourth quarter adjusted earnings reflect continued challenges in our oil impacted and border states, as well as the overall soft retail environment. Weak traffic led to heightened promotional activity and gross margin pressure in the quarter, yet we are pleased to end 2016 with inventory levels that are 6% lower than last year.

Mr. Glazer continued, "As we look ahead to 2017, we expect external headwinds and customer behavior changes to persist. We will take steps to drive improved performance by focusing on sales in key merchandise categories, creating an exceptional customer experience in our stores and online, and raising the level of engagement with customers through our marketing. We generated positive free cash flow in 2016 and expect to deliver positive free cash flow again in 2017 by reducing capital expenditures, managing expenses prudently, and improving working capital."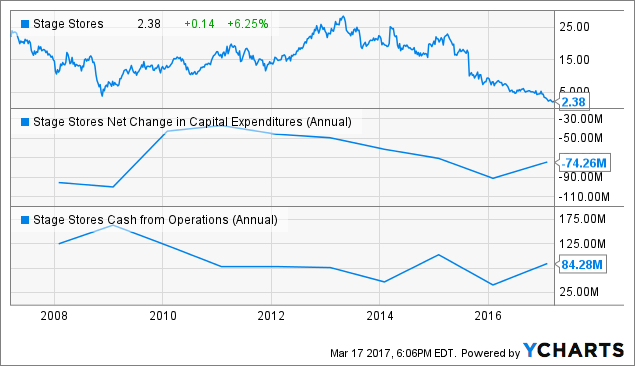 Valuation:
One of the things that makes this situation somewhat attractive is the continued cash flow the company is generating in a terrible retail environment. Retail is struggling and this company is in the worst part of it. So, that is nice to see.
The cash flow level is tempting due to the low valuation of the company at only $54M. But, there are other issues that come in to play that need to be considered as well.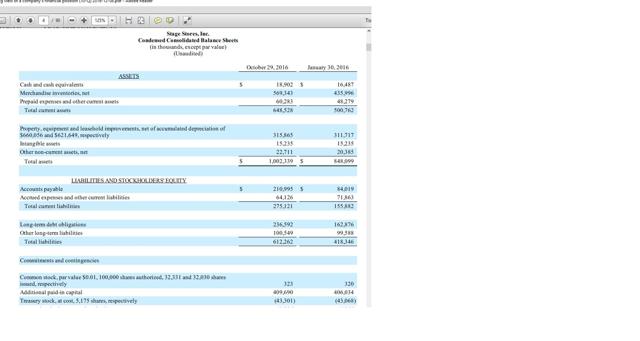 (via SSI website)
Balance Sheet:
I am not encouraged by the company's balance sheet seen above. I hoped to see a current ratio of at least 2X to provide a margin of safety - the balance sheet is lacking by this test. I want to see assets, and especially current assets, that add safety to the risk here, and there isn't enough for me.
Earnings Strength:
The company lost money in 2017 (.89), is expected to lose money in 2018 (1.12), and 2019 (.73). (Marketsmith below) So, as a value investor, it is really hard to invest in a company that is performing so poorly. It is one thing if the company was closer to break-even, but that is not the case here. This adds another level of risk to the shares.
The company has spent a fair amount of money ($40M) on store improvements and a change in mix to include beauty and cosmetics. (via website)
I find these developments encouraging, but I need earnings. Perhaps these changes will result in a nice turnaround by the company. But, it is only a wait and see situation.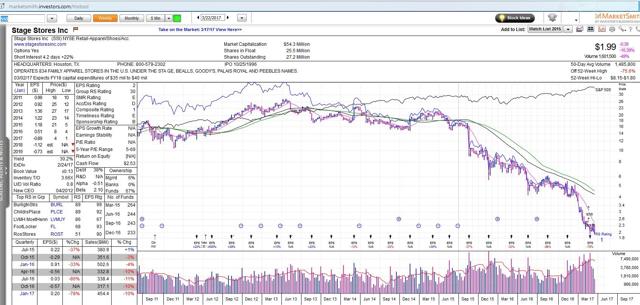 (via Marketsmith)
Technical Overview:
The chart is beautiful in that it is so terrible that as a contrarian and value investor, one has to look at this chart and wonder if maximum pessimism is taking place. And this company is definitely on my watch list because of that. However, the balance sheet and earnings situation make it too risky for me at the present time.
At best, the company is just starting to work on a base at the $2 level. This will take some time to develop. I don't feel that there is any time urgency based on the technical overview. (Company events could change that, but probably not.)
Dividend situation:
The company is continuing to pay a high dividend payment .15c per quarter to shareholders and giving a substantial yield (30%). The company is losing money so I see this is excessive and cannot assume that it will continue.
In distressed situations and deep value investments, an appropriate dividend is a positive sign. However, a large dividend does not make the shares any less risky. There is too much risk here right now. And the dividend is only an afterthought.
Option Strategy:
Because the stock is below $2, there is not really a helpful option strategy that can be used. Perhaps in the future.
Penny Stock Issue:
The stock today is trading below $2. Many institutions are required by their charter not to own "penny stocks" trading at or below $2 a share. This adds danger and volatility to the shares and increases the possibility of a reverse split or issue with exchange listing. None of these issues is positive for shareholders and creates technical selling that is worth considering.
Conclusion:
Stage Stores is very tempting for the value investor. It is in a very out of favor group and the shares appear very attractive on a few metrics. However, due to lack of earnings and the balance sheet, I am watching and waiting at the current time.
Based on the technicals, it will take some time for a proper base to be created around the $2 level. I see no urgency here.
Disclosure: I/we have no positions in any stocks mentioned, and no plans to initiate any positions within the next 72 hours.
I wrote this article myself, and it expresses my own opinions. I am not receiving compensation for it (other than from Seeking Alpha). I have no business relationship with any company whose stock is mentioned in this article.
Additional disclosure: Investors should be aware of the risks of investing in securities priced below $2 per share.
Editor's Note: This article covers one or more stocks trading at less than $1 per share and/or with less than a $100 million market cap. Please be aware of the risks associated with these stocks.