Political rhetoric suggests that Obamacare was or is bad. Granted, it has its share of problems and needs improvement. To determine if the rhetoric and facts match I decided to review the 10-K statements from 2003-2016 for Humana (HUM) and HCA Inc. (HCA). No particular reason for selecting Humana and HCA except that these are two important healthcare related stocks. I was interested to find out how the financial results compared before and after Obamacare was signed into law March 2010. The results were surprising; details are shown below.
The stock performance of Humana and HCA were reviewed for the past five years. They outperformed the S&P 500 by a wide margin, see charts below in the article.
Humana describes itself as a leading health and well-being company and had 14.2 million under its medical benefit plans at December 31, 2016. The table below shows the revenue, net income, and operating benefit figures compiled from its 10-K filings with the SEC for 2003 to 2016. Net income and operating benefits as a percentage of revenue were calculated. The bold figures show years that were above the average in the table.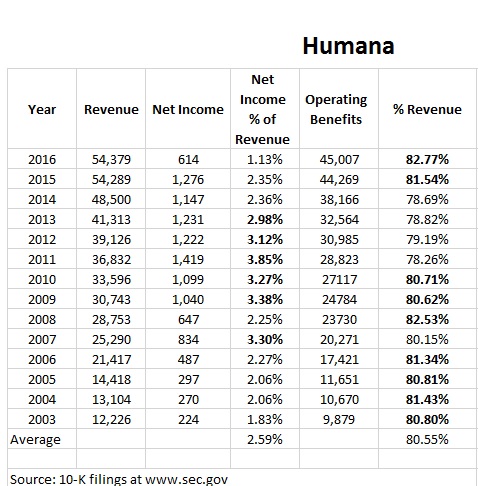 Humana's profits measured by net income as a percentage of revenue increased during President Obama's time in office when compared to 2003. During President Obama's term, five years had above average net income as a percentage of revenue. This would not be expected if Obamacare created issues. Net income fell during 2008 before Obama was inaugurated as president.
HCA Holdings Inc. describes itself as a leading health care service company with 170 hospitals. The table below shows the revenue, net income, and salary & benefit figures along with the percentage of revenue calculation.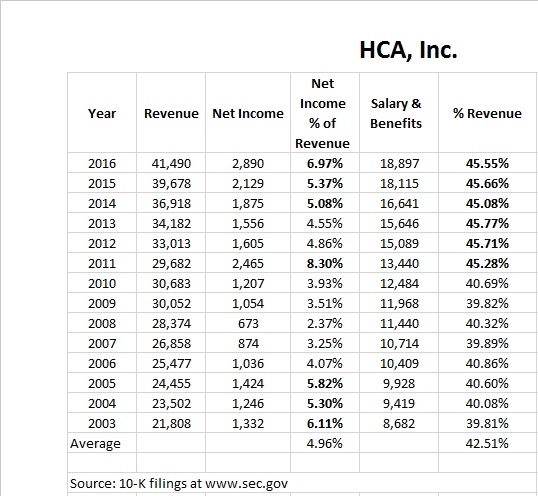 The past three years have seen net income as a percentage of revenue above the average. Salary & benefits as a percentage of revenue have exceeded the average rate the past six years. HCA is doing something right as net income has grown.
Revenue and net income at both Humana and HCA have increased from the 2003 level.
The chart below shows the stock performance of both HCA and Humana versus the S&P 500 index (SPY). Humana and HCA have beaten the S&P 500 by a wide margin during the past five years. The stock market discounts the future, therefore, if the market expected poor results from the Obama health care reform then the stock performance would have been expected to be poor when compared with the S&P 500. It wasn't.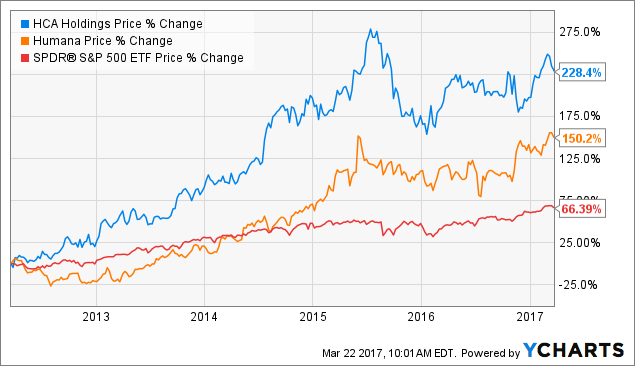 HCA data by YCharts
Year to Date Chart
The stocks have had a rough month since the GOP announced its health care replacement plan, but are still in positive territory and beating the S&P 500. It appears that the market is questioning whether the GOP replace plan will be kind to Humana or HCA.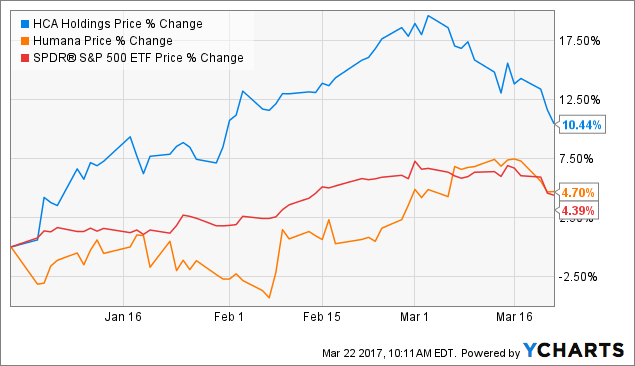 Thursday the House of Representatives is said to be voting on the health care reform bill. At this time it is uncertain if the bill will pass either the House or the Senate. The uncertainty may rattle the financial markets some.
Obamacare has issues, no doubt about that. However, the company supplied health insurance might not be what an individual wants either, and the option is generally to take it or leave it. Not sure how many companies provide the employee with the option of health insurance or greater compensation, do you know any? This choice could help lower health care expenses as employees compare costs and benefits.
The CBO suggests that the GOP plan could increase costs for many, except the younger generation that would not have to purchase health insurance as the mandate would be repealed. Though if I understand the bill correctly, a 30% premium could be added when seeking health insurance for those without coverage. Would this mean a 20-year old that goes ten years without health insurance would be required to a 30% premium for each year without coverage, a 300% penalty without compounding? If so, how could they afford coverage?
The GOP replacement bill does little to control cost, nor do I recall seeing tort reform mentioned. I had a recent conversation with a former health care worker in Canada. They mentioned that some Canadian physicians that went to work in the U.S. are returning to Canada to practice medicine as the cost of litigation and the hassle in the U.S. is too burdensome. For health care cost to be lowered, some within the supply chain must accept lower profits or margins, correct?
Bottom Line:
Health care stocks may provide an attractive long-term return potential once the GOP replacement plan comes to a vote. Should health care stocks decline then a risk adverse method of entering a position could be to sell a put option and either earn the option premium or purchase the stock at a discount to the current price.
Like it or not, everyone will make use of health care during their lifetime. And it is common to gripe about its cost. That is part of human nature. I do not know anyone that enjoys paying a medical bill or insurance premium, do you? Judging from history, one way to soften the blow of medical costs is to have exposure to the health care sector. Some firms may pay attractive dividends. For example, Humana pays $1.60 dividend per share and has a current yield of 0.75%. HCA does not currently pay a dividend, though it did pay a $6.50 dividend in 2012.
In the near-term health care, stock investors must factor in what happens in Congress, and whether the outcome is currently priced into the shares. The longer-term outlook appears bright as individuals live longer and have more disposable income to spend on health care.
What are your thoughts?
Disclosure: I/we have no positions in any stocks mentioned, and no plans to initiate any positions within the next 72 hours.
I wrote this article myself, and it expresses my own opinions. I am not receiving compensation for it (other than from Seeking Alpha). I have no business relationship with any company whose stock is mentioned in this article.