By Meredith Larson, Product Manager, ETFs
Business Development Companies (BDCs) can complement an income allocation and enhance yield without adding significant interest rate risk. BDCs have, historically, also offered a competitive risk/return tradeoff when compared with high yield bonds, leveraged loans, and equities across the market capitalization spectrum (see chart below). At the same time that rising interest rates are weighing on income investors, the desire for yield persists. However, investors have options without the meaningful interest rate duration1 found with traditional fixed income investments, and BDCs are one of those options.
What are Business Development Companies?
BDCs lend to and invest in small- to mid-sized private companies, which tend either to be rated below investment grade or not rated at all. Allocating to BDCs helps investors gain exposure to the growth and income potential of privately held companies, access that has traditionally been limited to institutional or high net worth investors.
The dividend yields of BDCs have historically averaged 8.7%.2 These yields have been driven, in part, by the BDC's loan portfolios. Although the borrowers are typically leveraged entities, BDCs themselves are considered low leverage, since they are restricted to a 1:1 debt-to-equity ratio. A particularly pertinent feature of BDC portfolios today is that, on average, more than 70% of the loans made by BDCs include a floating rate feature.3 These loans, in general, reset interest payments based on three-month LIBOR4 interest rate floors of 1%-1.25%. With three-month LIBOR currently over 1.1%,5 many BDCs' loan portfolios may now benefit from the floating rate feature by adjusting their yields upwards should interest rates further increase.
Investors should note, though, that the high yield of BDCs is an indication of potential credit risk. While the majority of loans in the BDC space are senior secured loans6 (which can help increase the loan recovery potential in the event of a default), investors should have a risk tolerance for below-investment grade (i.e., high yield/BB+ or below) rated securities. In addition, publically listed BDCs are equities and, as such, may be sensitive to investor sentiment and subject to greater volatility than found with high yield bonds or leveraged loan portfolios.
Where do BDCs fit into a portfolio?
The following risk/return chart helps to illustrate where BDCs may have a place in an investor's portfolio. The proxy used for the publicly listed investable BDC space is the MVIS™ US Business Development Companies Index (MVBIZDTG). As the chart shows, BDCs have offered a competitive risk/return tradeoff against high yield bonds, leveraged loans, and equities across the market capitalization spectrum. Since the MVBIZDTG was launched on 8/4/2011, its average volatility has been less than that of other equity indices and it has meaningfully outperformed both high yield bond and leveraged loan indices.
Annualized Standard Deviation versus Annualized Return (%)
8/4/2011 - 3/13/2017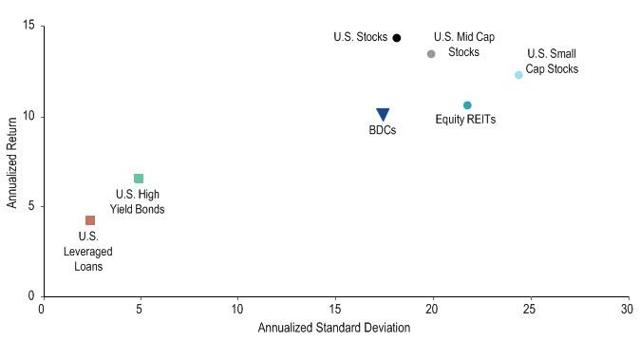 Source: FactSet, Bloomberg. Data as of March 13, 2017. Past performance is no guarantee of future performance. Index performance is not indicative of fund performance. Indices are not securities in which investments can be made. See index descriptions and additional disclosure below.
High yield or equity income investors may want to consider a diversified allocation of BDCs to complement their traditional income portfolios. With their access to the private middle market space, BDCs have offered an historically attractive yield component and growth potential. In addition, with more than 70%, on average, of BDCs' loan portfolios structured as floating rate loans, their income is positioned to rise within a rising rate environment.
Investors can gain exposure to BDCs through the VanEck Vectors™ BDC Income ETF (NYSEARCA:BIZD).