Recent financial results killed the stock price of Avon Products, Inc. (NYSE:AVP). In mid-2016, investors were encouraged by the company being able to complete some refinancing by paying off notes due in 2018 with new debt due in 2022. This refinancing, however, was actually not as positive as seems and only kicks a major restructuring of Avon, in or out of bankruptcy court, further down the road. The effective real cost to borrow was much higher than it seems and the company's business model continues to slowly implode.
Fourth Quarter
The fourth-quarter results of revenue declining 2% and a loss of $0.03 per share shocked many investors, especially when it was also disclosed that the number of sales representatives dropped 2% and that a new major problem developed - accounts receivable. Avon increased their charge off of accounts receivable 32%.

Accounts Receivable - A New Problem
The provision for doubtful accounts soared 32% in 2016 to $190.5 million from $144.1 million the prior year. The total net accounts receivable also rose to $458.9 million from $443.0 million, which raises a yellow flag since net sales dropped 8%. The accounts receivable turnover was 12.2x in 2016 and 13.7x in 2015. In an attempt to grow their sales force in South America, especially Brazil, Avon lowered their credit standards. Was this just a bad management decision or could it have been an attempt to pop reported sales figures on a short-term basis prior to refinancing last summer?
The book value of the $459 million accounts receivable and $586 million inventory may be overstated relative to the actual value received in any restructuring because many representatives in foreign countries may not feel legally compelled to pay a receivable to a bankrupt company. If the size of the sales force drops during a restructuring, the current inventory may be excessive and would be worth significantly less if sold via a third party liquidator.
Refinancing
Investors viewed Avon's refinancing as positive last summer in an attempt to remove worries over their ability to pay two different notes maturing in 2018. The real cost, however, to extend the maturities by issuing a senior secured $500 million notes due August 15, 2022, is much higher than the coupon of 7.875%. For example, the real cost of borrowing $250 million from July 2018, the maturity date for the 4.20% 2018 notes which were replaced, until August 2022 is not the 7.875% coupon rate. It is really over 10%. You need to allocate the coupon differential, (7.875%-4.20% =3.675%) for the time periods (using the 3 different purchase dates/amounts) that remained on the old notes and the premiums paid to repurchase the old notes, to the interest costs from July 2018 to August 2022.
This problem of re-financing to extend maturities resulting in a higher effective rate than the new coupon rate is not unique to just Avon, it is fairly common for distressed companies. In my opinion, it shows that Avon's board of directors fully realized the real possibility that the company will be in such poor financial shape in July 2018 that it would be forced into paying over 10% for secured borrowing. Remember the new senior notes are secured and that the notes they refinanced were unsecured. A 10% real cost for 4-year secured paper is a yellow flag. A stronger business would have continued paying the cheaper 4.20% notes and just issue new debt when they matured. Avon could not take the risk of not being able to pay the maturing notes.
Avon has $1.876 billion in long-term debt and negative shareholder equity of $848 million, if the preferred stock is included in equity. The leverage is even worse if the preferred stock is considered a source of borrowing capital - the borrowed amount is $2.321 billion versus negative equity of $1.293 billion. (Adding $445 million preferred to debt and subtracting it from equity.) The 2016 current ratio is a weak 1.34x. These figures make for difficult refinancing.
The headwind going forward is the $237.9 million notes maturing in March 2019 and $409.9 million notes maturing in March 2020. In 2020, the revolver also matures. With only $35 million free cash flow in 2016 and with future results expected to be less than robust, it is unlikely the funds will come internally. That is a lot of debt to refinance. The maturing notes are unsecured, and to refinance last summer they used secured financing and still paid a high rate. This could be a major problem to resolve without a strong improvement in operations. Their antiquated business model of declining unit sales and declining sales reps points to a possible need for an in court resolution to the refinancing issue.
Since all of Avon's sales are from foreign operations, they are exposed to currency changes relative to the dollar (A few countries peg their currencies to the dollar.) In addition, all of their $1.882 billion in long-term debt is in dollars, so a 10% strengthening of the dollar effectively raises the amount owed in foreign currencies by $188 million. (Of course, the reverse is true, if the dollar weakens.) If the interest rates continue to rise faster in the U.S., the dollar should continue to strengthen. Currency risk is a real issue that Avon faces, especially since they no longer have any domestic operations. They need to consider doing some of their future refinancing in local foreign currencies to reduce this risk.
Negative Representative Growth - Again
Currently Avon is not profitable, yet management has set a goal of increasing the number of sales representatives only 1-2% annually. Therefore, to get growth they need to increase sales per rep. With unit sales declining the same 2% as the 2% decline in the number reps last year, they are failing to achieve this goal. They were able to get constant dollar growth of 6% in 2016 by raising prices. Just raising prices is easy, but at some point price competition will hurt them.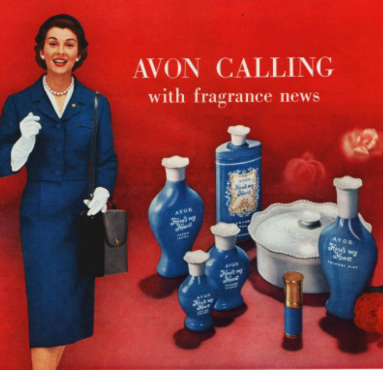 I am sure many women consumers are thinking when they see higher prices that Avon should keep prices down by just cutting out the "middlewoman" by letting consumers order on-line or via a mobile app. It could also expand their target market to include men to make it easier for men to buy Avon products as gifts on-line. Currently, the woman reps almost exclusively market to only women.
They are expanding their on-line and social media approach to ordering, but can Avon have a successful relationship with their traditional representatives and expand their on-line/apps platform? It is a needed transition, in my opinion, but given their extreme financial leverage, they are not in a position to absorb any quick drops in reps/sales because the individual reps feel they are competing against the parent company that owns the website/apps. This is not a minor issue. This is a fundamental change in their business model.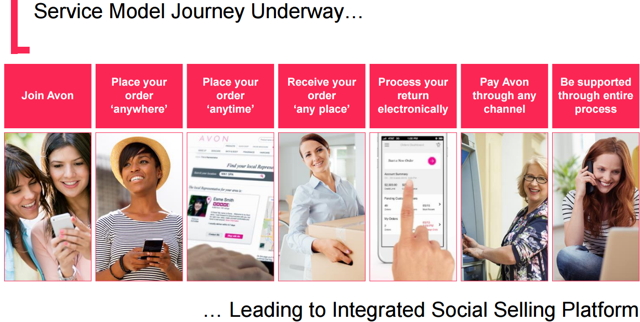 The chart below is from Avon's investor presentation on July 18, 2016. The improving representative growth data may have helped the terms of their $500 million new secured note issue in August. By year-end, they were back to negative 2% growth.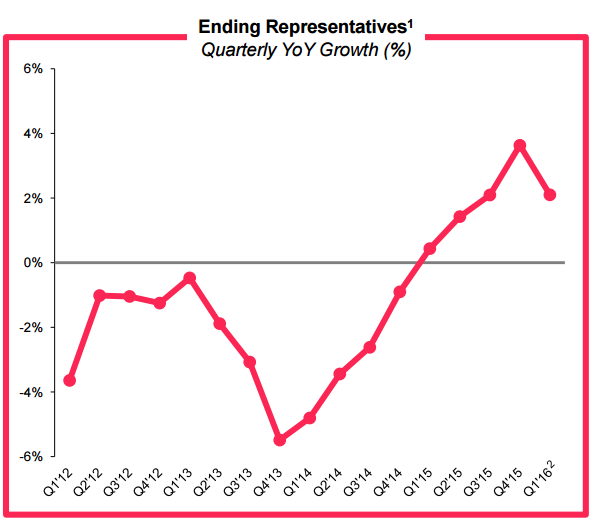 It should come as no surprise that the number of reps is declining because Avon has been reducing advertising. In 2016, advertising was down to $108.9 million from $128.0 million the prior year and down from $166.4 million in 2014. Ads not only impact final sales but impact recruitment and retention of reps.
Avon's problem is that the word "bankruptcy" must never be associated with them in the regular press in the countries they operate. Their customers are a large number of mostly unsophisticated sales reps. Any hint of bankruptcy could cause their sales force to drop sharply as their reps become worried, placed orders are not filled and their deposits are lost. In addition, in many countries their new sales reps do have upfront out of pocket expenses and any mention of bankruptcy would discourage new reps from joining and losing the upfront money. Any major financial restructuring, either in or out of court, would have to be done quickly without much press/chatter prior to restructuring.
Cerberus Capital
Many investors are banking on an assumption that Cerberus will not let AVP go bankrupt because they hold $435 million of convertible preferred stock that has a 1.25% quarterly coupon payable in cash, common stock or other preferred stock. Cerberus has 3 of the 11 board seats and if the preferred stock is converted ($5 per share), they would own 16.6% of the common shares. Investors need to remember what happened to Cerberus Capital's 80% holding of Chrysler LLC - they lost it. (Their holding of Chrysler Financial was profitable.) In addition, if Avon ever gets into bankruptcy court, the preferred will have a priority claim and would, in theory, get paid in full before the AVP common gets anything.
Conclusion
I have been trading Avon since 1974 when I bought calls on AVP and it is sad to see one of America's great marketing companies face such a very difficult future. I shorted AVP last summer when investors, in my opinion, were too positive about the refinancing of debt. While the near-term problem of being forced to pay maturing 2018 notes was eliminated, the new secured debt was very costly and indicates that management acknowledges the possibility that their financial position could get even worse. They face the problem of refinancing maturing debt in 2019 and even more in 2020.
Their business model of millions of sales reps could be in for a very bumpy ride as their social media/websites are expanded for ordering by individual consumers. The decline in the number of reps at the end of 2016 spooked investors. I think this trend will continue to be negative.
Avon's future is not beautiful. It needs a lot of make-up and even a face-lift. The 2016 refinancing just pushed the need to do a major financial restructuring, either in or out of bankruptcy court, down the road. It did not solve the problem. I rate AVP a strong sell. For investors who are willing to maintain short positions for 2-3 years, I rate AVP a short sale.
Disclosure: I am/we are short AVP.
I wrote this article myself, and it expresses my own opinions. I am not receiving compensation for it (other than from Seeking Alpha). I have no business relationship with any company whose stock is mentioned in this article.