Osisko Gold Royalties: Q4 Analysis and New Silver Stream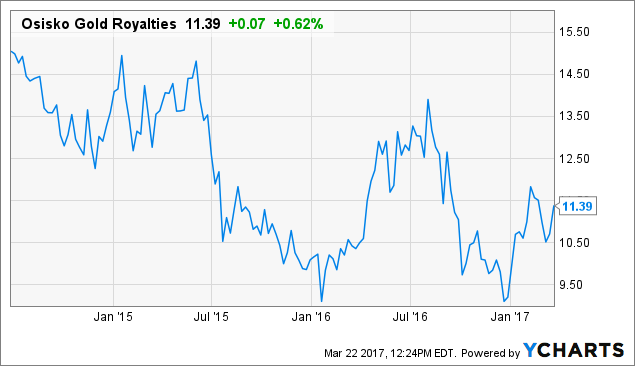 OR data by YCharts
Readers that have been following me may remember that I recently sold a large percent of my holdings in Silver Wheaton (SLW) to purchase shares of Osisko Gold Royalties (NYSE:OR). Following Osisko's latest earnings report and the new acquisition, I am a bit more confident in this decision, as I'll explain below.
I think Osisko had a pretty strong Q4 earnings, and the outlook for the future is pretty bright. In the quarter, the company says it earned 8,964 gold equivalent ounces, representing an increase of 10% from last year. Revenue was $13.7 million, up from $12.8 million last year; operating cash flow improved to $12.8 million, from $8.4 million. Finally, net earnings rose to $8.7 million, or $.08 per share, compared to $4.6 million, or $.05 per share, in Q4 2015.
For 2016, Osisko recorded 38,270 gold equivalent ounces, a 25% jump over 2015. Revenues rose 38% to $62.7 million, while operating cash flow increased from $28.9 million to $53.4 million. Net earnings were $42.1 million, or $.40 per share, compared to $28.7 million or $.32 per share in 2015.
Osisko ended the year in great financial shape, with $499 million in cash and cash equivalents, zero debt, and close to $200 million worth of equity investments.
Guidance for 2017 is also strong, as Osisko is guiding for 43,300 to 46,100 attributable gold equivalent ounces, which would represent growth of approximately 15% to 20% over 2016.
Osisko also announced big news recently as it closed on a silver stream acquisition on Taseko Mines' (NYSEMKT:TGB) Gibraltar copper mine in Canada. For an upfront cash payment of $33 million, Osisko gets 100% of the attributable silver production from Gibraltar until 5.9 million ounces have been delivered, and 35% of the silver production thereafter. The company has to make ongoing payments of just $2.75 per silver ounce delivered.
I think this deal is a no-brainer for Osisko and it looks to grow its production and reserves, and the numbers make a lot of sense. This deal is expected to increase Osisko's production by 200,000 ounces of silver for 14 years, then increasing to 350,000 ounces for the remainder of the 23-year mine life at Gibraltar.
Using current silver prices of $17 per ounce and accounting for a per ounce payment of $2.75, Osisko would earn approximately $2.85 million in annual cash flow from this stream for the first 14 years, and $4.98 million per year thereafter. This represents annual returns of 8.63% on Osisko's upfront investment of $33 million, which certainly isn't bad.
The structure of streaming is great, as the fixed cash costs per ounce model gives Osisko big upside to higher silver prices. Under a more bullish silver price scenario of $20 per ounce, Osisko would earn approximately $3.45 million in cash flow per year for the first 14 years (a return greater than 10% annually), and $6.03 million per year annually thereafter.
Using $25 silver, the company would earn $4.45 million per year for the first 14 years, and $7.78 million thereafter. Again, Osisko just has to pay $2.75 per ounce of silver delivered, and the stream is not subject to an inflationary adjustment.
In conclusion, Osisko ended 2016 on a strong note, but I think the best is yet to come. Guidance for 2017 is strong and includes new production from its recently acquired Gibraltar silver stream. With a massive net cash and equity investment position and no debt, the company is in great financial shape and will likely be active in 2017. I will look to add more shares on any future dips.
Disclosure: I am/we are long OR, SLW.
I wrote this article myself, and it expresses my own opinions. I am not receiving compensation for it (other than from Seeking Alpha). I have no business relationship with any company whose stock is mentioned in this article.