In this article, I will be covering the iShares Residential Real Estate Capped ETF (NYSEARCA:REZ). The idea for this article came from a commenter on an article I recently wrote on REIT ETFs. The commenter asked, "Find me one without SPG." I searched through the list of ETFs I covered and that is how I found REZ. I suspect that the reader was looking for an ETF that does not include Simon Property Group, Inc. (NYSE:SPG), which is the largest mall REIT. Since SPG is the overall largest REIT in the market, it is not surprising that SPG is the top holding in all of the largest real estate ETFs. With the troubles at the mall, it is easy to see why someone would want a real estate ETF that does not include SPG or other mall/retail-related REITS.
REZ Description
REZ is unique because it completely avoids the retail sector all together and only owns residential, health-care and self-storage companies. It is widely known that the mall is becoming less relevant and with all the largest REIT ETFs holding the largest mall owner, those funds in theory would underperform REZ if the mall continues to decline.
Expense Ratio: 0.48%
Dividend Yield: 5.48%
Assets: $379 Million
"The iShares Residential Real Estate Capped ETF seeks to track the investment results of an index composed of U.S. residential, healthcare and self-storage real estate equities." REZ Overview
REZ Holdings
REZ currently has 45 holdings, which means that the fund will be top heavy in terms of where assets are allocated. The largest holding is Public Storage (NYSE:PSA) with an 11.63% weighting. The top 10 holdings account for 65.3% of assets, which is quite large, so potential investors need to realize that there is concentration risk associated with this fund.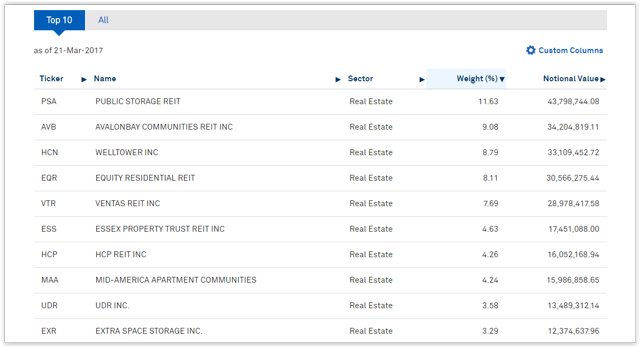 REZ in action
Today is a great example showing the difference between a REIT ETF that is not exposed to retail, compared to one that is. The performance today gives a clue to future performance if the mall continues its decline. Sears (NASDAQ:SHLD) today had a 'going concern' warning in its 10-K and sent shares lower by 15% at the time of writing this article. Because of that and analyst downgrades, mall REITs are all being hit hard today. The iShares U.S. Real Estate ETF (NYSEARCA:IYR) includes retail REITs and is down 0.15% whereas REZ is up 0.75%.
REZ Long-Term Performance
As you can see in the chart below, REZ has performed very well since its inception in 2007. I looked at all the ETFs in the real estate category on ETFdb.com, and found that over the three and five-year periods REZ was the top performing non-leveraged real estate ETF. It is surprising to me that REZ being the top performer over those periods has "only" gathered $379 million in assets, and the fund that REZ has crushed , has $4.49 billion in assets. Maybe a name change should be in order that would make the fund more popular in today's environment. My suggestion would be either the iShares Residential Real Estate Ex-Retail ETF or the iShares Real Estate Ex-Retail ETF.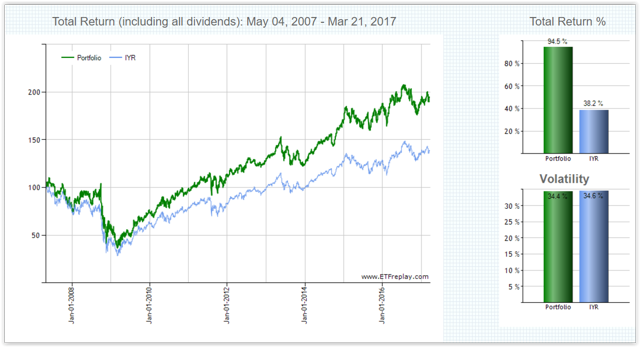 Image from ETFreplay.com
Closing Thoughts
In closing, it is widely known that the mall is becoming less relevant and with all the largest REIT ETFs holding the largest mall owner, I think it REZ is worthy of further research and consideration given the current retail environment we are in. If you are still looking for exposure to retail, the best option that I have found is the VanEck Vectors Retail ETF (NYSEARCA:RTH). Its largest holding is Amazon (NASDAQ:AMZN) and it owns many other quality retail companies like Home Depot (NYSE:HD), Lowe's (NYSE:LOW) and Costco (NASDAQ:COST).
Disclaimer: See here.
Disclosure: I/we have no positions in any stocks mentioned, and no plans to initiate any positions within the next 72 hours.
I wrote this article myself, and it expresses my own opinions. I am not receiving compensation for it (other than from Seeking Alpha). I have no business relationship with any company whose stock is mentioned in this article.
Additional disclosure: I may initiate a position in REZ and/or RTH sometime in the distant future.