Yesterday, Navios Maritime Holdings (NYSE:NM) announced another Exchange Offer that served to boost its preferred share (NM-G, NM-H) prices by approximately two dollars each. As I write it appears that they have fallen back a bit, but as far as I'm concerned, it is of no real relevance. This article concerns what the exchange offer actually means for NM's preferred shareholders, those who decide to sell, accept the offer, or those like me who will hold.
Admittedly, the offer is quite a bit more attractive than its two former incantations, but again it's not the basis of this article. What makes this offer attractive is the fact that these shares will not be able to be used by AF to cause the remaining preferred shareholders to lose any of our rights and access to those missed cumulative payments we will still be owed. Before stating this I contacted my attorneys to be certain that I was correct in this assumption.
I also quickly scanned the NM-H IPO prospectus where I learned:
If and when dividends payable on the Series H Preferred Stock are in arrears for six or more quarterly periods, whether or not consecutive (and whether or not such dividends shall have been declared and whether or not there are profits, surplus, or other funds legally available for the payment of dividends), then (X) if our articles of incorporation have been amended as described in the preceding sentence, the Series H Preferred Shareholders will have the right, voting as a class together with holders of any other Parity Securities upon which like voting rights have been conferred and are exercisable, to elect one member of our board of directors, and the size of our board of directors will be increased as needed to accommodate such change (unless the size of our board of directors already has been increased by reason of the election of a director by holders of Parity Securities upon which like voting rights have been conferred and with which the Series H Preferred Stock voted as a class for the election of such director), and (Y) if our articles of incorporation have not been amended as described in the preceding sentence, then, until such amendment is fully approved and effective, the dividend rate on the Series H Preferred Stock shall increase by 25 basis points.
This also applies the G Series shares.
Furthermore, my attorney informed me that even though NM might miss its 6th preferred dividend payment, we as preferred shareholder still would not have the right to elect a member to the Board of Directors. However, as a result we will gain a 1/4 point bump. A tradeoff I am more than willing to live with.
As for the next erroneous point about attaining the needed 2/3 preferred shares to affect the remaining preferred shareholder's rights, I'll defer to Rich LeJeune who stated:
No, they cancelled the shares purchased in the last tender offer. They are not accumulating 2/3 of the preferred shares as treasury shares. Please check the preferred share count in the filings. It was reduced after the prior exchange offer. They cancelled shares that were repurchased. There is some merit to the idea that they could have kept them as treasury shares to vote, but it didn't happen. Perhaps they will do that this time around, but you can't add preferred shares purchased here to prior share purchases.
Another member questioned about who would be the beneficiary if and when the preferred payments were restored and the missed payments began to be paid back. The answer is simple and straightforward, he who holds the preferreds at that time will receive any monies owed.
This leads to the question concerning whether or not NM preferreds are a sound investment at this time and at their current prices of around $14/share. As usual, before I answer this question I turned to the BDI price and its trend.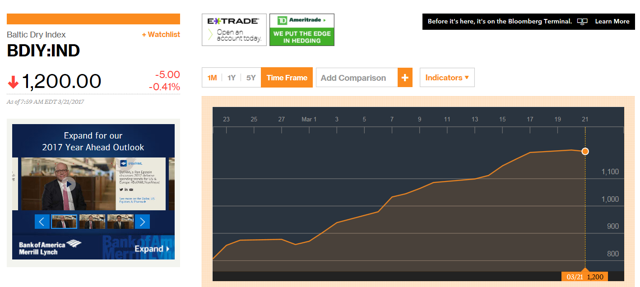 Except for the recent leveling off and the slight downtick, the Baltic Dry Index appears to signal good things for the drybulk shippers, although of this I remain uncertain. However, NM is a holding company with profitable and not so profitable subsidiaries and a mountain of debt, which they appear to be attempting to pay down, much of it via the preferred share and bond buybacks. I'm sticking with my substantial bets in this company because I can afford the loss in the event I am wrong and NM eventually goes bankrupt, you might be in different circumstances and want to exit now.
Finally, from many of the questions posed recently, it remains evident that many trade in preferreds without sufficient knowledge to do so effectively. For those of you who fit this description, I urge that you review many of my past articles.
Disclosure: I am/we are long NM-G, NM-H.
I wrote this article myself, and it expresses my own opinions. I am not receiving compensation for it (other than from Seeking Alpha). I have no business relationship with any company whose stock is mentioned in this article.