The pharmaceutical industry is built around a very unique business model. Pharmaceutical firms spend hundreds of millions or even a billion dollars on research and development for a single drug with the hopes that, if approved, the 20-year patent will provide secure, high margin cash streams for years. The nature of this model gives large drug companies, such as Pfizer (NYSE: PFE) a large competitive advantage. Pfizer is able to leverage its huge infrastructure - financial resources, human resources, product diversity, distribution network, etc. - to weather the long-cycle development process. This infrastructure allows Pfizer to generate attractive cash flow streams that investors can count on.
I view Pfizer as a stable, long-term investment that will generate strong dividend income along with some price appreciation. Pfizer is interesting as I classify it somewhere in between a dividend growth stock and a dividend income stock, given its relatively high dividend yield of 3.75%. My belief is that Pfizer is currently well positioned to continue growing its dividend for years.
Pipeline - expiring patents
The drug pipeline, both in terms of new drugs and expiring patents, is the lifeblood of a pharmaceutical company. Pfizer's patent cliff does not pose a major threat over the next few years. Below are the three largest concerns (data from Pfizer's annual report):
-Viagra, expiring December 2017, generated $1.2B of sales in 2016
-Pristiq, expiring March 2017, generated $578mm of sales in 2016
-Lyrica, expiring in 2019, generated $4.2B of sales in 2016
On 2016 sales of $52.8B, the two large patents expiring this year represent only 3.3% of sales. Lyrica, at 8% of sales, is a bigger concern, but Pfizer has a few more years before losing that revenue.
Pipeline - new drugs
Pfizer has several new drugs that have significant room for growth, along with several new drugs in various application phases.
Ibrance treats breast cancer which Pfizer began selling in 2015. Sales in 2016 were $2.1B, up 190% vs. 2015. CFO Frank D'Amelio recently spoke at the Barclay's Healthcare Conference (transcript here), and stated that he sees a lot of growth in Ibrance. The one negative with regard to lbrance is that Novartis (NYSE:NVS) recently came out with a competing product, but D'Amelio believes it will only add awareness to the class of drugs because you now have two large marketing teams promoting the drug class.
Xeljanz is a relatively new rheumatoid arthritis drug that has a lot of potential. At $927mm of 2016 sales, up 77% over 2015, Xeljanz appears to be ramping up sales quickly (data taken from 2016 annual report).
Eliquis, a blood thinner developed with Bristol-Myers (NYSE:BMY), is another drug showing great promise. While Pfizer does not break out sales of Eliquis, the blood thinner market is a large one that Pfizer should be positioned to be a player in.
Another big growth area for Pfizer will be in biosimilars. Pfizer launched Inflectra in the U.S. in December 2016, and it has been available in Europe for three years. Even with minimal time in the U.S. in 2016, Inflectra generated $319mm of sales in 2016. Inflectra should provide meaningful growth in 2017. Beyond 2017, Pfizer has a strong pipeline of 8 biosimilar drugs that are in mid or late stages of development, and another 6 in early stages: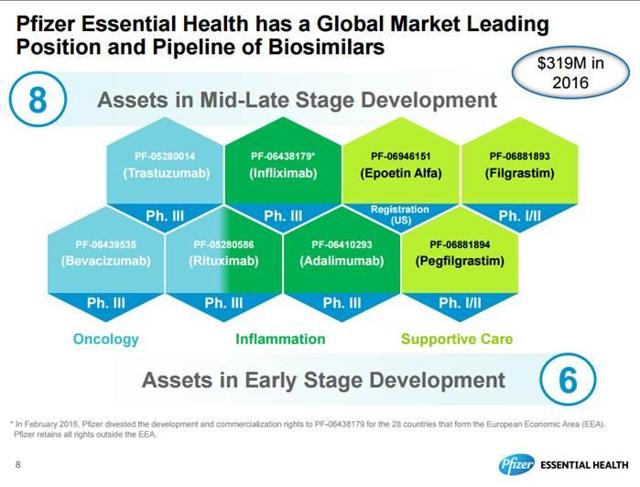 Source: Company presentation.
Biosimilars represent less than 1% of Pfizer's sales today, but could be a large area of growth going forward.
Finally, Pfizer's sterile injectibles pipeline, which is a $6B business for Pfizer and a $80B market, is expected to launch over 140 new products over the next 3 years. It's important to note the broad diversity of Pfizer's product pipeline in both the short and long-term.
Pipeline: Net View
My overall view of Pfizer's pipeline is positive. The revenue lost in 2017 should be more than made up through the growth of its new drugs. Lyrica will be a big loss in 2019, but growth of new products over the next few years should help to offset that loss, in addition to the potential of Pfizer to get some of the new drugs in the pipeline approved.
One final thought on growth is that Pfizer is a $52.8B company in terms of revenue - it takes a lot of growth to move the needle. While there are clearly a lot of growth avenues, in terms of percentage growth, I don't believe investors should expect organic sales growth of higher than 4-5% a year (excluding any future acquisitions), without a new approval of a blockbuster drug.
Other Long-term Positive Trends
Of course, drug pipeline is the most important aspect to evaluate in terms of forecasting Pfizer's future sales, but there are a few other trends worth mentioning.
Per the annual report, Pfizer generates 50% of its sales in the U.S., 8% in Japan, and 42% from the rest of the world. Populations in the U.S. and Japan are aging - this creates the obvious benefit to Pfizer that older people will need more medications. To zero in on a more specific benefit of the aging populations, Pfizer is the #1 pharmaceutical company globally in the non-viral anti-infective market. This market is expected to grow at a 6% CAGR through 2022. As populations age, and resistance to infections diminishes, vaccinations should become increasingly important and an increasingly valuable market over the long-term. As the #1 player, Pfizer stands to benefit from this long-term trend.
A final long-term positive trend is the growth of emerging markets, such as Brazil, Russia, India, China, and Turkey. As seen below, emerging markets have grown faster than the overall company meaningfully, and are expecting to drive further growth in 2017. Emerging markets made up only 20% of sales in 2016, per the 2016 annual report, which likely means there is a lot of room to grow as these countries become more developed.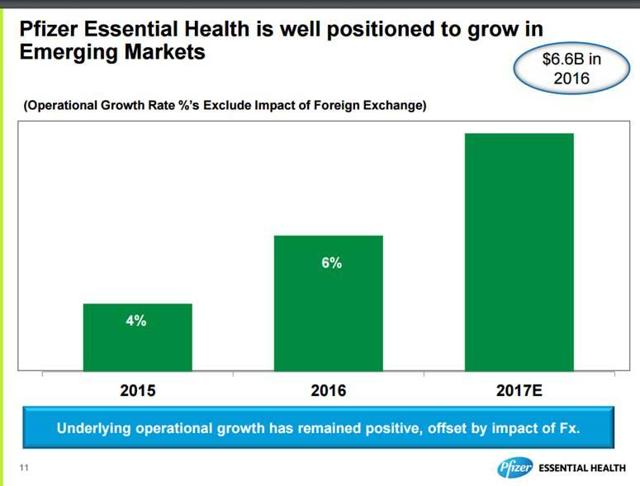 Pfizer's Risks
Aside from the Lyrica expiration discussed above, and the general risk that new drugs do not get approved over the coming years, the biggest near-term risk I see is from the Trump administration, which may be why the stock has not moved as much as the market in recent months.
Trump has put some focus on putting pricing pressure on pharmaceutical companies. There is also risk that the Obamacare replacement or repeal could result in a lower amount of insured people, which could hurt sales. While these are of course risks, I don't view them as high risks to the long-term investment thesis.
CFO Frank D'Amelio noted at the Barclay's conference that the U.S. spends only 2% of its GDP on prescription drugs, which compares with 1.5% of European GDP for European countries. Frank's point is that as a % of GDP, the U.S. and Europe are fairly close, which would imply that U.S. companies are not price gauging customers. There are of course some bad apples that have hit the news over the last few months with regard to price gauging, but I believe looking at prescription drug spending in terms of GDP makes a lot of sense and should help protect the drug industry in any fights with Washington. The drugs Pfizer makes take enormous amounts of money to develop, so I think it's unlikely that Congress reduces incentive for companies like Pfizer to generate a return on that investment.
Dividend Growth
Although I expect Pfizer to continue to grow moderately over the coming years, investors interested in Pfizer are really interested in the value returned to investors, namely share buybacks and dividend distributions. In 2016, Pfizer did $5B in buybacks, $7.5B in dividends, and invested $20B in M&A. Per CFO Frank D'Amelio at the Barclay's conference, he expects to continue to deploy free cash flow in these three areas.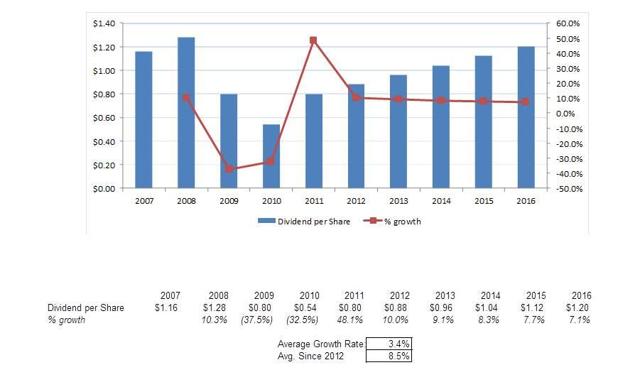 Date sourced from Morningstar.
As you can see above, since the Wyeth acquisition (post-2010), Pfizer has grown its dividend exactly 8 cents per year. This represents an average growth rate since 2012 of 8.5%. Judging by Frank D'Amelio's comments on dedication to the dividend distribution, I believe that it's likely that Pfizer will continue to grow its dividend.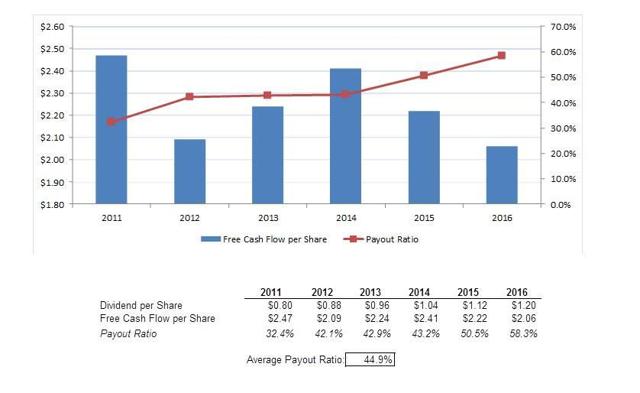 Date sourced from Morningstar.
Pfizer's payout ratio has been relatively low over the last several years, averaging 45%. Free cash flow dipped a bit in 2016 due to higher R&D spending, but with the growth forecasted in 2017, I expect free cash flow per share of $2.45-$2.50 for 2017. That should provide plenty of room to continue to grow the dividend, which I expect will be increased by another 8-10 cents a share next year.
Conclusion
Pfizer is a stable, long-term dividend stock that has a positive outlook in terms of cash flow generation and sales growth. While I expect sales growth to be low single digits, there is plenty of room to continue to grow the dividend and very little downside risk over the next few years. At market prices, I am a buyer of Pfizer as I think shares are slightly undervalued, especially given the dividend growth potential and low downside risk, but I'd be particularly interested in buying more shares if prices dip close to $30.
If you found this article useful, please scroll up and click the orange "follow" button. My articles focus on dividend growth stocks - by following me you stay up to date on my latest research, coverage, and recommendations.
Disclosure: I am/we are long PFE.
I wrote this article myself, and it expresses my own opinions. I am not receiving compensation for it (other than from Seeking Alpha). I have no business relationship with any company whose stock is mentioned in this article.