Overview:
After the successful MuleSoft (NYSE:MULE) IPO last week, the next high-growth candidate coming public is Okta (Private:OKTA), which styles itself as "the leading independent provider of identity for the enterprise." Enterprise software bundling/pricing is often deliberately abstract, but happily the pricing page on Okta's website lists the company's five core product offerings and their pricing in an easy to digest way:

I won't go through each product in detail, but to here's what Okta does in a nutshell: it helps companies manage employee identities and it helps employees securely access applications. As SaaS applications proliferate, pain points have emerged for both key constituencies: employees have to repetitively log into various applications in web browsers, and employers have to struggle with the security ramifications of SaaS applications being available anywhere, anytime outside of the corporate network.
Okta solves these challenges by enabling companies to offer single sign-on (SSO), which allows employees sign in just once and move seamlessly between SaaS applications. It also offers multi-factor authentication (MFA), which requires proof points of identity beyond just a password to more rigorously verify that an employee's credentials have not been compromised. Okta has extended the product further by providing lifecycle management services for the provisioning and management of software subscriptions to help new employees get what they need quickly and make sure subscriptions are cancelled when the leave. Finally, it offers identity management services for other SaaS companies to incorporate into their own products.
This product enables a delightful user experience: Okta-powered employees can sign in just once and access a slew of enterprise apps. Enabling MFA in tandem with this makes software both easier to use and more secure than before, a truly rare feat. Here's a quick snip of the landing page a user sees once they've completed the initial login process to give a sense of what this looks like: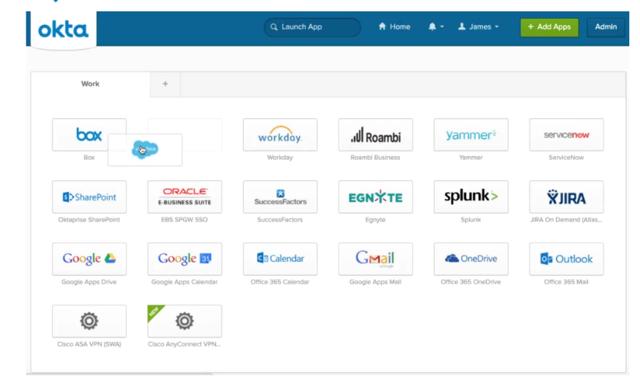 Grading the IPO:
To think through the factors that will drive the company's IPO success and valuation, I'm going to score it on variables that matter to me as an investor, including the size of the addressable market, competitive positioning today, the long-term competitive moat, the revenue churn dynamic, fundraising to date, growth efficiency and finally valuation in light of all the other factors. Some important factors are missing because I don't have enough information to have a view, most notably an analysis of management strength and the strategy going forward. Each variable will get a score from one to 10, with 10 being most desirable from an investment perspective:
Total addressable market (10/10): This is easy to approximate given the pricing information I showed earlier: Okta's pricing today equates to $14/user/month at list prices, or $168/user/year, if a customer buys the full suite of products. Factoring in discounting and the fact that full product penetration is a unlikely in even a rosy scenario, let's go with $100/user/year as an approximation of the addressable market at today's pricing. There are tens of millions of knowledge workers in the US alone who could potentially use Okta's products, and as SaaS applications proliferate the need will become even more pressing. It isn't hard to imagine Okta having 50m global users one day, or $5bn of revenue using the assumptions above. Unless pricing in the category comes down over time (a real risk), it is hard to argue that Okta will run out of growth opportunities anytime soon given that it is at a ~$200m revenue run-rate today.
Competitive position (7/10): Though the market is crowded, Okta stands out with a leadership position in the Gartner Magic Quadrant for Identity and Access Management and is widely recognized as a leading player in this space. There are many pure-play competitors (see the table below), but they generally either are smaller or grow more slowly. There also are significant enterprise competitors, including Microsoft (NASDAQ:MSFT), Salesforce (NYSE:CRM) and IBM (NYSE:IBM), of which Microsoft is the most competitive today. All in, Okta is a market leader, but strong alternatives exist and it is not the unchallenged market leader in the way that some other leading SaaS companies are, so the score here is 7/10.

Long-term moat (5/10): This is my greatest area of concern for Okta as the core user-facing product functionality today (SSO and MFA) is thinner than would be ideal for driving continued separation between the company and competition. The company will continue to launch innovative new solutions on top of the core product and there is a little network effect thanks to the pre-existing integrations, but a meaningful risk is that either a smaller competitor or a giant like Microsoft, Salesforce or Amazon(NASDAQ:AMZN) successfully attacks the market with a competitive product paired with a bundling approach or a much lower price point. This is something potential investors will have to monitor very closely going forward and is sure to be a topic of conversation on the IPO roadshow. Microsoft, in particular, is a potential bogeyman given it has the ability to leverage its Office365 franchise and deep enterprise partnerships.
Churn dynamic (8/10): Churn is a major driver of a SaaS company's ability to sustain rapid growth and show operating leverage. Okta has excellent reported churn metrics highlighted by a 120% dollar-based retention rate for the nine months ended October 31, 2016, meaning upsells are more than offsetting churn by a wide margin. One major factor in Okta's favor is that adoption is high as this is generally a mandatory product for employees to use and part of daily workflows. Another factor it that it is hard to see how end users might start clamoring for a replacement: once a solution like this is in place, it is hard to see what new features a competitor might offer that would make a switch worth the cost. Despite all of this, my score is 8/10 as there are a few reasons for caution:
1) Okta is growing so fast that many customers have not even had a natural opportunity to churn yet, so dollar-based revenue retention will likely fall as growth inevitably slows.
2) The flip side of such a simple and easy to use product is that end user pain from switching to a competing solution is lower than ideal. As a result, IT departments may be more susceptible to cost savings arguments from lower priced competitors in the long run.
Fundraising (10/10): Per Crunchbase, Okta has raised $228m to date from a set of top-tier venture firms: A16Z, Sequoia and Greylock, with the last fundraising round in 2015 at a reported $1.2bn valuation. That may have been a bit aggressive at the time but the company has executed very well and there are no signs that the existing shareholder base is likely to be disappointed by the outcome of the IPO. With elite backers and a reasonable level of capital raised so far for its size there isn't much to dislike here: 10/10.
Growth efficiency (8/10): Okta is in a class of its own when it comes to both growth and losses. It grew gross profit almost 110% year over year in 2016 (note: this includes one quarter of my own estimates), while generating the largest negative free cash flow (measured as a percent of revenue) of any company I follow that year. I view Okta's losses as actually lower than I would expect for the ultra-high growth rate it is producing. All else equal, though, it is better when a company is cash flow breakeven and thus doesn't run a risk of raising further dilutive capital. This knocks off a few points: 8/10.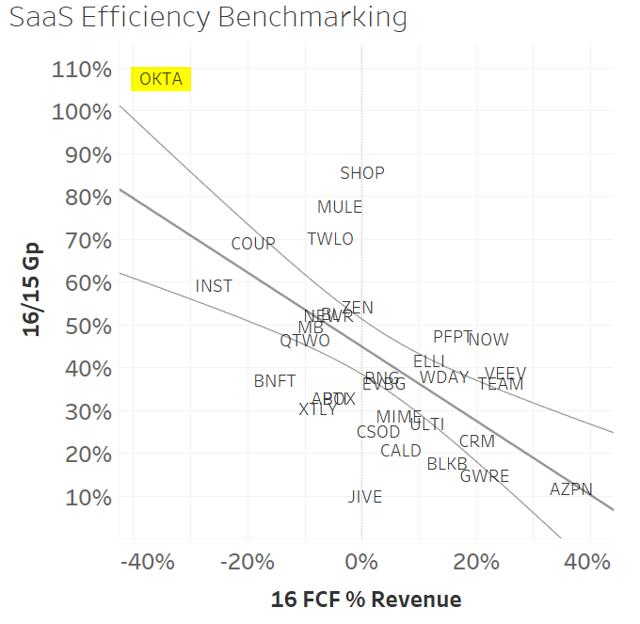 Valuation (too early to score): Without a price range or information about the size of the offering, it is too early to score how valuation measures up here. The last funding round (back in 2015) reportedly came at a $1.2bn valuation. We don't know if that is exactly right, but my math suggests that it implies a ~$13/share valuation today, so I'll use that as an initial point of comparison for charting the company against comparables. The two charts below show my preferred valuation multiple (enterprise value / my 2017 gross profit estimate, acronym: EV/GP) against two different measures of growth/profitability: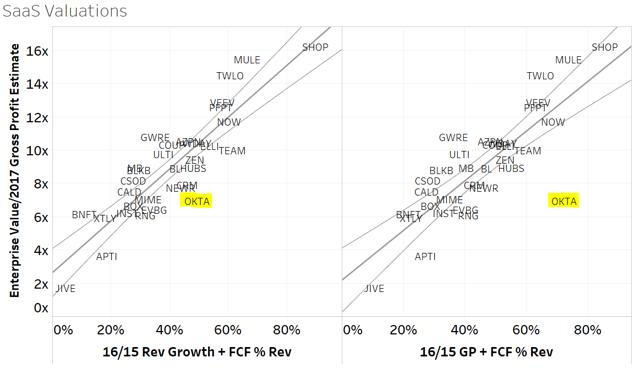 Okta leaps out in the chart on the right because its gross margins increased dramatically in 2016, from 58% of revenue in 2015 to a projected 65%, as the gross margin of its services business improved dramatically and subscription gross margin also improved. These factors led to gross profit growth far ahead of revenue growth. This makes valuing Okta tricky: based on the chart on the left which uses revenue growth on the X axis, it looks like it could reasonably trade to 10x EV/GP. However, based on the chart on the right which uses gross profit growth instead, it could trade similarly to companies like Shopify (NYSE:SHOP), Twilio (NYSE:TWLO) and MuleSoft with an EV/GP multiple in the low to mid-teens. Given the ultra-high growth rate and current IPO market dynamic I suspect that Okta is set to earn a multiple closer to the latter group of high-flying companies when all is said and done, implying a post-IPO price in the mid-20s per share, but again we need more details about the offering to have a solid view.
Summary:
There's no way to make a call on Okta as an investment without a price range but, like MuleSoft, it is a strong SaaS story with premium growth that should earn a premium multiple. Competition from players like Microsoft against the core product is my largest concern, while on most other variables it looks attractive. It will be fascinating to see the valuation the market awards it given the combination of unusually high losses and unusually high growth for a public SaaS company.
Disclosure: I/we have no positions in any stocks mentioned, and no plans to initiate any positions within the next 72 hours.
I wrote this article myself, and it expresses my own opinions. I am not receiving compensation for it. I have no business relationship with any company whose stock is mentioned in this article.