Background and Valuation
Pennsylvania-based Healthcare Services Group (NASDAQ:HCSG) offers outsourced housekeeping and dining services to nursing homes, hospitals and other healthcare facilities across the United States. The company was founded 40 years ago by current Chairman Daniel McCartney, and has grown into a company with over $1.5 billion in revenues and a $3 billion market cap. HCSG is currently led by McCartney's son-in-law Ted Wahl (president and CEO). Other family members in senior roles with the company include Daniel McCartney's brothers Bryan and Kevin McCartney, who are employed as executive VP and divisional VP, respectively, and Daniel McCartney's other son-in-law Matt McKee, who is the company's VP of Strategy.
HCSG's business has experienced fairly steady growth in recent years by peddling a boring suite of essential services to an important part of the healthcare industry; however, the company's stock price has been anything but boring, having climbed 250% split-adjusted over the past 10 years (excluding a small but consistently growing dividend).
Currently, the mean sell-side estimate of HCSG's earnings per share (EPS) over the next four quarters is $1.24, which is roughly 10% greater than what it was a year ago. That level of EPS growth, while modest, is nonetheless commendable in today's economic environment. Furthermore, HCSG's EPS has grown fairly steadily over the last number of years, as shown in the chart below, with HCSG failing to grow its quarterly EPS year over year in only three quarters over the past five years.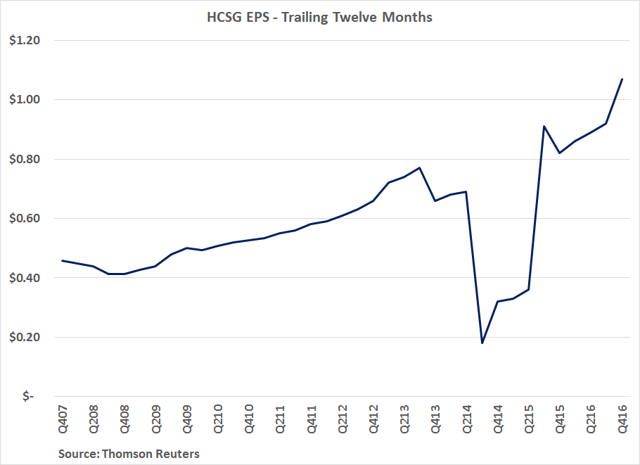 The market has handsomely rewarded the company for this steady-eddy earnings growth, as the earnings multiple (on forward earnings) that HCSG's stock price represents has grown from the neighborhood of 20x in 2009 to 35x currently: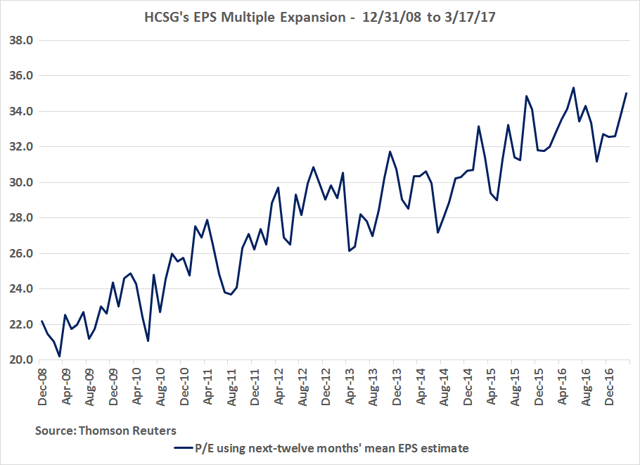 We believe that one reason HCSG's EPS multiple has climbed to the nosebleed level at which it currently finds itself is the almost uncanny manner in which HCSG regularly meets quarterly consensus sell-side EPS expectations: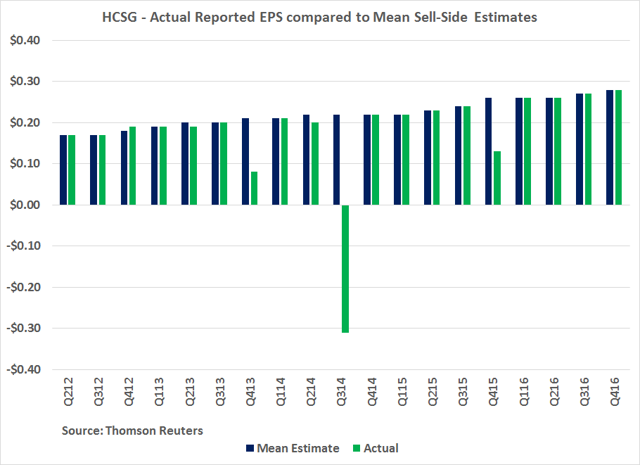 Whenever analyzing the equities of the various companies in which we have interest, we always keep in mind the axiom that "business is messy." In other words, even the best-run business is subject to the vagaries of its customers, vendors, competitors and/or industry. Considering that axiom, it is strange indeed that HCSG's quarterly EPS has matched, to the penny, the consensus EPS expectation more often than not over the last five, 10, and even 20 years.
We believe the reason this has occurred is simple - HCSG appears to have actively and aggressively managed its quarterly EPS for over a decade.
Strategic Rounding of Quarterly EPS
Allow us to explain. In any given quarter, a company's diluted EPS is simply the quotient of the company's quarterly net income and the average number of diluted shares outstanding. If a company is not actively manipulating either the numerator in the equation (by making changes to specific cash or accrual expense items, and/or by making changes to how revenue is recognized) or the denominator in the equation (by buying or issuing shares), then a company's EPS in any given quarter, expressed in cents per share, should have an equal chance of rounding down to the nearest penny as rounding up to the nearest penny.
An analysis of all stocks in the S&P 500 over the last number of years shows this to be the case, with companies' quarterly EPS figures rounding down to the nearest penny roughly the same number of times that they round up. For example, over the last 10 years, Apple's (NASDAQ:AAPL) quarterly EPS has rounded up 18 times and has rounded down 22 times. Most other companies' rounding history is similarly random.
And then there is Healthcare Services Group.
On February 7, 2017, HCSG reported results for the three months and year ended December 31, 2016. In the fourth quarter, HCSG's diluted EPS was $0.28. However, as HCSG's net income was $20,299,000 and the diluted weighted average number of HCSG's common shares outstanding during the quarter was 73,590,000, then HCSG's diluted EPS, more precisely, was $20,299,000/73,590,000 shares, or $0.2758. In other words, had HCSG's net income been a mere $62,000 less, then HCSG's diluted EPS would have been less than $0.2750, and would have, therefore, rounded down to $0.27, giving investors the disappointment of a $0.01 EPS miss.
In isolation, this good fortune of having EPS round up to $0.28 instead of down to $0.27 could easily be explained by simple luck of the draw. However, consider HCSG's earnings reports going back to the first quarter of 2006: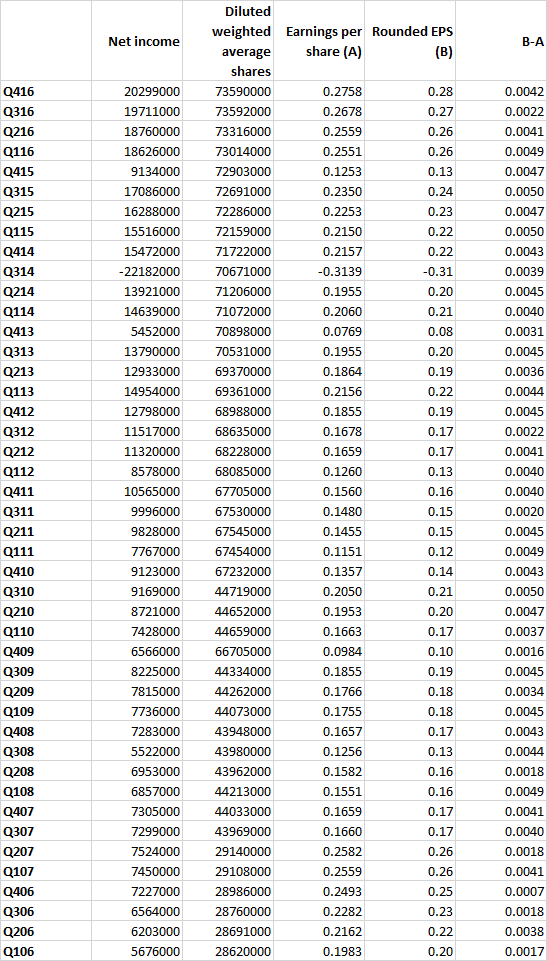 Remarkably, every single quarter over the past 11 years has seen HCSG's quarterly earnings per share round up rather than round down to the nearest penny. Coincidentally, this strange pattern began just a few quarters after McCartney's two sons-in-law joined the company.
To put the magnitude of the improbability that this is the result of anything but the active management of the company's EPS, consider this: since the odds of a company's EPS rounding up to the nearest penny are theoretically the same as rounding down, HCSG's history of EPS rounding up is tantamount to HCSG flipping heads on a coin toss 44 straight times, the odds of which are a staggering 1 in 17.6 trillion.
If one peruses the right-hand column of this table though, one will notice that more times than not, HCSG's quarterly diluted EPS rounded up by more than 0.4 cents. The sum of the amounts by which HCSG's 44 diluted EPS figures rounded up is a shockingly large 16.59 cents. If HCSG's quarterly diluted EPS figures were, in fact, randomly derived over the past 11 years, then the odds of this occurring are roughly 1 in 600 quadrillion.
It is important to stress at this point that, despite the long odds, these findings do not provide ironclad proof that HCSG's management has done anything wrong. We would argue though that any rational human being who possesses common sense or a rudimentary understanding of statistics will look at the data and conclude that HCSG's management has actively managed its quarterly earnings per share for more than a decade. The question that needs to be asked, though, is: why? If HCSG has fiddled with the way it recognizes revenue recognition or accrues expenses in order to achieve certain quarterly EPS results, why would HCSG have felt the need to do this? We reached out to Daniel McCartney, Ted Wahl and Matt McKee to ask for an explanation of this unusual pattern, but have yet to receive a response.
One possible reason why HCSG may have done this is to facilitate progressively higher and higher valuation multiples for the stock (as highlighted above), which would be a good thing for anybody seeking to sell some of their HCSG stock. It is interesting to note, then, that Chairman Daniel McCartney has been an aggressive seller of HCSG stock in recent years - since July 2015, McCartney has sold $23.4 million worth of stock at an average price of $36.61, and has gifted another $4.2 million worth of stock at an average price of $37.64. If we were shareholders of HCSG who bought the stock in recent years in part because of HCSG's history of rarely disappointing the Street through EPS misses, we might be somewhat bitter that the chairman of the company has been selling the stock at high valuations that have come about, at least in some part, because of a pattern of quarterly EPS that appears to have been manipulated.
Unusual Behavior, but is it Illegal?
While this type of earnings management by a publicly-traded company is, in our opinions, very inappropriate, an important question is - is it illegal? According to Association of Certified Fraud Examiners, Black's Law Dictionary defines fraud as "A knowing misrepresentation of the truth or concealment of a material fact to induce another to act to his or her detriment." And according to the Securities and Exchange Commission, "it is not clear that once earnings management is identified, it is necessarily indicative of fraudulent accounting practices. It may simply reflect a full and creative - but ultimately permissible - use of the professional judgment that is permitted under GAAP." It is worth noting though that we have spoken with the CFOs of multiple publicly-traded companies about what would be necessary to achieve a string of 44 straight EPS results that rounded up to the nearest penny, and the feedback that we have received is that it would be a fairly difficult thing to accomplish through legitimate accounting practices, considering the multitude of accounting entries that a company is faced with in any given quarter. Having said that, without access to further information, it is impossible to conclude whether or not HCSG's earnings management is fraudulent. Suffice to say, we have alerted the Securities and Exchange Commission to the extreme outlier nature of HCSG's reported EPS history, and will let that agency determine if HCSG's accounting practices require a deeper dive.
While one might argue that the practice of managing quarterly EPS to round up the numbers may not in and of itself be illegal, as the dollar amounts required to round up EPS by a fraction of a penny can be relatively small, it is worthwhile reading a working paper written a few years ago by Nadya Malenko and Joseph Grundfest entitled "Quadrophobia: Strategic Rounding of EPS Data," wherein the authors explored this practice by publicly-traded companies. An examination of the data revealed that even if "strategic rounding" of companies' quarterly EPS "reflects the exercise of legitimate accounting judgment, our results suggest that its presence signals an aggressive approach to accounting that increases exposure to restatement risk, [SEC Accounting and Auditing Enforcement Releases] proceedings, and class action securities fraud claims." Investors in HCSG should ask themselves one question: if HCSG's management has been willing to manipulate its EPS in this manner for over a decade, what else might it be willing to do to achieve higher valuation multiples?
Memories of 1996
When considering a company's actions regarding its accounting and disclosure practices, we often find it is very helpful spending a bit of time researching the company's past. In this regard, an incident from 20 years ago is worth keeping in mind. In 1996, the SEC filed a lawsuit in federal district court in Philadelphia alleging violations of the anti-fraud, reporting, internal controls and books and records provisions of the federal securities laws by HCSG, the company's then-CEO and Chairman Daniel McCartney, as well as HCSG's former CFO and former VP. The allegations included one that HCSG's financial statements during 1990 and 1991, as filed with the SEC, were materially false and misleading. HCSG ended up paying a civil penalty of $650,000 and Mr. McCartney, himself, paid a civil penalty of $100,000 to resolve the allegations.
While the nature of the SEC's allegations from 1996 are considerably different than the strategic rounding issue highlighted in this article, it nevertheless demonstrates that HCSG's current chairman has a history of taking actions that have raised accounting red flags.
Conclusion
The issue raised in this article, earnings manipulation leading to the strategic rounding of quarterly earnings per share results, is one that should be of meaningful concern to HCSG shareholders. If a company is willing to aggressively manage its quarter-by-quarter earnings results in this way in order, perhaps, to create an appearance of continually meeting the sell-side's expectations, and is willing to engage in this behavior for over a decade, we contend that the quality of that company's reported earnings is low, and the earnings multiple that investors should apply to these earnings when valuing the company's stock should also be low. Considering HCSG is currently trading at roughly 35x, the mean sell-side EPS expectation for 2017, which is roughly 8 multiple points higher than the company's 10-year average, we believe HCSG stock is extremely overvalued and ripe for a serious decline.
Disclosure: I am/we are short HCSG.
I wrote this article myself, and it expresses my own opinions. I am not receiving compensation for it (other than from Seeking Alpha). I have no business relationship with any company whose stock is mentioned in this article.