Everspin Technologies (NASDAQ:MRAM) - Sell or Short Recommendation
The 180-day lockup period for Everspin Technologies is set to expire on April 5, 2017. At that time, its pre-IPO insiders will be allowed to offer their 7,492,015 shares, which could flood the market and have a depressing effect on the stock's value.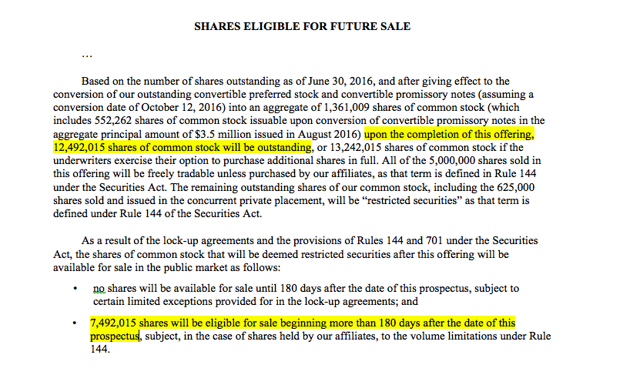 (Source: SEC Filings/Shares Eligible For Future Sale)
We previously highlighted the event on our IPO Insights platform.
Everspin has a whopping eight firms and 15 individuals holding pre-IPO shares.

If even a portion of these insiders decides to sell, the event could significantly depress MRAM's share price. Insiders could be looking to sell for several reasons: avoid further price drops and mitigate risk, take initial profits, and/or move on to other investment projects.
Everspin Technologies: Provider of magnetic random access memory chips
Founded in 2008 and based in Chandler, Arizona, Everspin Technologies Inc. is a manufacturer and seller of magnetic random access memory chips. The company's products are used in industrial, enterprise storage, transportation and automotive applications. Everspin is currently the sole manufacturer of magnetic random access memory chips for commercial uses and has sold more than 60 million units in the last eight years.
Executive management
Phillip LoPresti is the chief executive officer, a member of the board of directors and the president of Everspin Technologies, and he has served in those roles since June 2010. Prior to that, LoPresti served in numerous executive roles for various companies and has more than 30 years of experience. LoPresti holds both an undergraduate and Masters degrees in electrical engineering from Boston University.
Jeffrey Winzeler is the chief financial officer of Everspin Technologies, serving in that role since April 2015. Previously, Winzeler served as the CFO at Avnera Corporation, Rackwise Inc., Solar Power and International Display Works. Before that, Winzeler worked for the Intel Corporation from 1988 to August 2004, serving in many different positions. Winzeler holds a degree in finance from the University of Idaho.
Financial highlights
Everspin reported that during its third quarter of 2016 that ended on September 30, 2016, the company had total revenues of $7,164,000, gross profits of $4,305,000 and a net loss of $1,444,000. During the same time period in 2015, the company reported total revenues of $7,092,000, gross profits of $3,634,000 and a net loss of $4,509,000. For the nine months that ended on September 30, 2016, the company reported total revenues of $20,030,000, gross profits of $11,467,000 and a net loss of $11,400,000. In the first nine months of 2015, the company had total revenues of $19,746,000, gross profits of $11,057,000 and a net loss of $11,930,000.
Early market performance
Everspin initially marketed its price range at $11 to $13 before reducing it to $8 to $10. It priced at the low-end of its reduced range at $8, raising $40 million. The company's market performance has been generally average. It has ranged from a low of $6.15 per share to $10.28 and was most recently trading at $7.58 per share as of mid-day of March 22, 2017.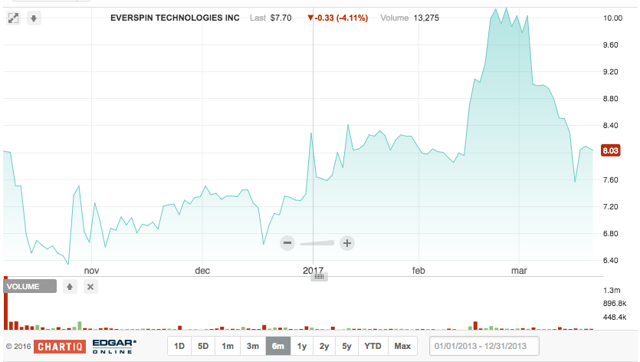 Conclusion: Short Opportunity
We previously recommended that investors avoid Everspin in our preview of its IPO.
Since then, the company's market performance has been average.
As stated above, while some in the impressive array of insiders could be looking to sell to take profits, others could be ready to look for more lucrative investments.
We see a short opportunity, as with other particular lockup expirations.
The probability for at least some of the major pre-IPO shareholders to sell is strong, given their diversity.
Don Dion's IPO Insights provides up-to-date information and analysis on the major IPOs each week, along with additional opportunities to invest and short these stocks at their quiet period and lockup period expirations, respectively. Consider following us at the link above. We will continue our PRO offerings on Seeking Alpha alongside our more exclusive research.
Disclosure: I am/we are short MRAM.
I wrote this article myself, and it expresses my own opinions. I am not receiving compensation for it. I have no business relationship with any company whose stock is mentioned in this article.
Editor's Note: This article covers one or more stocks trading at less than $1 per share and/or with less than a $100 million market cap. Please be aware of the risks associated with these stocks.