Every week after the EIA releases their Weekly Petroleum Status Report I download the updated files, consolidate them, and ultimately link them to a simple excel dashboard file which you can download for free at Excel-Data-Junkies.com. Open it up to follow along below, then let's discuss it in the comments section below. For a methodology review, take a look at the intro here: "Data Download."
Headline: Total Petroleum Stocks Increase 0.7 Million Barrels
Following last week's 8.7M bbl draw this week's inventory was relatively flat with a small 0.7M bbl increase in total petroleum stocks. The difference can primarily be attributed to imports which were up 6M bbls. Primary Oils (Crude+Gasoline+Jet Fuel+Distillate) as seen in the chart below continue to trend down after hitting an all time high six weeks ago. The trend is a good sign for the bulls but at 18M bbls it is still immaterial for now.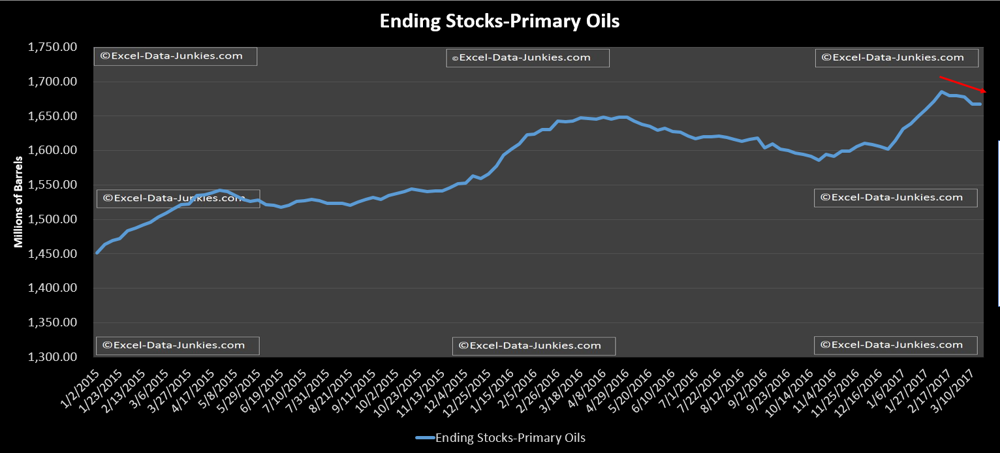 SPR Drawdowns
Earlier this year the US Department of Energy announced they would be selling about 10M bbls of oil from the Strategic Petroleum Reserve (SPR) to raise money for maintenance of the SPR facilities. In March we started seeing those bbls transferred out with a 251k bbl transfer 3 weeks ago, an 816k bbl transfer 2 weeks ago, and a 626k bbl transfer last week for a total of 1.693M bbl total so far. Here is why it matters. In all of my reporting I include the SPR's ~700M bbls in the total petroleum inventories number I follow so closely. Because of this, a 1.4M bbl transfer from the SPR to commercial tanks makes absolutely no difference in my totals.
However, most media outlets and the DOE in their weekly release generally state inventories excluding the SPR. SPR balances are generally stable, so it doesn't usually make much difference, but when the SPR is being drawn down the transfers show up as an increase commercial inventories much the same as an increase in production or imports would. For example as noted above, I show that total petroleum stocks increased 0.7M bbls last week but in the DOE's weekly summary they report a 1.3M bbl increase. The difference between their number and my number is the ~600k bbl transfer from the SPR last week. In the big picture the ~10M bbls variance we will see due to SPR drawdowns over the next month or so isn't material but is definitely something to keep in mind as we all wait for OPEC's production cut to finally start pulling down US inventories. Either use my numbers, or remember to back out the 10M bbls from the SPR.
OPEC Back on Track?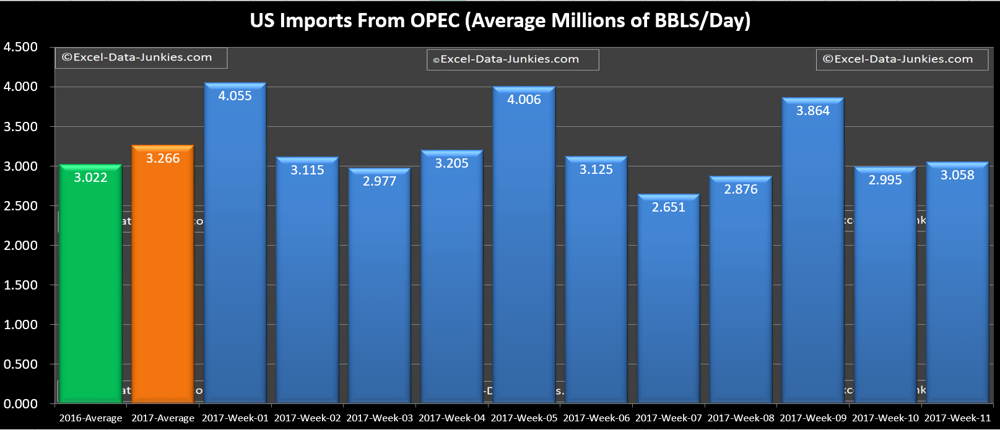 Two I pointed out that OPEC had fallen off the wagon by spiking US imports to nearly 3.9M bbls a day in week 9. For reference, they need to get imports down to around 2.6M bbls a day, 400k bbl/day under the 2016 average of 3.0M bbl a day for this humble analyst to believe their cuts were real and that OPEC is serious about becoming a world class cartel rather than just a toothless propaganda outlet.
Over the last 2 Imports from OPEC have been steady at around 3.0-3.1M bbl/d. This is in line with 2016 numbers so it's not a disaster like week 9 but there is still no evidence that the alleged OPEC production cuts have reduced US imports at all. While there is nothing about OPEC's performance to date, the reference period I am going to use to call it one way or another is the 4 weeks of April. That gives OPEC about twice as long as they should have needed, allowing time for any transit, loading, inventory, and weather fluctuations to work their way out giving us a perfectly clean sample of the January production cuts. I'm looking for an average of 2.6M bbl/d, but anything under 2.8M bbl/d would satisfy me as proof that OPEC did indeed cut in January. Note that I'm not saying it would be proof that the cut was enough to achieve the stated goals, rather it would simply suffice as evidence that they did cut production like they said they would. As I have outlined before, this is the most important factor in the long term oil (USO) market right now. Is OPEC a "real" cartel or a JV cheerleading squad?
For The Bulls:
I think this was a pretty good report for the bulls even with the small increase in inventories and falling oil prices. Even in the face of increasing US production, weak consumer demand, and OPEC doing more harm than good, inventories are finally trending down. Things can only get better from here right? To support this I submit the chart below.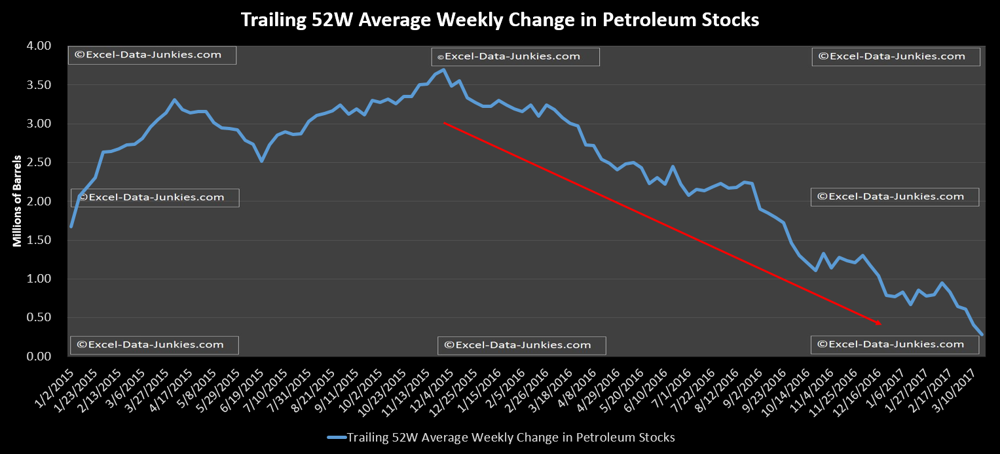 This chart shows us the trailing 52 week average change in weekly petroleum stocks. Looking back we can see that this peaked at about 3.5M bbls a week back in December of 2015. That's an annual rate of 182M bbls/y, so it isn't too surprising that oil prices tanked in the following months. Basically inventories were high and still building at a phenomenal rate. 15 months later, inventories are still very high but the rate of the build has been dramatically reduced, and is likely to turn negative over the next few months. The first law of holes is to "stop digging", and to me it looks like we are just about there. That doesn't mean the struggle is over, we still have a huge glut to work through which is far from a certainty, but at least the digging appears to be coming to a stop.
For The Bears:
A few weeks ago I advised the bears to just sit back and wait for OPEC to embarrass themselves and if you have been following the headlines you may not have to wait much longer. Being an effective cartel isn't exactly rocket science and yet OPEC is still struggling to mightily deliver against fairly low expectations. Once OPEC proves themselves incapable of delivering the market will be forced to realize that petroleum stocks are still hovering near record high's while US production is taking off and demand remains more or less stagnant.
Gut Feeling:
The news cycle is currently in the bears favor but the fundamentals could be quietly shifting to the bulls court. For me the key is that in the last 5 weeks inventories are down 21M bbls despite growing US production, suspect OPEC compliance, and generally weak demand. If this trend holds and OPEC can somehow keep their agreement together it's not hard to pencil out a scenario where we have meaningful draws from here through the end of summer. On the other hand, it's not hard to pencil out a scenario where the trend quickly breaks down, so stay tuned for next week!
Disclosure: I/we have no positions in any stocks mentioned, and no plans to initiate any positions within the next 72 hours.
I wrote this article myself, and it expresses my own opinions. I am not receiving compensation for it (other than from Seeking Alpha). I have no business relationship with any company whose stock is mentioned in this article.