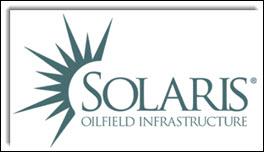 Quick Take
Oil well completion services provider Solaris Oilfield Infrastructure, Inc. (NYSE:SOI) has filed an S-1 registration to sell $100 million of its Class A common stock in an IPO.

Solaris provides mobile well completion services to the U.S. shale oil & gas industry through its patented systems.
The overall oil glut is keeping a tight lid on price rises and thereby limiting production growth, so my inclination on oilfield service providers is to avoid them.
When we hear more details about valuation expectations, I'll provide an update.
Company
Houston, Texas-based Solaris was formed in 2014 as an LLC to provide a mobile delivery and storage system that helps improve operational efficiencies for E&P (Exploration & Production) companies drilling for oil & gas within shale formations in the United States.
The company is headed by founder and chairman William Zartler, and management is led by CEO Gregory Lanham, who has been in the oilfield services and exploration industry for most of his career.
Investors and major stockholders include private equity fund Yorktown Energy Partners XI and the company founder's firm, Loadcraft Site Services.
Technology
Solaris has developed what it calls the Solaris Mobile Sand Silo System and Mobile Rail-to-Truck Transload System.
The two systems provide fracturing service operators with greater flexibility for remote wellpads while lowering costs and creating safer pad-level operations.
Below is a brief explainer video of the company's Mobile Sand Silo System:
Solaris's customer base includes both E&P firms such as Devon Energy (NYSE:DVN) and EOG Resources (NYSE:EOG) as well as oilfield service providers such as ProPetro Services (NYSE:PUMP).
The company currently operates 33 mobile proppant systems and management says it expects 'to increase our fleet to between 60 and 64 systems by the end of 2017 in response to customer demand.'
Market and Competition
The overall market for oil & gas fracking services has gyrated wildly in recent years as a result of changing oil price dynamics and a worldwide supply glut.
However, as a rough proxy for expected demand growth, a report by Grand View Research indicates significant growth in hydraulic fracturing in the U.S. through 2020: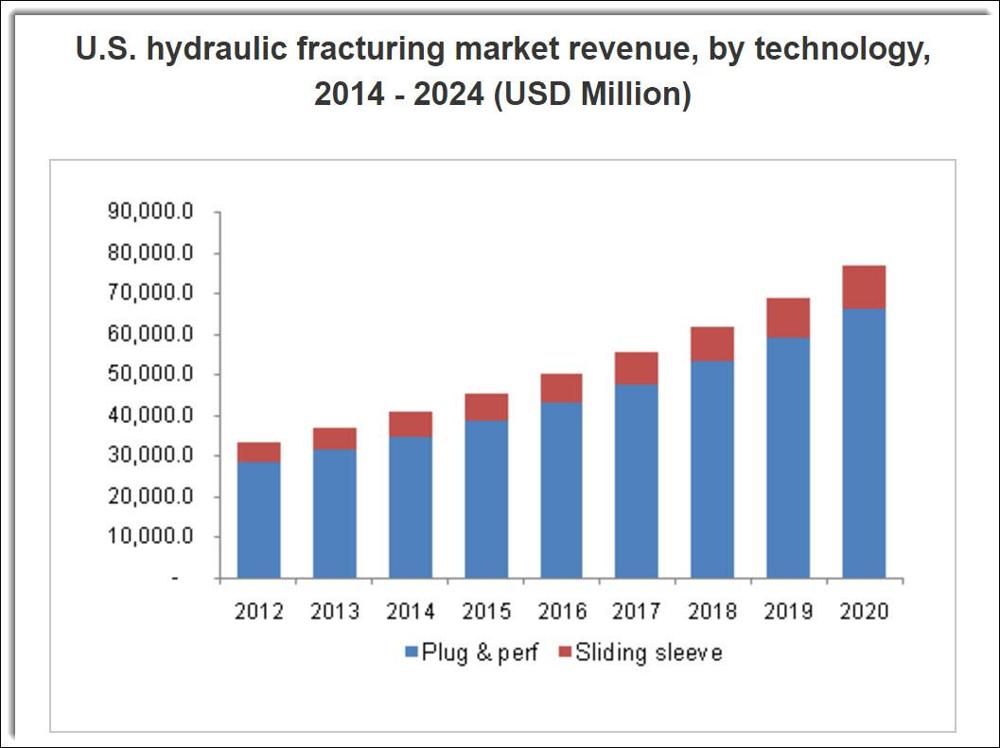 (Source: Grand View Research)
In recent articles I've published about other oilfield service companies wanting to go public, such as FTSI Seeks $100 Million IPO, I've highlighted revenue drops of as much as 68% since the oil market's plunge in the past two and a half years.
As a result, I'm skeptical of Grand View's rosy outlook for fracking demand in the near term.
Solaris's main competitors include:
National Oilwell Varco (NYSE:NOV)
Proppant Express Solutions
FB Industries
U.S. Silica (NYSE:SLCA)
Charlton & Hill
TYCROP
The industry heavyweight is National Oilwell Varco, which was founded in 1862 and has a $13.6 billion market cap.
National Oilwell operates four segments, several of which overlap with Solaris.
Financials
Solaris's recent financial results can be summarized as follows:
Significant revenue growth in 2016 vs. 2015
Slightly decreasing gross margin
Growing CFFO (Cash Flow From Operations)
Below are the company's operational results for the past two years (Audited GAAP):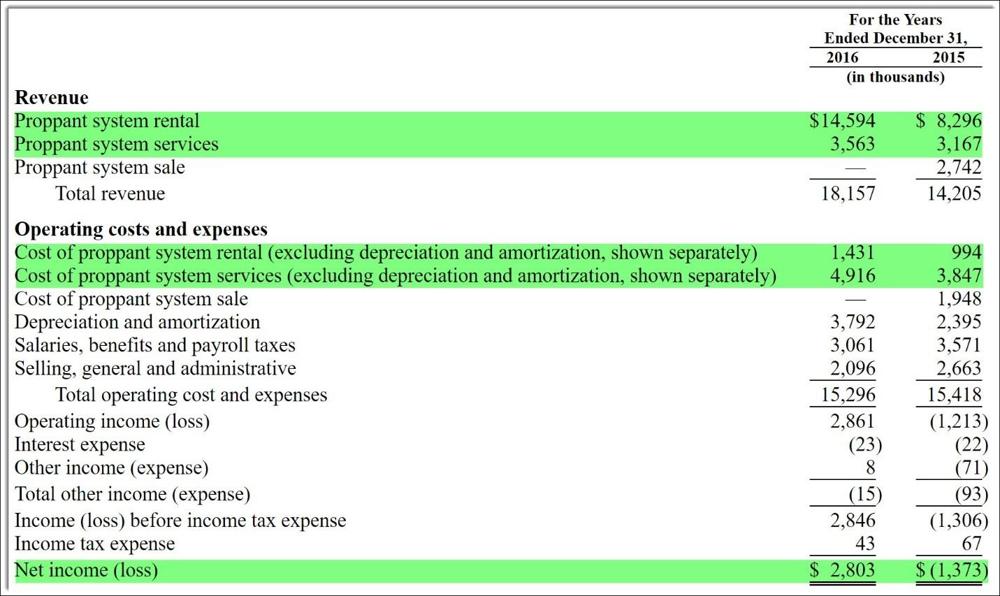 (Source: Solaris Oilfield S-1)
Revenue
2016: $18.2 million, 60% increase vs. prior year
2015: $11.4 million (Not including the proppant system sale)
Gross Margin
Cash Flow from Operations
2016: $4.5 million
2015: $2.2 million
As of December 31, 2016, Solaris had cash of $3.6 million and total liabilities of $5.9 million.
IPO Details
Solaris intends to raise $100 million by selling Class A common stock but has not disclosed an expected share price range or proposed post-IPO market capitalization.
The entity intending to go public, Solaris Oilfield Infrastructure, Inc., is structured as a holding company and will use the IPO proceeds to purchase the interests from the operating entity Solaris LLC, which will be a wholly-owned subsidiary of the incorporated parent.
Existing shareholders such as Yorktown Partners and certain management will retain and/or be awarded Class B shares, which will have no economic rights but will have voting rights.
Interestingly, a recent study found that publicly-held companies with unequal voting rights perform worse than companies with the same voting rights.
There are several LLC subsidiaries that will make up the holdings of SOI: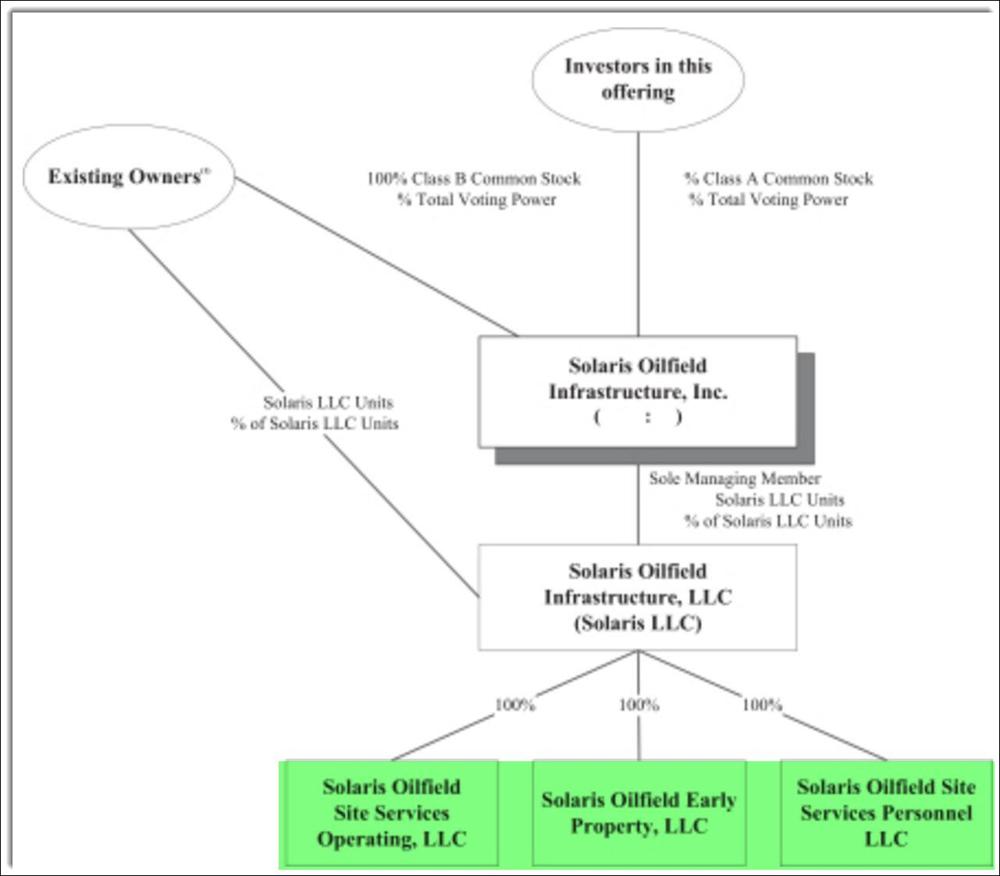 (Source: Solaris S-1)
Solaris intends to use all of the net proceeds from the IPO to purchase the Solaris LLC interests, and the LLC will use the proceeds as follows:
Repayment of our credit facility [December 31, 2016, balance was $2.5 million]
Payment of cash bonuses to certain employees and consultants
Distribution to existing owners
We intend to fund our $40.0 million to $55.0 million 2017 capital program with a portion of the net proceeds from this offering, along with cash flows from operations
Book running managers currently include Credit Suisse and Goldman, Sachs & Co.
Commentary
Solaris is joining a long list of oilfield service firms attempting to go public.
The $100 million IPO raise number is likely a placeholder figure, as the company had only $18 million in trailing 12-month revenues and small net income and cash flow from operations.
The current IPO market is a difficult environment due to overall market volatility, notwithstanding ProPetro's recent IPO transaction.
Additional volatility comes in the form of rapidly changing oil prices.
A recent report in Bloomberg highlighted the challenges that oilfield service customers face from a new slide in oil prices: Lenders turn off the spigot of credit as market conditions change, cutting E&P firms' ability to generate new production.

In the face of this, however, management cites an improving demand trend driven by E&P companies shifting their focus to drilling more and longer wells requiring greater amounts of proppant per well as well as increased emphasis on cost control.
My own view is that there is a fundamental glut in oil which will keep a lid on prices, thereby limiting demand growth for E&P firms and oilfield services firms like Solaris.
When we know more about the IPO details, I'll publish an update, but I'm generally not positive on oilfield service providers.
The most recent example to go out, ProPetro Holdings, is currently trading no higher than its IPO price.
I write about IPOs and M&A deals. Click the Follow button next to my name at the top of this article if you want to receive future articles automatically.
Disclosure: I/we have no positions in any stocks mentioned, and no plans to initiate any positions within the next 72 hours.
I wrote this article myself, and it expresses my own opinions. I am not receiving compensation for it (other than from Seeking Alpha). I have no business relationship with any company whose stock is mentioned in this article.