Kinder Morgan (NYSE:KMI) today announced the start of a non-binding open season for firm transportation contracts on its proposed Gulf Coast Express Pipeline. If it proceeds forward, this will be a 430-mile long pipeline from Waha, Texas, to Agua Dulce, Texas, designed to bring growing Permian Basin natural gas production to Gulf Coast consumers. And this is a big pipeline: 42" with a maximum capacity of up to 1.7 million dekatherms/day (~1.7 Bcf/d).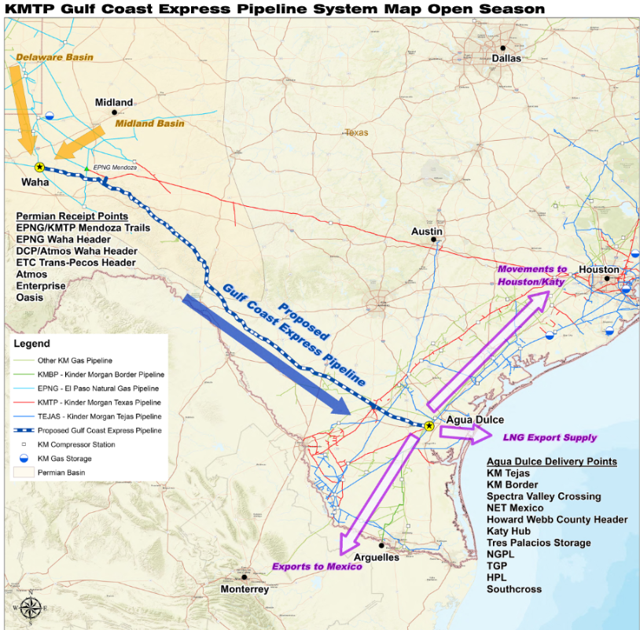 Source: Kinder Morgan System Map
The pipeline will have multiple injection points for Midland and Delaware Basin produced gas as well as multiple delivery points to serve growing markets for:
Exports to Mexico
LNG Exports
Industrial, residential, and electric power generation demand in the great Houston and Gulf Coast region.
The need to provide additional natural gas supplies to the South Texas region has become critical. Historically, big pipelines were "telescoped" in the opposite direction - that is to provide natural gas from Texas to the northeast (transportation pipelines are generally a bigger diameter at the source and telescope down toward the end user). That has made it difficult to move natural gas in the opposite direction, i.e. from the Marcellus to Texas, which is why I like companies like Spectra Energy Partners (NYSE:SEP) and Boardwalk Pipeline (NYSE:BWP) which already have large natural gas pipelines that can transport gas in either direction.
The proposed Kinder Morgan pipeline is a big step in the right direction. It will connect to two pipelines that are specifically designed to facilitate exports to Mexico: the NET Mexico pipeline (2.3 Bcf/d), owned and operated by NextEra Energy Partners (NYSEMKT:NEP), and the Spectra Valley Crossing (2.6 Bcf/d), now owned and operated by Enbridge (NYSE:ENB) after the recent merger with Spectra Energy.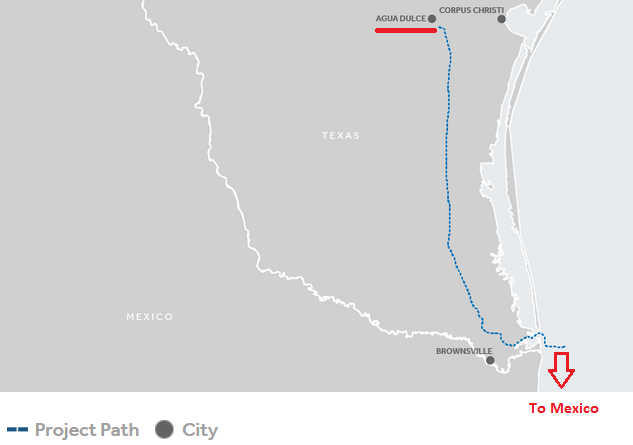 Source: Spectra Energy
The Valley Crossing Pipeline will deliver clean burning natural gas to CFE - Mexico's state-owned utility company (serving 37 million customers) and to other shippers at delivery points in south Texas.
And why not? If the Trump administration doesn't get the U.S. into a trade war with Mexico, natural gas exports to Mexico are growing rapidly and the outlook is for them to continue to do so for the foreseeable future:
Source: EIA
The Real Question
So the real question is whether or not the proposed pipeline will see enough firm interest for Kinder Morgan to move forward. Obviously, KMI has seen some interest or the pipeline wouldn't have moved toward the open season stage. However, with the price of oil recently moving lower on the prospect of increased domestic production, the real question may be: are Permian producers confident enough in their crude oil production growth prospects to commit to long-term binding natural gas takeaway contracts? Remember, all the natural gas produced in the Permian Basin these days are as a result of drilling for crude oil - that is, "associated" natural gas. If crude oil drilling were to slow down significantly, natural gas production would too.
But meantime, crude oil and natural gas production in the Permian continue to grow at impressive rates:

Source: EIA March Permian Productivity Report
The open season for the Gulf Coast Express Pipeline began today and will end on April 20, 2017. After dividend cuts, organizational "drama" (for lack of a better word), and extreme stock price devaluation, this pipeline may be the beginning of a new direction for Kinder Morgan.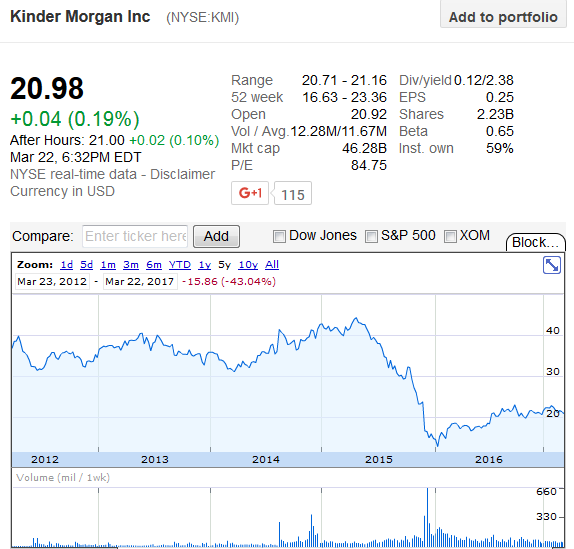 Disclosure: I am/we are long ENB.
I wrote this article myself, and it expresses my own opinions. I am not receiving compensation for it (other than from Seeking Alpha). I have no business relationship with any company whose stock is mentioned in this article.
Additional disclosure: I am an engineer, not a CFA. The information and data presented in this article were obtained from company documents and/or sources believed to be reliable, but have not been independently verified. Therefore, the author cannot guarantee their accuracy. Please do your own research and contact a qualified investment advisor. I am not responsible for investment decisions you make.