Rethink Technology business briefs for March 22, 2017.
Law Firm Invites Tesla Owners to Sign Up for the Case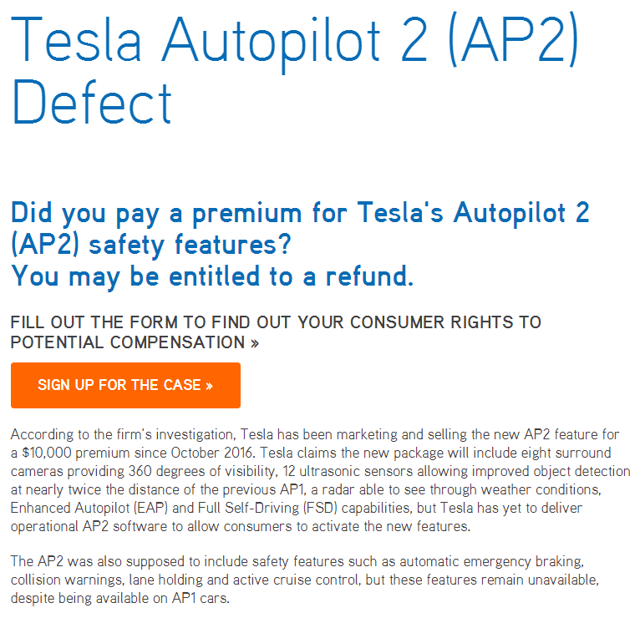 Source: Hagens Berman
The law firm of Hagens Berman now features on its website a page (shown above) devoted to signing up plaintiffs for a prospective law suit against Tesla's (NASDAQ:TSLA) Autopilot 2. That's the system that Tesla announced back in October 2016 based on Nvidia's (NASDAQ:NVDA) Drive PX 2 hardware. At the time, Tesla claimed that all Tesla cars would henceforth be built with all the hardware required to support "Full Self-driving Capability."
Perhaps prematurely, Tesla began selling both "Enhanced Autopilot," as a $5000 option and "Full Self-driving" for another $3000. At the time, Tesla promised Enhanced Autopilot by the end of 2016. And we're still waiting for all Enhanced Autopilot features to be enabled. On March 12, Musk Tweeted that it would arrive in the Tesla 8.1 update in "10 days or so." Whenever you're ready, Elon.
Back in October, I was predicting that Enhanced Autopilot would be ready in 3-4 months, so delivery of Enhanced Autopilot has taken even longer than I expected. But this is par for the course for Tesla. Almost nothing ever arrives according to Musk's optimistic schedules.
And this seems to be the thrust of the lawsuit, not that Autopilot 2 is unsafe, but that Tesla simply hasn't delivered it. The firm does get its facts rather mangled, however, claiming that AP 2 sells for a "$10,000 premium" when in fact it lists for $8000 for the full self-driving option, if paid for at the time of vehicle purchase.
Hagens Berman also seems to be confused about the difference between Enhanced Autopilot and Full Self-driving, claiming that Tesla has yet to deliver "operational AP2 software."
In fact, many features are available as a result of an OTA update earlier this month. The features include Traffic Aware Cruise Control and Autosteer with a 55 mph speed limit on highways. Other features include side collision warning and Autosteer on local roads.
It's not clear that any Tesla owners want to sign up for a class action against Tesla. If Tesla does deliver the rest of Enhanced Autopilot features as promised, this will remove most of the impetus for the suit. Tesla was careful not to promise a delivery date for Full Self-Driving, and no one really expected it by now.
The fact that Hagens Berman chose to focus on the lack of delivery of Autopilot 2 rather than the safety of AP2 is perhaps significant. Tesla's 2016 SEC 10K discloses no litigation whatsoever related to Tesla automobiles. No law suits about defects, quality, or safety of its vehicles.
This is interesting considering that Tesla was reported to be sued in China by the father of a driver who died in a Model S crash. The young man's father, who owned the S, claimed that it occurred while in Autopilot mode (that would have been AP1). What happened to the suit? As of the filing of the 10K, the suit had apparently been dropped or settled. I'd be curious to know which.
Overall, despite numerous anecdotal claims that AP1 or AP2 are unsafe, the objective record remains strong on behalf of the safety of Tesla automobiles. The May 2016 Florida crash in which Autopilot was engaged led to the death of the driver and to numerous bearish claims that "Autopilot is killing drivers." Yes, I read that in comments here on SA.
But the National Highway Traffic Safety Administration investigated the crash and issued a report clearing Tesla of responsibility and stating that Autopilot had been working as intended. It's been pointed out that a single fatality in 130 million miles does not represent a sufficient sample size to draw conclusions about future fatality rates for Autopilot or to support a claim that Autopilot is "safe."
Absolutely true, if one is only considering fatal accidents. However, most accidents are not fatal, and the NHTSA has a wealth of information concerning non-fatal accidents. The Office of Defects Investigation of the NHTSA analyzed data provided by Tesla of non-fatal accidents involving air bag deployment, which gets reported to Tesla, and produced the following chart: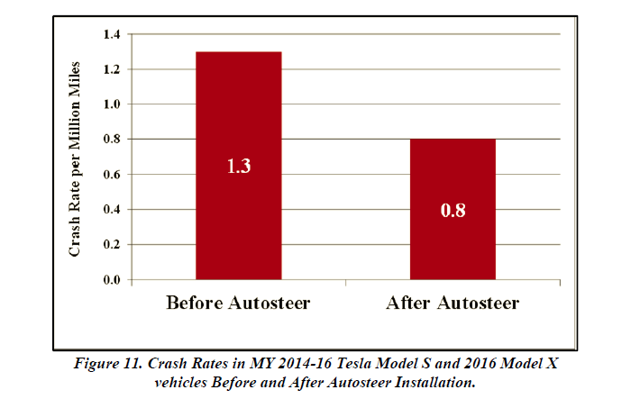 I doubt that the NHTSA would have published this chart if they didn't think it was statistically significant.
Qualcomm's Snapdragon 835 Posts Some Impressive Numbers
We knew that Qualcomm's (NASDAQ:QCOM) Snapdragon 835 processor was going to be impressive. It was the successor to the Snap 820-821 processors, and the 820 was pretty much best in class when it was introduced in the Spring of 2016. The 820 was to find its way into most of the flagship Android smartphones, including the US version of the Samsung's Galaxy S7.
Another factor whetting our appetite for the 835 was that it was to be fabricated on Samsung's 10 nm node. Qualcomm has promised 25% less power consumption than the 820-821. And the 835 will be packing the latest X16 modem, capable of gigabit download speeds.
But what about performance? We now have a better idea of it, thanks to an early hands on review by Anandtech. The 835 is no slouch, handily beating the 820 in CPU performance, as shown in a typical benchmark below: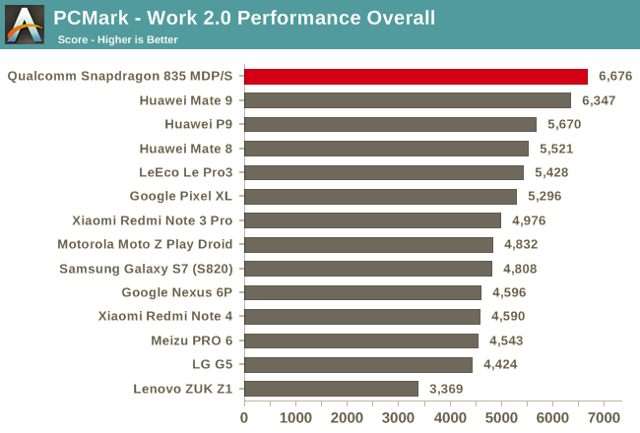 And graphics performance is also exceptional, as shown in this typical benchmark:
The folks at Anandtech were only allowed a limited amount of time by Qualcomm to run the tests, since they took place at Qualcomm and were restricted to engineering test samples. Anandtech didn't have time to run its battery life tests.
Despite the limited nature of the tests, it still looks very promising for the 835 and the new generation of 10 nm mobile processors. Every year there's a new generation of mobile processors, and every year they make very significant performance strides compared to the processors of the PC world.
The 835 should allow Qualcomm to maintain its dominance of high-end Android smartphones. And of course, there's that new Windows 10 device using the 835 to look forward to.
Rethink Technology recommends Qualcomm as a buy.
Micron Reports Fiscal 2017 Q2 Earnings On March 23
Micron Technology (NASDAQ:MU) reports earnings tomorrow with very high analyst expectations of $0.85 EPS and revenue of $4.64B, according to Yahoo Finance. While Micron's short-term prospects look bright, I question whether Micron represents a solid long-term investment.
Part of my problem with Micron is that it's just not the kind of technology business that I have favored. I've tended to focus on microprocessor makers, or companies whose consumer products are centered on the microprocessor.
But analyst consensus calls for a price target of $32.88 and a strong buy rating. My own price target is more conservative at $27.98, but still good for about 8% upside. In my broader evaluation criteria for technology companies, Micron scores below average compared to the other companies in the Rethink Technology portfolio. The criteria consider a number of factors besides estimated price target.
Even though commodity semiconductors are not my preferred semiconductor investment, I'm keeping an open mind about Micron. Currently, my rating of Micron is a Hold, but I may upgrade after tomorrow's conference call.
This Tech Brief is a summary of a much longer assessment available only to Rethink Technology subscribers.
Disclosure: I am/we are long NVDA, QCOM.
I wrote this article myself, and it expresses my own opinions. I am not receiving compensation for it (other than from Seeking Alpha). I have no business relationship with any company whose stock is mentioned in this article.