Franco-Nevada: Breaking Down Q4 Results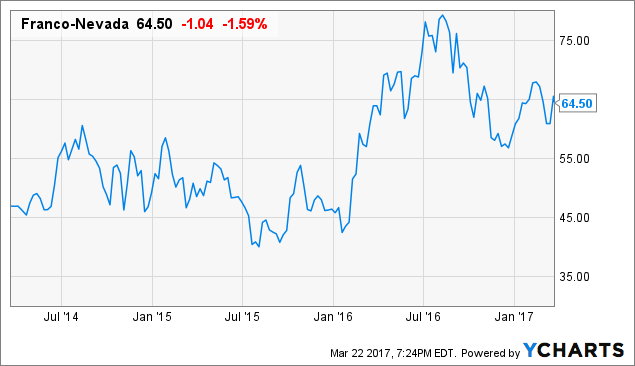 Royalty and streaming company Franco-Nevada (NYSE:FNV) just reported its Q4 and full-year 2016 financial results, and also announced a new $110 million acquisition. I felt this was another strong quarter from the company, following up a Q3 earnings that saw it report new quarterly records for production, revenue and adjusted EBITDA.
To sum of the quarter, Franco-Nevada recorded 129,036 gold equivalent ounces in Q4, up slightly from last quarter's total of 123,065 ounces; revenue was $155.3 million (28% increase over last year), with $122.2 million in adjusted EBITDA, or $.69 per share, and adjusted net income was $42.9 million, or $.24 per share.
In Q4, revenue came mainly from gold (72.6%), silver (14.1%), and platinum group metals (5.2%). However, it's worth pointing out that while Franco-Nevada's oil and gas revenue makes up a small portion of its revenue, this revenue increased by more than 100% in Q4 to $10.4 million.
Franco-Nevada's cornerstone assets performed quite well in Q4, mainly, the Antapaccay gold and silver stream delivered 22,927 gold equivalent ounces (GEOs) in Q4 and 73,612 GEOs for the year, and the Candeleria and Antamina streams.
While Franco-Nevada did report a net loss of $4.5 million in Q4, this was due to a non-cash impairment charge of $67.4 million on the Cooke 4 stream; the operator of this mine, Sibanye Gold (NYSE:SBGL), announced that production at the mine has ceased as the mine was unprofitable.
However, this is hardly surprising news as it was announced in mid-2016 that the mine would close. Again, it's a non-cash impairment charge and doesn't affect the company's balance sheet and earnings, as Franco ended the year with $400.4 million in cash, cash equivalents and investments, and zero debt.
If you look at the company's adjusted EBITDA per share (one of the best measures of the company's true profitability, in my opinion), it rose to $2.79 per share in 2016, up from $2.16 per share. Or, you can look at its adjusted net income, which rose to $.94 per share in 2016, up from $.57 per share.
The balance sheet remains really strong, so I think the company is well-positioned to keep growing its earnings. Combined with its $1 billion undrawn credit facility, the company has $1.3 billion in available capital to complete new deals (this figure factors in the recent acquisition, which I'll discuss below).
Now comes some interesting, yet not so unsurprising news. On March 13, 2017, Franco-Nevada says it agreed to purchase a package of oil royalty rights in the Midland Basin of West Texas for a price of $110 million. This news comes after Franco-Nevada's CEO stated in an interview that the company is planning more deals in the non-precious metals space (with a particular focus on oil and gas). The deal also follows a previous $100 million oil and gas deal made in November of 2016.
The company says the royalties "provide exposure to an estimated gross acreage of 675,000 acres (a significant portion of the overall Midland Basin) at an estimated average royalty rate of 0.14%." The transaction is expected to close in the second quarter of 2017.
As for 2017 guidance, the company is expecting attributable royalty and stream production to total 470,000 to 500,000 GEOs from its mineral assets and revenue of $35 million to $45 million from its oil and gas assets. This would represent solid growth over the 464,383 GEOs sold in 2016, and a big jump in oil and gas revenues.
Looking out further to 2021, Franco-Nevada expects to generate 515,000 - 540,000 GEOs by 2021, while oil and gas revenues are expected to range between $55 million and $65 million (assuming $50 per barrel oil).
As for its dividend, 2016 was the ninth consecutive year the company raised its dividend; the stock now yields 1.34%, among the highest in the gold sector.
In conclusion, I thought Franco-Nevada had a solid Q4 and 2016, and I'm a fan of its latest acquisition and it looks to diversify and add attractive oil and gas assets to its portfolio. The company owns a diverse portfolio with 340 assets, 43 of which are currently producing. I like that the company is getting more aggressive on acquisitions and I expect many more deals to come in 2017. I currently rank Franco-Nevada as the best royalty and streaming company among its peers, ahead of Silver Wheaton (SLW) and Royal Gold (NASDAQ:RGLD).
Disclosure: I am/we are long FNV, SLW.
I wrote this article myself, and it expresses my own opinions. I am not receiving compensation for it (other than from Seeking Alpha). I have no business relationship with any company whose stock is mentioned in this article.