Let me start this note by getting right to my thesis: Despite the turbulence within the retail-focused REIT sector and the extremely negative outlook on the sector, it is not going to shrivel up and die as soon as some make it seem. Some immutable facts:
The landscape is dotted with failed ghost malls and half-empty shopping centers.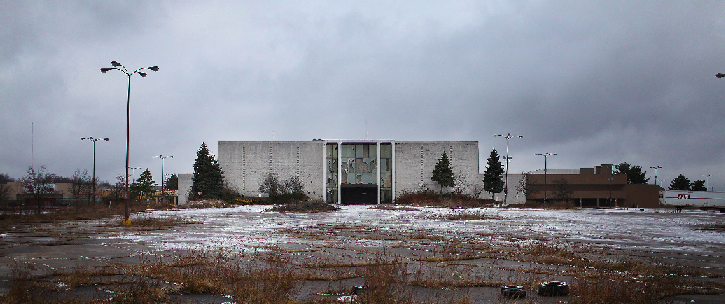 Picture courtesy NY Times.
The graveyard of retail continues to expand.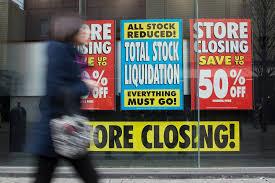 Between bankruptcies (Aeropostale, Wet Seal, Sports Authority) and store closings (Macy's (NYSE:M), J.C. Penney (NYSE:JCP), Sears (NASDAQ:SHLD), The Limited, A&F, Payless...) the retail industry has been buffeted by only two types of news: bad news and worse news.
The market has passed judgement on the sector:
Is the game over for retail?
Contrary to conventional wisdom and market movement, I don't think it is. Yes, it is difficult and will remain difficult. On-line shopping continues to be a headwind (10% of retail sales), oversupply (of malls, shopping centers and retail stores) has to be worked off and worked out and capital will be required to reinvigorate, repurpose and redevelop. This is no small task, but as with most businesses there will be those that survive.
REITs, for the most part, are sufficiently capitalized and have the resources to overcome the challenge. Recall back during the crisis when it was a widely-held belief that REITs were going bust. The industry retrenched, cut debt, cut dividends and began "the great repositioning." This is a resilient industry with a history of overcoming obstacles. The current environment is not one of rapid onset financial stress, but rather it is one of changing demographics, consumer preferences and lifestyle. These are, however, not changes of the rapid onset variety, they happen over time and due to this, participants have time to adapt to the changes.
The mall is no different.
CBL & Associates (CBL) is one of the "troubled two" mall owners, the other being Pennsylvania Real Estate ("PREIT") (PEI).
CBL is one of the largest and most active owners and developers of malls and shopping centers in the United States. CBL owns, holds interests in or manages 128 properties, including 84 regional malls/open-air centers. The properties are located in 29 states and total 79.1 million square feet including 7.0 million square feet of non-owned shopping centers managed for third parties.
Tenants: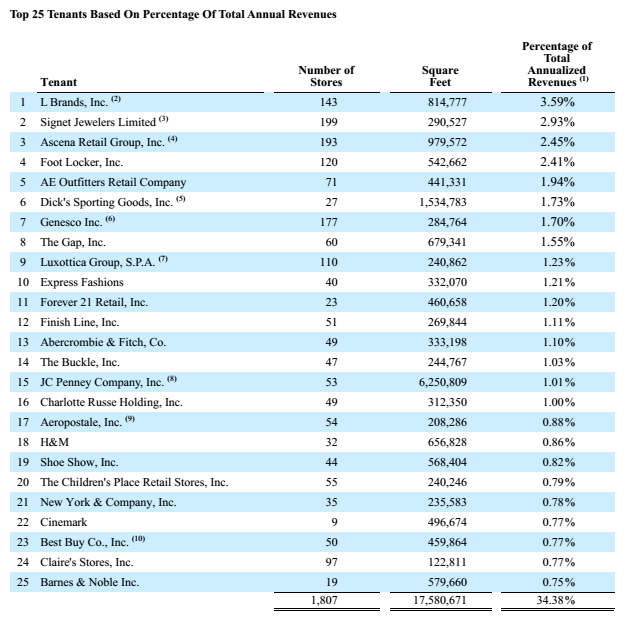 Most of the footnotes above-referenced the various brands/stores of the parent, with the exception of the following:
(8) J.C. Penney Co., Inc. owns 27 of these stores.
(9) The above chart includes 10 Aeropostale stores that were terminated effective December 31, 2016.
Their tenant roster has its share of troubled names (JCP, AF) and names that are repositioning (AE, GAP), but as a whole, the tenants are stable and no one tenant represents a significant percentage of ABR.

From the call:
We are projecting stabilized mall occupancy to be relatively flat from prior year end, but expect that we will have a decline in the first part of the year as we have absorb the January store closures from the limited Wet Seal and Aeropostale.
Portfolio Recycling:
As with most REITs, since the financial crisis, CBL has been re-positioning their property portfolio by means of disposition, foreclosure and acquisition:

From their recent earnings call:
As we move forward in 2017, we expect to bring our strategic transformation program to a close having satisfied the goals we originally set forth. Portfolio of sales have increased from $356 to $376 per square foot and Tier 3 assets now are only 6% of mall NOI.

...we have executed transactions of 18 of the 25 malls we have originally identified. We are in discussions with potential buyers on several other remaining malls and hope to execute on those transactions later this year.
These metrics (sales psf and NOI) are two that I believe keep getting overlooked by the market in terms of their importance and their stability within CBL.
CBL has increased their sales per square foot over the last few years and continues to push forward to the $400 psf benchmark.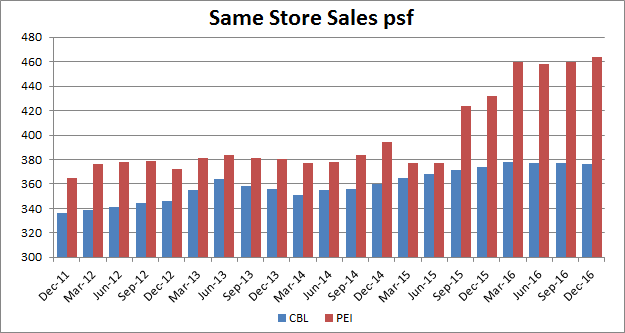 Importantly, the annual base rent ("ABR") for small tenants has been holding up: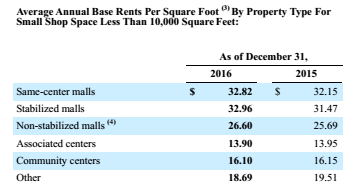 Further, NOI continues to be relatively stable, not what one might expect from a distressed company with dying properties.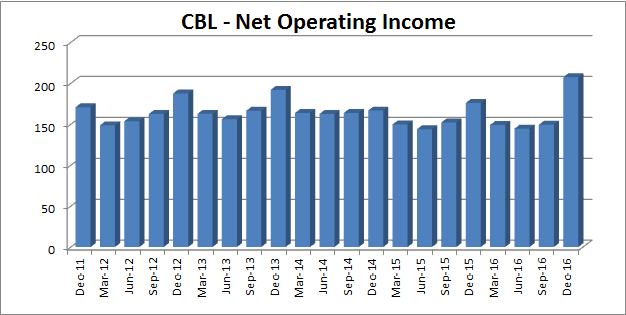 FFO is also stable:

From the call:
2017 FFO guidance is in the range of $2.26 to $2.33 per diluted share and same center NOI growth of 0% to 1.5%.
Balance Sheet:
CBL has also gotten their balance sheet in better shape.

All investors benefit from their debt covenants. From their Q4 2016 supplemental, their covenants (and compliance with their covenants):

Fundamental bottom line: While not completely out of the woods, CBL has shored up their balance sheet, increased sales per square foot, reduced tier 3 assets and has been actively developing properties and opportunistically buying anchor stores. This should help stabilize their properties and lead to FFO/NOI growth that outpaces inflation ("real" growth) while pursuing select opportunities.
Finally, a look at the retail REIT sector from a market point of view: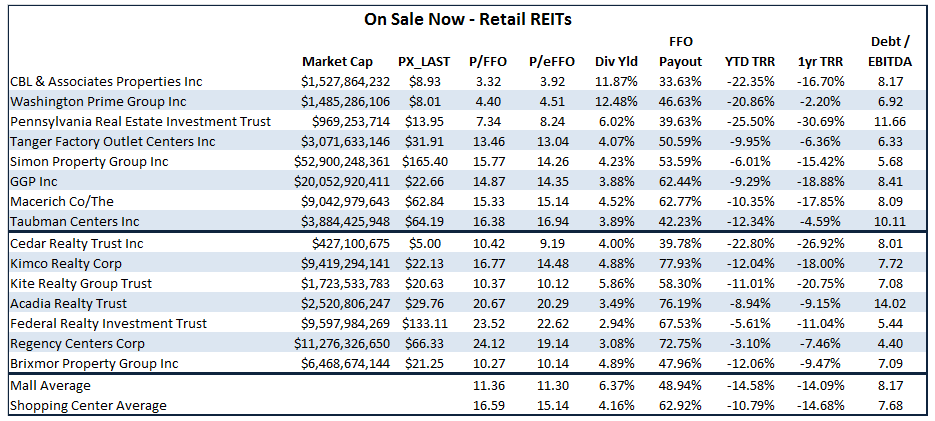 As shown above, CBL trades at the lowest multiple (3.92x eFFO) within the retail REIT sector and has a dividend yield of nearly 2x the average.
The multiple graphically: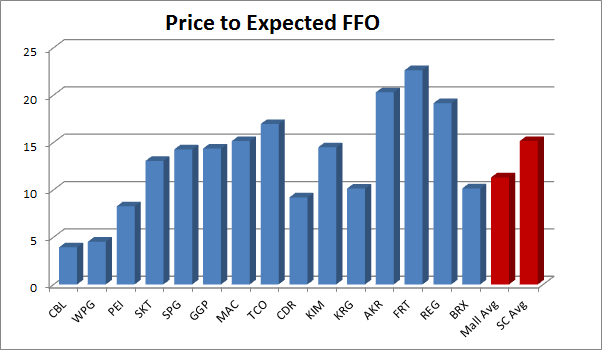 The dividend yield graphically: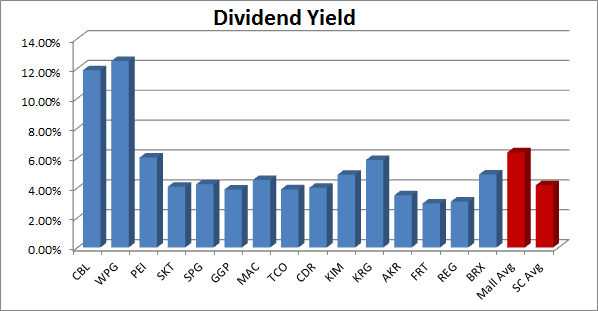 Note: CBL dividends are taxed as ordinary income (in their entirety for 2016).
In order to determine the cap rate at which the market is valuing CBL and to determine potential price moves should the cap rate move, the following is a quick and dirty cap rate matrix:

Using the matrix, the market is currently pricing CBL at a cap rate of approximately 10%, a touch high perhaps, but given the environment it is not all that surprising. As the market recognizes the stability of CBL's NOI, we could see cap rate compression which could fuel returns. A 50 bp compression in the cap rate would lead to an additional $1.75 in the price or a 19.5% price upside. When combined with the dividend, this is a handsome return.
What if it goes the other way? Here is the matrix assuming a ten percent reduction in NOI:

The impact on NAV in this scenario is severe and at 12% creates a negative NAV. I do not believe that we will see this and include it to show a "worst case" scenario of a NAV drop and no offsetting reduction in debt.
On a year-to-date basis, the entire sector is under water, led by PREIT and Cedar (CDR):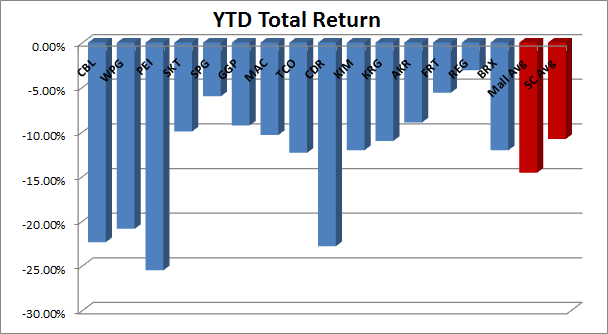 On a one-year return basis the "loss leadership" is more widely dispersed: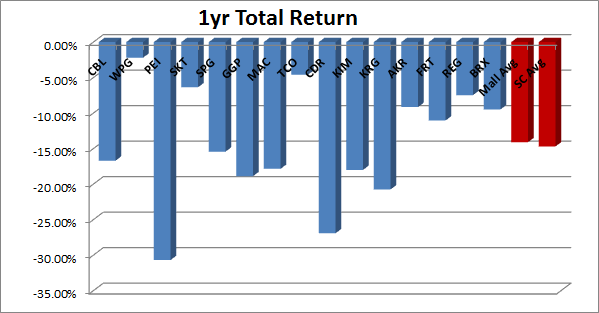 Total returns over one year from a time series standpoint: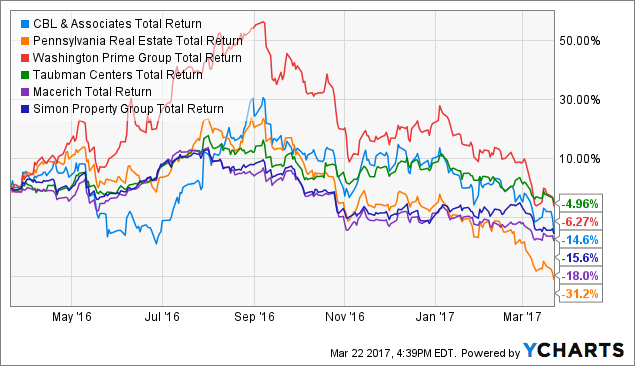 CBL Total Return Price data by YCharts
And the "even uglier" year-to-date time series: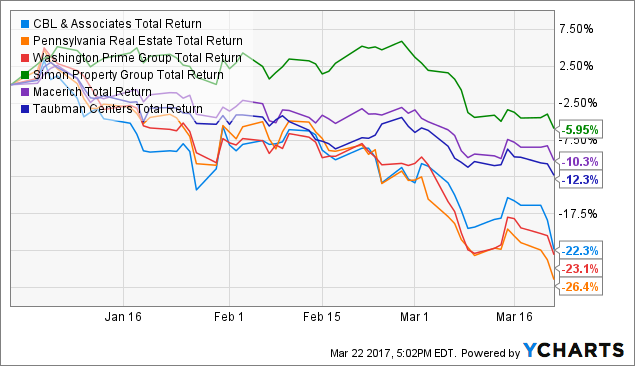 CBL Total Return Price data by YCharts
CBL also has two series of preferred stock outstanding which are somewhat attractive:

I am long CBLpE and will be swapping into the Series D due to the pick-up in both stripped yield and yield-to-call (not that I believe it will be redeemed). Preferred dividends are approximately 10% of FFO and therefore have a sizable cushion.
The stripped yield graphically: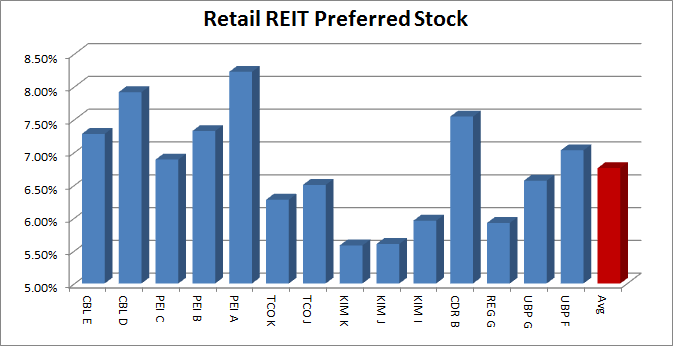 Note: preferred dividends, like the common, are taxed as ordinary income.
CBL Bottom Line: I believe that CBL has been punished since allegations of improper loan document data (investigation closed) last year and has been pushed down even further in the retail rout we have witnessed this year. At current multiples, I also believe it has been pushed down too far and this has created both an income and a total return opportunity for investors willing to defy market "logic." This investment is appropriate for investors with a greater risk tolerance and those that can handle the constant bombardment of negative news on the sector.
Both the common and preferred appear attractive at current levels.
Recent articles on CBL:
Herman Tai's article (really good in my humble opinion, well worth the read).
Jussi Askola's article (check Jussi out, he is the up and comer in the space).
Aurora Research's article (well done and worth the read).
Honestly, for a beaten up sector and mall, this REIT has some great material here on SA.
Sources:
March 2017 CBL Investor presentation
2016 Q4 supplemental
Disclosure: I am/we are long CBL.
I wrote this article myself, and it expresses my own opinions. I am not receiving compensation for it (other than from Seeking Alpha). I have no business relationship with any company whose stock is mentioned in this article.
Additional disclosure: Long CBL common and preferred.