Background
This month's article marks the twenty-fourth installment in my on-going series outlining my efforts to achieve dividend growth success. The portfolio is nicknamed the MnM portfolio, which is a moniker for "Minne(sota) 'n Monthly."
Note: The portfolio grew in size to 36 stocks which is still at the lower end of my target portfolio size of ~35 - 40. I feel that the portfolio holds a sufficient number of stocks such that I can effectively follow them all. I will work towards achieving more equal weightings, as this will provide strong diversification with each stock representing approximately 2% - 3% of the portfolio total. I also receive 100 free trades each year from my brokerage, so I can trade in small quantities without worry about brokerage trading costs.
That being said, here's what happened in February.
February 2017
The year is still young, but for the portfolio it's off to a healthy start. Through February, ten of the thirty-six positions have increased their dividends. The portfolio increased by just under 4% for the month, moving largely in line with the S&P 500's climb. Year-to-date the portfolio trails the S&P by about 1%.
I have captured the activity for February and for the year-to-date in the standard rollforward summary below.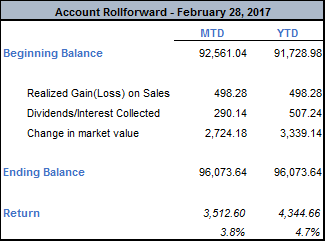 The portfolio collected $290.14 in dividends during the month, all of which was recurring on positions held. The portfolio was comprised of the following securities as of February 28, 2017: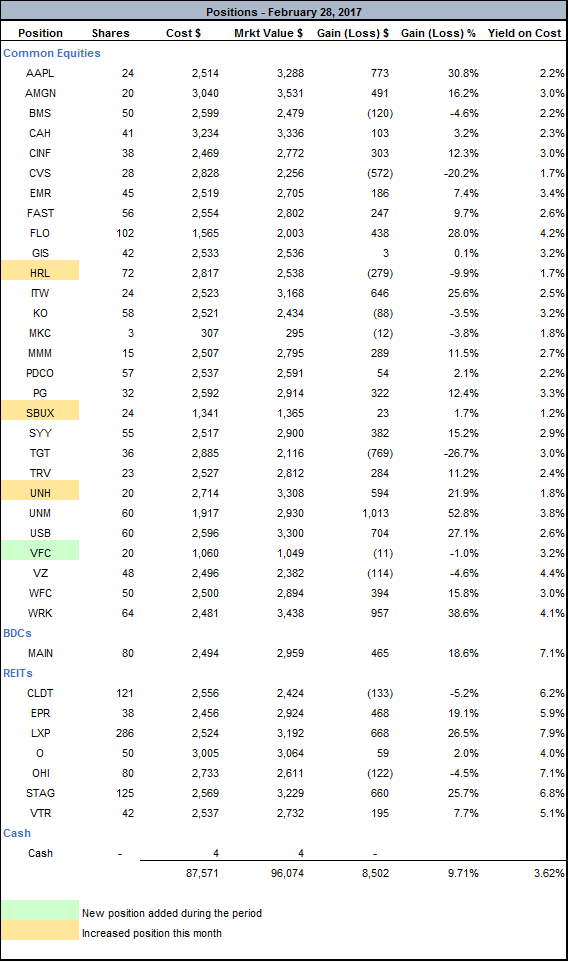 The following sections go into greater detail of the events that have occurred since the end of January.
Sales

I know there will be commenters who disagree with the decision, but I decided to scale back my Unum (NYSE:UNM) position by 1/3. I have had Unum in the portfolio for some time, and as it turns out, my decision last Spring to go outsized in it has paid off. Later last summer I even wrote about how I considered Unum to be cheap in an article published on Seeking Alpha HERE.
Fast forward about a year and the holding has surged over 50%, going beyond my expectations. I do think that Unum is a good long-term hold; however, I think the entire rally in financial stocks may be a bit overdone. Given this outlook, I feel good about the decision to trim the position, taking outsized gains.
I elected to reallocate the proceeds between VF Corp (NYSE:VFC), a new portfolio entrant, and Starbucks (NASDAQ:SBUX), another recent portfolio addition which I have been growing for several months now.
VF has sold off in recent months and now is trading at an attractive multiple. After some digging into it, I found it to be a good fit for the portfolio and pulled the trigger. Thank you rhiannion for the suggestion.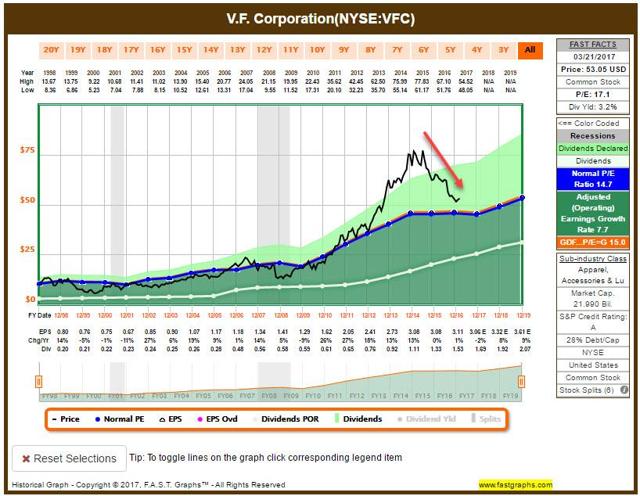 Source: F.A.S.T.graphs.net, March 22, 2017
Additions
This month I deployed the bulk of the dividends collected towards shares of UnitedHealthGroup (NYSE:UNH) and Hormel (NYSE:HRL). As noted above, the proceeds of the Unum sale were invested into VF Corp and Starbucks.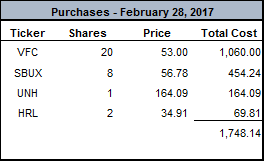 Dividends Collected
I collected $290.14 in dividends during the month, all of which was recurring. I have updated and included the forward-looking dividend summary as follows: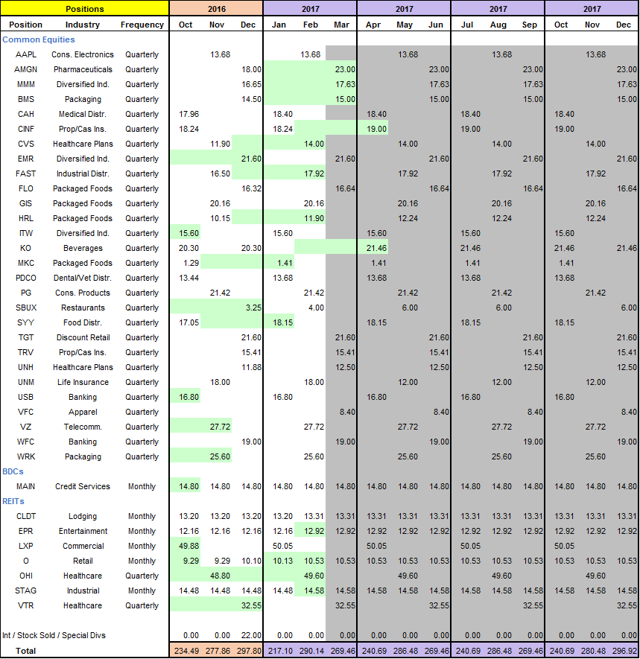 In comparing dividend growth I would once again remind you that the timing of payments has skewed the charts slightly. Last quarters (Q4 2016) income was inflated as a result of Coca-Cola (NYSE:KO) paying their Dividend early - in December, and by the special dividend received from Main Street Capital (NYSE:MAIN). Absent these two, dividend income has actually increased in Q1 2017 as compared to a presented decline of 4.1%.

As compared to the start of 2016 quarterly income has now grown by 17.4%. I will caution you to note that a portion of this growth came from last year's rollover investment; however, organic dividend growth and reinvestment were major contributors to the increase as well.
Dividend Increases
As mentioned in the summary points of the article, February resumed January's strong pace with an additional four positions announcing increased dividends.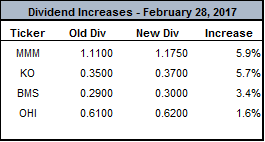 It was a month for Champions as Coca-Cola, Bemis (NYSE:BMS) and 3M (NYSE:MMM) all passed along solid bumps. Joining the champions was Omega Healthcare (NYSE:OHI) with an appreciated and consistent $.01 quarterly bump.
The 2017 income trendline continues skewing up and without any hiccups the gap between 2017 and 2016 lines will only continue to expand. I will keep monitoring this to see how close the portfolio trendline gets to the $300 mark by the end of the year, something of a goal of mine.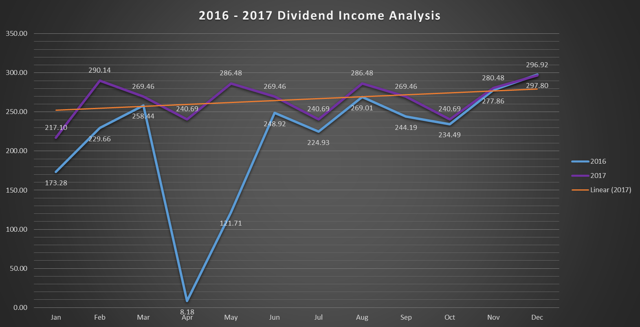 The MnM 401K
I received some good feedback last month on the 401K. Some readers suggested adding some small-cap exposure which I strongly considered. Ultimately I looked over all of my holdings (including holdings I do not write about) and decided to hold off for the time being. I know it's hard to get a total picture, but rest assured I have small-cap exposure elsewhere, and am okay putting the 401K into the large-cap fund for now.
The MnM 401K is going to grow quickly. There's almost a full position ($2,500 is what I consider a full position in the MnM portfolio at this moment) in it in just two months. February's activity was simply contributions, though I anticipate I will see my first dividends in the 401K in April.

Closing Thoughts
It was another solid month for the portfolio. The Champions lead the charge with dividend increases, and I even added a new champion to the mix. I held true to my intentions from last month and added more UnitedHealth Group and Hormel shares. I do not see any other positions to trim at this point, but if Unum were to fall below $40 a share I would be a buyer again.
Looking over the portfolio it's amazing to me to see just how much price variation has arisen in the portfolio over the past year. It's become clear that retailers are out, as demonstrated by the rapid decline in prices for Target (NYSE:TGT) and CVS Health (NYSE:CVS), while financials have surged. Last year's additions of Flowers Foods (NYSE:FLO) and Westrock (NYSE:WRK) were well timed as both are up considerably and yielding over four percent. Even the REITs have shown considerable variation as hotel owner Chatham Lodging (NYSE:CLDT) and skilled-nursing owner Omega Healthcare have lagged while most of the others have outperformed.
Looking at March I intend to continue building on Starbucks, but also want to consider adding to my General Mills (NYSE:GIS) holding which is now trading near 52-week lows. I've been holding off on adding to the retailers for fear of the online disruption, but General Mills, who is fighting struggling sales, needs to be looked at. I will let you know what I do soon. Thanks for reading.
Disclosure: I am/we are long THE STOCKS LISTED IN THE PORTFOLIO.
I wrote this article myself, and it expresses my own opinions. I am not receiving compensation for it (other than from Seeking Alpha). I have no business relationship with any company whose stock is mentioned in this article.