When researching an investment, stock or a bond, I look to see if there is a share repurchase plan and its size. Share repurchase plans are perceived as a sign of concern, rather than a sign of confidence. A sign of confidence would be members of management and the board spending their hard-earned money to purchase shares rather than using shareholder money. The reason for the dislike of share repurchase plans is simple; I have rarely seen a share repurchase plan create shareholder value. Also, bondholders can lose a considerable amount of value when financial leverage is increased.
The reason I am thankful that Sears Holdings (NASDAQ:SHLD) had a share repurchase plan is that it kept me out of the stock and from suffering significant losses. My share repurchase filter has kept me out of many stocks, some that I wished I had purchased. Every filter or theory has its weakness.
Sears recent 10-K contained " going concern" language. This should be unwelcomed news for long-term shareholders but not a big surprise with the decline in the share price and declining sales.
Long-term holders have suffered.
I have raised the concern with share repurchase plans in a number of prior articles. Many times in the comment section will be a comment that suggests that not enough time has passed or that share repurchase plan is a more tax-efficient way to manage the return of cash or don't I understand corporate finance. Nearly a decade should be enough time to measure the success or failure of a share repurchase plan, wouldn't you agree?
Sears announced its share repurchase plan during 2005 with the Board of Directors approving the purchase of $1.0 billion worth of common stock, and during 2006, an additional $1.0 billion for share repurchase was approved. From October 26, 2006, to February 3, 2007, the average price paid by Sears for shares repurchased was $166.03. The shares closed March 22, 2017, at $7.98.
The chart below shows the stock and revenue performance and since December 31, 2004.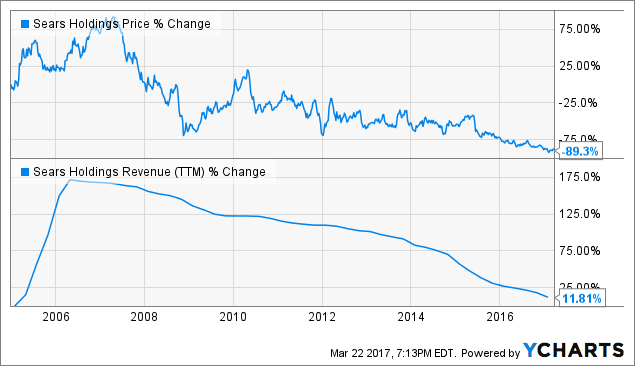 CNBC had an article posted on November 29, 2007, with Jim Cramer's giving his take on Sears Holdings after third-quarter earnings dropped 99%.
The article mentioned the following:
Lampert's focus has always been long term, Cramer said, and there have been bumps in the road along the way. But the numbers Lampert puts up when all is said and done have been "spectacular."
The charts below shows the stock performance since November 29, 2007.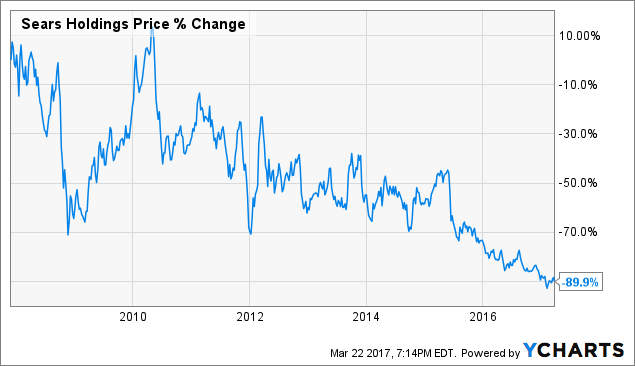 Roughly 140,000 employees count on Sears for employment as of January 28, 2017, which is down from the 317,000 employees on January 28, 2006. The economic impact of Sears going under will create many unintended consequences for employees and state and local governments. Therefore, it is hoped that management can find a way to stabilize the business.
Bottom Line
When a share repurchase plan is announced, it raises a red flag, especially if debt in the firm is held. The size of the share repurchase plan is compared with the dividends paid if any. Then a risk calculation is performed. It is challenging to find stocks without a share repurchase plan, but there are a few, and one, in particular, has performed very well and pays a regular and special dividend.
What method to you use as a filter when researching investments?
Disclosure: I/we have no positions in any stocks mentioned, and no plans to initiate any positions within the next 72 hours.
I wrote this article myself, and it expresses my own opinions. I am not receiving compensation for it (other than from Seeking Alpha). I have no business relationship with any company whose stock is mentioned in this article.