Thesis
I think Celanese (NYSE:CE) makes a solid addition to any portfolio. The company presents a nice combination of value and growth. Furthermore, the company has a phenomenal record of return cash to shareholders. It has performed well and I see a bright future ahead for Celanese.
About The Company
Celanese is a materials and technology company. The company operates in four segments. These segments are: Advanced Engineered Materials, Consumer Specialties, Industrial Specialties, Acetyl Intermediates, and Other Activities. The company is large with a market cap of $13B and operates 30 production facilities globally. It has recently made several key acquisitions that expand its brand portfolio and immediately add value to the company.
What I Like
I believe Celanese's valuation is cheaper than its growth. Currently the company trades at a slight discount to future cash flow. P/E for Celanese is 14.4 which is arguably low. PEG is 0.9 with a forward P/E of 11. This suggests a good present value considering future growth for the company. Price/book comes it right around 5 which is about in line with the materials industry average. Valuation metrics are shown in Figure 1.
Figure 1: Celanese Valuation Metrics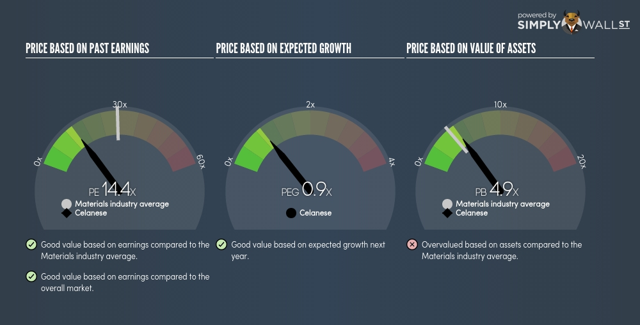 Source: Simply Wall St
As far as growth is concerned, Celanese has grown substantially in the past. In fact, earnings are up 155% QoQ and 223% YoY. Despite this the company maintains a low valuation. Growth is expected to continue as well. Next year earnings are expected to increase 15% and over the next three years earnings are expected to increase 26%. Analyst opinions on Celanese's earnings are shown in Figure 2.
Figure 2: Celanese Past And Future Earnings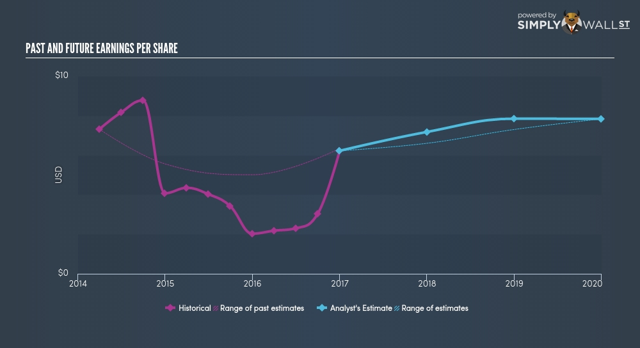 Source: Simply Wall St
Celanese has done more than grow its earnings, the company has performed well for its shareholders. It boasts a Return on Equity of 31% which is much higher than the materials industry average. The company's Return on Assets is slightly higher than the materials average at 6.7%. Return on Capital is vastly ahead of the rest of the industry at 14%. The company's performance metrics are shown in Figure 3.
Figure 3: Celanese Performance Metrics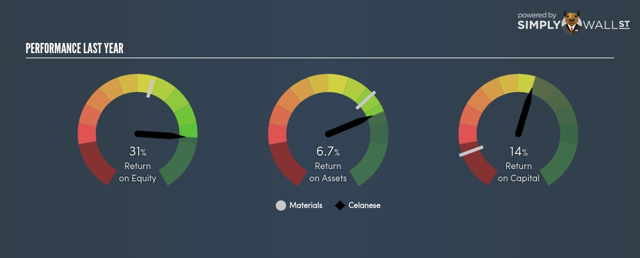 Source: Simply Wall St
One spot that makes me hesitate is the company's debt. Celanese has a 100% debt/equity ratio. I normally look for a debt/equity under 100% but Celanese has done a good job of reducing this number over the past six years. I hope to see this continue. One area where Celanese really excels is cash flow generation and returning cash to shareholders. Free cash flow has grown at a CAGR of 31% over the past five years. In 2016 the company paid out $201m in dividends, bought $500m worth of shares, and maintained an additional $500m to continue share repurchase. Cash returned to shareholders is shown in Figure 4.
Figure 4: Celanese Cash To Shareholders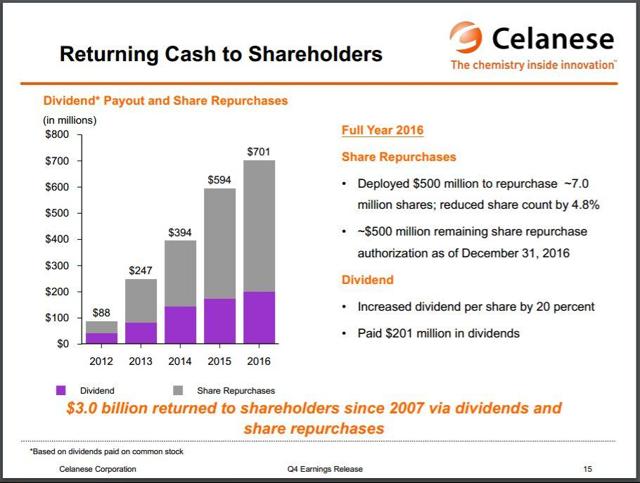 Source: Celanese Q4 2016 Earnings Presentation
Opportunities And Drivers
In 2016, Celanese made two valuable acquisitions. First was the acquisition of the SO.F.TER. Group which is one of the world's largest thermoplastics compounders. This contributed substantially to Celanese's Advanced Engineered Materials portfolio. The company again boosted this portfolio when it acquired Nilit Group's nylon division.
The company has done everything that I look for. Margins have expanded. Cash has been returned to shareholders. EPS has grown at a CAGR of 13% over the past five years. Outside of the company's debt I really do not see much that I don't like. The company is owned overwhelmingly by institutions which I also like to see. This means it may be unknown to the average investor. With the growth that Celanese has displayed and the company's current valuation, I believe this to be the case.
Risks
Being that Celanese is a global company currency risks do apply. The company has a strong presence in China. This has been hit by weak demand. The company is also subject to regulation as it is a chemical company. There is risk in change to regulations, although, given the current administration, things may change for the better. I do not see any substantial or surprising risks to Celanese. The company's 10-K did not state anything that I thought was out of the ordinary.
Some people may argue that the company is subject to risk from rising interest rates. I attempted to look up Celanese's debt but had no luck with Morningstar. It is possible that the company has financed its acquisitions using variable rate loans. However, the company could easily pay down its debt with its strong cash flow. Although I will be researching more and keeping a close eye on the company's debt, I do not think it is a reason not to buy it.
Final Thoughts
It is hard to find a company with the kind of growth Celanese has displayed for so cheap a price. I believe Celanese will continue to grow. I believe the company will continue to return large sums of cash to its shareholders. I believe that the company is a strong buy at current price and valuation.
Disclosure: I/we have no positions in any stocks mentioned, but may initiate a long position in CE over the next 72 hours.
I wrote this article myself, and it expresses my own opinions. I am not receiving compensation for it (other than from Seeking Alpha). I have no business relationship with any company whose stock is mentioned in this article.