This post is written by Jim (Jiecheng) Huang for Integer Investments.
In recent months, we started looking into sport brands. We recently discussed our view on Under Armour (NYSE:UAA), while we previously analyzed Nike (NYSE:NKE) and Skechers (NYSE:SKX). Today we research Lululemon (NASDAQ:LULU).
Introduction
Lululemon has been fairly steady since 2017, with its financial results for the fourth quarter and full-year fiscal 2016 realising on March 29, 2017. This article will examine whether there is any potential upside for the Vancouver yoga giant. It will first try to determine whether its product quality, customer loyalty and patented material are sustainable competitive advantages. The article will next focus on where Lululemon is positioned among its competitors. It will conclude with our valuation of Lululemon and our recommendations for it. Overall, Lululemon is a good company, but its stock price does not offer potential for good returns.
Overview of the company
Lululemon is a yoga-inspired designer and retailer of technical athletic apparel for women and men, based in Vancouver, Canada. Its apparel assortment includes items such as pants, shorts, tops and jackets designed for healthy lifestyle activities and athletic pursuits, such as yoga, running, other sweaty pursuits and athletic wear for female youth. The company's primary markets are the United States, United Kingdom, Canada, Australia and New Zealand. Its segments include company-operated stores, direct to consumer and other.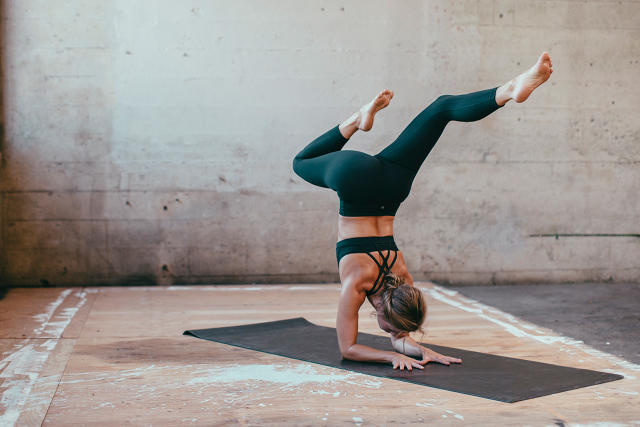 There are 354 corporate-owned stores in operation as of October 2015. This includes roughly 40 branded ivivva athletic which specialize in athletic wear for females.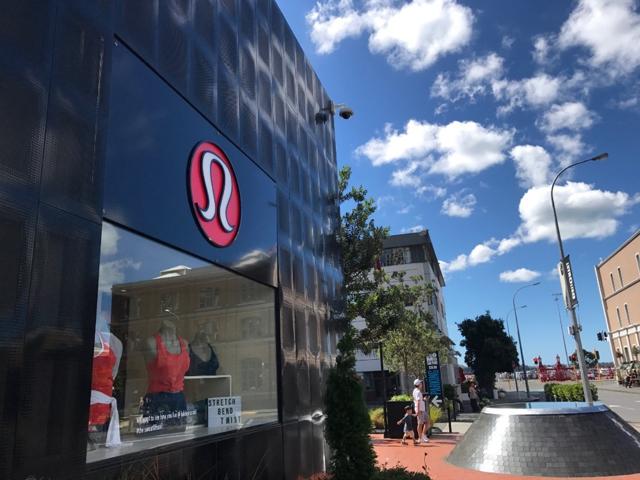 The direct to consumer segment includes both Lululemon and ivivva e-commerce websites and region-specific websites. Sales from outlets, showrooms, wholesale accounts, warehouse sales, temporary locations, license and supply arrangements are all part of the direct to consumer segment.
Competitive advantages
It is important for us to understand whether Lululemon is a company with a sustainable competitive advantage, as it determines whether the current growth is sustainable and whether it is, ultimately, a company worthy investing in.
We've identified three competitive advantages Lululemon currently holds, and will discuss whether they are sustainable.
Product quality
Customer loyalty
Patented material
Unfortunately, I do not own any Lululemon products, so I decided to both go online to see what the feedbacks were like, as well as visited their store in person to try the company's products.
Product quality
I visited one of its corporate-owned stores in Auckland, New Zealand. The location of the store is premium, one of busiest area in New Zealand. I managed to try a few of its training gears - they are very comfortable, and the material was premium.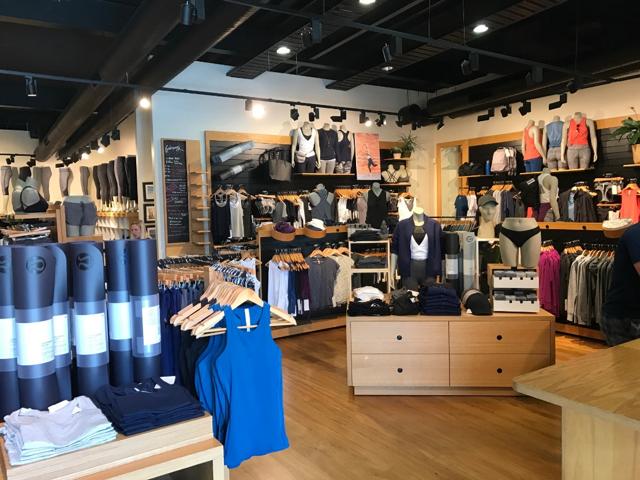 Reviews on Lululemon's website are relatively mixed. Ratings for its most popular yoga pants (Align Pant II (2.7), Align Crop 19" (3.1) and Wunder Under Pant (2.5)) ranged from 2.5 to 3.1 out of 5.
The Align Pant II is one of Lululemon's most popular products and has over 1000 reviews, but the general feedback was that the fabric is very comfortable but the durability was unsatisfactory.
One customer wrote:
"Love them but poor quality

I fell in love with these when I first got them. I still love them but within 2 wears the ankles stretched way out (and I have no calves lol) and the threading at the bottom came undone and the pilling is worse than my wunder unders (and those pill badly as well.) I baby all of my lulus when it comes to washing. Cold water, no fabric softner, air dry and wash only together, so I know this is more of a quality issue."
Another customer wrote:
"Comfy but not worth the money"

"Bought my first pair of Align pants and fell in love. A month later, seams started falling apart throughout the length of the leg. Fabric also started to ball up on the backside of the pants. Took it in to my nearest Lulu (40 mins away) to be told there are no exchanges, there is nothing they can do about the fabric, but agreed to fix the seams…. They feel amazing but not worth the money!"
Reviews on the website for all three of its most popular yoga pants were relatively similar. The poor quality but expensive price tag contributed to the poor ratings. But if the customers were happy with the quality, reviews were generally positive and ratings were mainly 5 out of 5.
One customer of the Align Crop pant wrote:
"Great light weight tights"

"I read the previous reviews on here and was skeptical to purchase these pants because yes they are a lighter and more delicate material than others, but you need to take care of them! I have 3 capris versions and one pair of the pant version and I love them! I am currently 6 months pregnant and these pants fit amazing. I didn't have to size up, I went with my regular size and these pants have worked with my growing belly since Christmas. You have to be careful with them because they are more delicate than say the wunder unders, but they are extremely comfy. ALL pants pile and can get holes in them, I don't understand why so many people are complaining about these."
As we can see above, despite certain durability issues such as pilling, customers were extremely satisfied with regard to how comfortable the products were.
The Business Insider lifestyle and retail team compared the quality and design of three popular yoga pants brands: Lululemon, Athleta (NYSE:GPS) and Reebok (OTCQX:ADDDF).
The results were not surprising. Lululemon came out on top in terms of comfort and style, while Athleta was considered better value. Lululemon has a better brand image and general recognition. The company understands that its customers are willing to pay extra for the brand and the premium material that Lululemon has patents on.
We even bought a pair of shorts to try them. After a few days, we like the product and feel it is made of good quality, but we believe it is overpriced, since there are no real differences with competing products.
Patented material
Lululemon owns 45 patents on its sports gear; the company actively protects its intellectual property. For instance, it filed a complaint in a Delaware court, alleging that Calvin Klein (NYSE:PVH) and G-lll Apparel Group (NASDAQ:GIII) infringed three of its patents for yoga pants. A private settlement agreement was reached between the parties, but it shows how Lululemon is trying to create difficulties for new entrants.
Lululemon owns trademark registrations for names of several of its fabrics and products, including Luon, Silverescent, VitaSea, Boolux, Luxtreme, Luxchange, Groove Pant, Light as Air and Power Y.
Luon, which is trademarked by the brand, is 86% nylon and 14% lycra. It is an important part of Lululemon's secret sauce. It is also one of the company's most popular fabrics, with variations such as brushed Luon, reversible Luon and heathered Luon.
Athleta also has a patented name for its fabric, Pilayo, which is 88% nylon and 12% lycra.
With such a similar combination of the two companies' most popular fabric, Lululemon faces the risk that its customers switch to a similar but cheaper alternative like Athleta.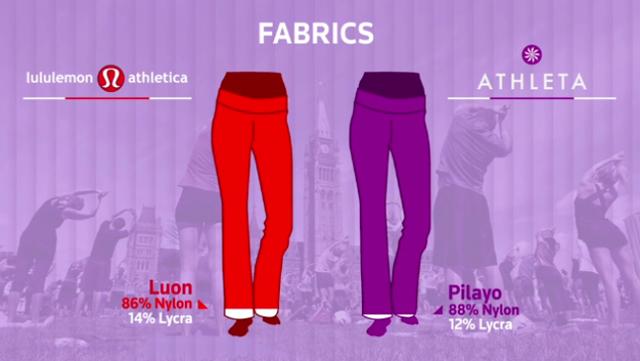 Lululemon can potentially adapt Adidas's strategy by developing unique materials or technologies. Adidas has benefited from continued strong consumer interest for its Boost technology, as well as impressive strong revenue for the newer $100 AlphaBOUNCE shoe.
Both "Boost" and "AlphaBOUNCE" technology are difficult to emulate. A large amount of hype surrounds the company's products, part of which comes from its ongoing partnership with rapper Kanye West.
These are important elements Lululemon is lacking in: unique patented materials or technologies and strong celebrity partnerships. It can be very concerning, as once the company's branding power or promotions weaken, there is nothing concrete that backs up its products.
Customer Loyalty
Despite the similar combination used in Luon and Pilayo, Lululemon can charge around $30 more than Athleta for a pair of basic yoga pants. As we discussed above, the company's brand image plays a role, but customer loyalty also comes into play.
According to retail expert Robin Lewis, Lululemon creates a neurologically addictive experience for its customers. Examples of these experiences are the free Sunday morning yoga classes and run clubs. These experiences are addictive because they are co-created and are new, different and unique, which makes the brains release dopamine each time, giving customers the urge to go back.
On my visit to the store on Sunday, the free yoga classes had already finished. But staff told me that the classes are very popular, as you can borrow yoga mats free from Lululemon. This not only promotes the brand, but also increases the popularity of yoga.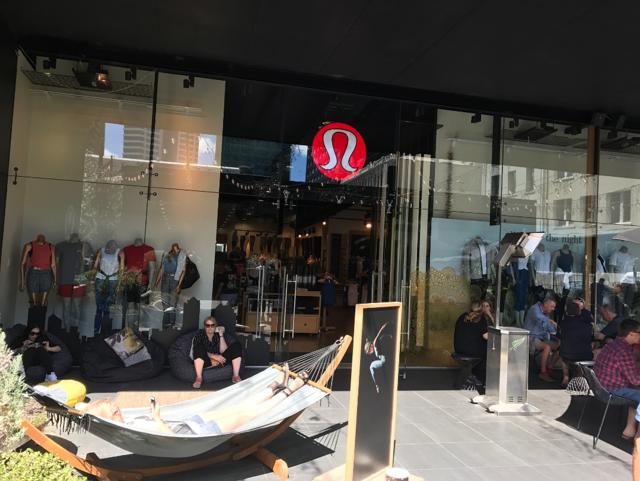 According to a Reuters report, customer loyalty among 25-35 year olds in U.S. is 55% for Lululemon, which ranks the highest among its competitors.
Competition
The company's key competitors include Athleta, Nike, Adidas, Skechers (SKX), Gap and Under Armour.
Within the competitive athletic apparels segments, Lululemon grew at a rapid pace in comparison to its competitors. Especially from 2011 to 2013, Lululemon stock price grew at a rate well beyond that of its competitors. But as the company's slows down, will the stock be considered too expensive?

(Source: Google Finance)
With a 2017 estimated P/E ratio of 30.40X, Lululemon has the second-highest P/E ratio among its competitors, but it also has the second-highest growth estimate in revenue, at 18.60%. At a current price of $63, is Lululemon too expensive to invest in as a growth stock?
Comparisons 2015-2016
P/E

2017

Operating Margin

Net Margin

ROE

Revenue growth

Operating income growth

Lululemon

30.40X

17.91%

12.91%

25.13%

18.60%

13.90%

Nike

24.71X

13.91%

11.61%

30.12%

9.5%

4.1%

Skechers

15.81X

10.36%

6.81%

16.61%

12.6%

5%

Adidas

30.65X

6.26%

3.75%

13.19%

14.05%

27.66%

Gap

11.96X

9.65%

5.82%

33.29%

1.4%

-19.3%

Under Armour

41.10X

8.65%

5.33%

10.70%

20.9%

1.4%
(Source: GuruFocus, 4-trader and Simply Wall St)
Using 2016 data, Lululemon has the highest operating margin and net margin among its competitors, and this could be due to the company's high-end positioning. With such a significant revenue growth, Lululemon does seem quite attractive to some investors. But as the market becomes more competitive, margins for most companies within the industry have already declined year by year.
Lululemon pays a lot more attention to its yoga series, which is mainly targeted at female customers, while its competitors such as Nike, Adidas, Skechers and Under Armour have heavily invested in the footwear industry.
Hence, Lululemon's biggest competitor is actually Athleta, a fitness apparel brand exclusively for women. It was acquired by Gap in 2008 for $150 million, and the brand has opened more than 120 stores since acquisition. Sales for Athleta, Intermix and, beginning in the fourth quarter of fiscal 2016, Weddington Way, total $776 million. (Sales numbers for only Athleta were not available.)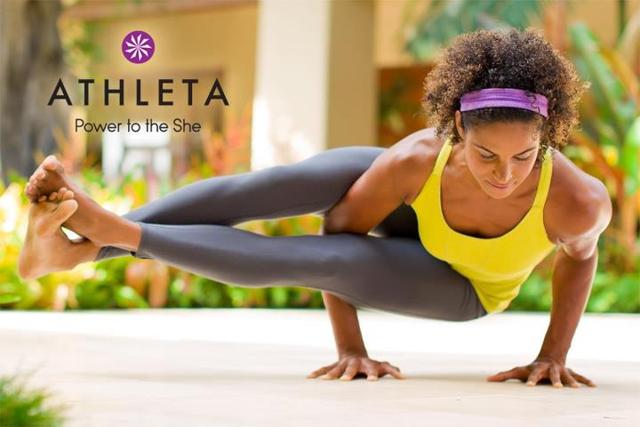 Despite both a lower sales number and the amount of stores in operation, Athleta is becoming a serious challenger, especially with e-commerce.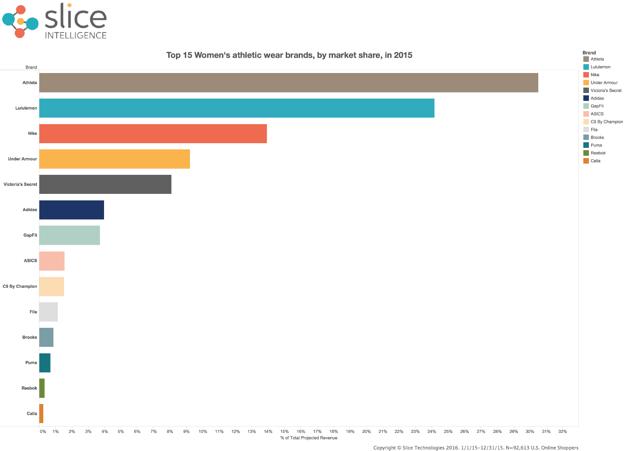 According to Slice Intelligence, Athleta leads the women's fitness apparel sales in 2015 with 30% market share, followed closely by Lululemon and Nike, which hold 24% and 14% market share respectively. But this only measures digital commerce directly from the consumers.
For the fiscal 2015, Lululemon's comparable store sales increased 4% on a constant dollar basis and direct to consumer net revenue increased 30% on a constant dollar basis. This is a significant increase, as the apparel, footwear and accessories retail e-commerce revenue growth in the United States is expected to be only around 11.27%. Direct to consumer net revenue was $401.5 million, or 19.5% of total company net revenue in fiscal 2015, an increase from 17.9% in fiscal 2014. We will continue to expect direct to consumer net revenue to increase, while taking a bigger share of the total revenue.
The rapid increase in direct to consumer net revenue indicates that consumers are more willing to purchase online, so it is important for Lululemon to capture the opportunity and increase its market share. The company may have to consider putting in more resources in this segment as opposed to opening more physical stores.
Popularity of Yoga
Lululemon is a yoga-inspired athletic apparel company and is heavily invested in its yoga series. Its fortunes are highly correlated with the popularity of the sport.
A new survey conducted by Yoga Alliance and Yoga Journal reports that the number of Americans doing yoga has grown by over 50% in the last four years to over 36 million as of 2016, up from 20.4 million in 2012. Also, 9 out of 10 Americans have heard of yoga, 1 in 3 Americans has tried yoga at least once, and more than 15% of Americans have done yoga in the last 6 months.
The popularity of the sport will not only boost the revenue for Lululemon's yoga series, but at the same time, gives the brand more exposure and potentially increases revenue in other series that are not related to yoga.
If yoga does indeed turn into a popular sport, Lululemon may become the go-to brand for people who practice it, just like Nike is the go-to brand for most people who play basketball, where the company dominated 95% of the basketball sneaker market in 2014.
Fundamentals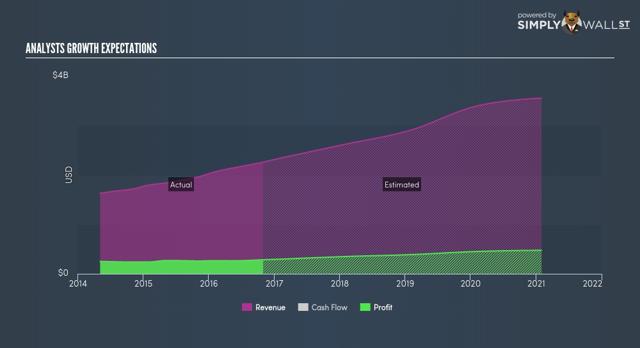 Lululemon's revenue is expected to grow at a sustainable pace. The graph below shows analysts' growth expectations for the next five years. Revenue is projected to grow from $2,061 million in 2016 to $3,682 million in 2021.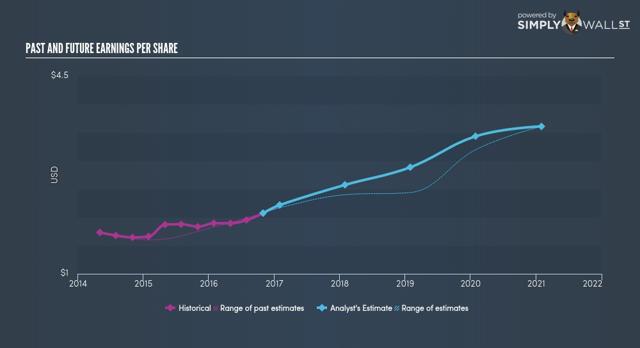 EPS is expected to increase steadily over the next few years.
Based on the current forecast, Lululemon trades at a current P/E multiple of 30.40X, which is slightly higher than the industry average of 25.5X.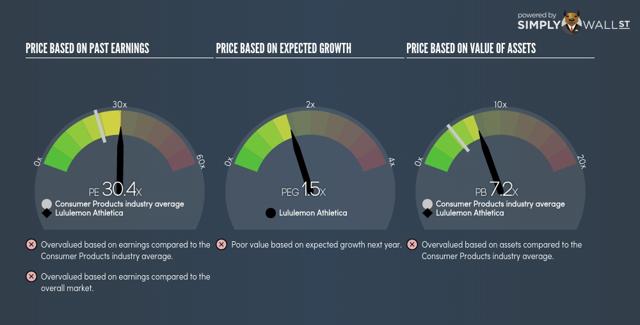 Regarding profitability, its 25.1% ROE and 17.1% ROA are both slightly higher than the industry average, while its ROC of 31% is significantly higher than the industry average.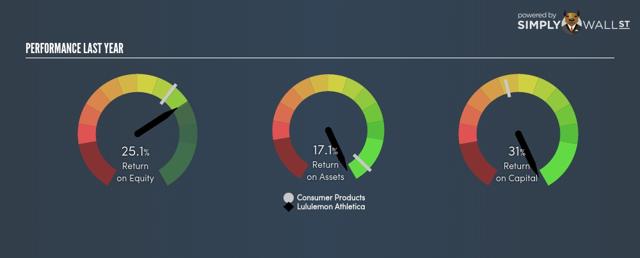 In addition, the company has no debt and is showing fantastic financial health.
Valuation
On a cash flow basis, Simply Wall St considers Lululemon to be significantly overvalued.

The calculations below outline how an intrinsic value for the company is arrived at by discounting future cash flows to their present value. Simply Wall St uses analysts' estimates of cash flows going forward 5 years...
5-year cash flow forecast
| | | | | | |
| --- | --- | --- | --- | --- | --- |
| | 2017 | 2018 | 2019 | 2020 | 2021 |
| Levered FCF (USD, millions) | $205.45 | $250.31 | $315.33 | $419.60 | $483.37 |
| Present Value Discounted (@8.5%) | $189.37 | $212.65 | $246.91 | $302.84 | $321.55 |

... leading to a present value of the next 5 years' cash flows to be $1,273 million.
Terminal Value is calculated as follows:
FCF2021 × (1 + g) ÷ (Discount Rate - g).
This gives the following estimate:
$483 × (1 + 2.5%) ÷ (8.49% - 2.5%)
Terminal Value based on the Perpetuity Method, where growth (G) = 2.5%: $8,222 million. The growth rate of 2.5% assumed by Simply Wall St seems very conservative. Analysts estimate between 13.6% and 20% long-term growth. However, using their 2.5% growth estimates, the present value of terminal value is $5,470 million.
The equity value is calculated as follows: Present value of next 5 years' cash flows + terminal value.
Arriving at a valuation of $49.1: Total value / Shares Outstanding ($6,743M / 137 million)
The above valuation is based on a discount rate of 8.49%.
Integer Investments' Model
We prefer to rely on our own models. As always, we value a company based on three different measures: abnormal earnings growth, Graham valuation and residual earnings. We apply a WACC of 7% (GuruFocus identifies a WACC of 0.97%, but we believe that is far too low and unrealistic) and a long-term growth of 5% (below current estimates, but above Simply Wall St's 2.5% expectations) alongside a required return of 7.5%. Based on these assumptions, we obtain the following valuations:
Abnormal earnings growth: $29/share
Residual earnings (capitalized after 2 years): $79
Residual earnings (capitalized after 5 years): $65
Graham valuation: $16
Average: $47
But applying a Graham valuation to a growth stock is very conservative. If we remove the Graham number from the equation, we obtain a valuation of $58 per share. This is slightly below the current price of $62.93, indicating that at the current valuation Lululemon stock price does not offer great upside potential. If we assume growth of 6%, the valuation reaches $86 and $67 (removing the Graham valuation). It is difficult to correctly predict the exact long-term growth rate for Lululemon, but if an investor believes the company can offer a sustainable long-term growth rate higher than 5-6%, this can be a good entry point. If not, a better entry point should be awaited (see what happened with Under Amour).
Conclusion
Lululemon operates in a very competitive athletic apparel market, while focusing mainly on its yoga series, in which the company has shown to be a dominant player, with many great products and a very fashionable brand image that connects with its consumers. Lululemon has grown significantly with regard to sales and size. It is worth over $2 billion in revenue and owns nearly 400 stores across the globe. While the company's continuous expansion leads to higher manufacturing cost and, ultimately, declining margins, it still holds the highest margins among its competitors.
Lululemon's current competitive advantages of product quality, customer loyalty and patented material are allowing the company to charge a higher margin than its competitors. However, there are potential risks of imitation, which is already the case with its patented material. So, it is quite concerning whether its long-term growth rate is sustainable at anything higher than 5%. This is a solid company focusing on a sport growing in popularity. However, as the market has grown, it is attracting strong competitors with similar products at a lower price, which threatens Lululemon's margins. Therefore, going forward, it may be hard for the company to sustain its growth. Hence, at the current stock price, it offers limited upside potential. We will not invest at this stage, since we already own Nike and believe it is a higher-quality company at a reasonable valuation, but we will revisit Lululemon stock if it becomes undervalued.
As always, thank you for reading. If you wish to follow our future articles, just click the "Follow" button next to our name at the top. If you would like us to cover a company, please let us know in the comments. For information about Integer Investments, visit our website. Thank you for reading.
Disclosure: I am/we are long NKE.
I wrote this article myself, and it expresses my own opinions. I am not receiving compensation for it (other than from Seeking Alpha). I have no business relationship with any company whose stock is mentioned in this article.