Using and liking a product at times can result in a poor investment, other times it can result in an investment home run. The case of a poor investment is Fitbit (NYSE:FIT). It went public at $20.00, and today it hit a record low price of $5.38. On the flipside, users of the first iPhone released June 29, 2007, had great opportunity to purchase Apple at far lower prices.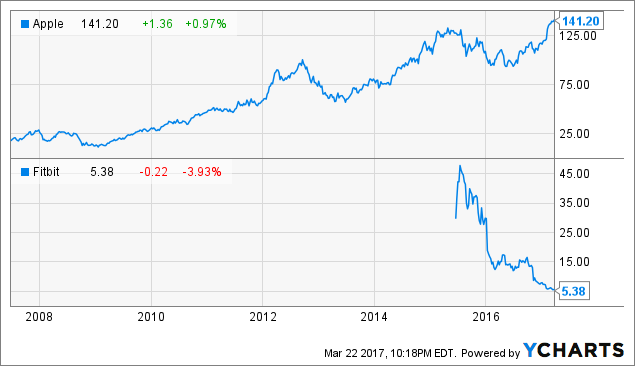 Fitbit has health trackers and a scale. A number of Charge HR devices have been purchased. I engage in challenges with friends and family. Challenges are a fun way to keep users engaged. The challenges center around the number of steps each participant takes for a day, workweek or weekend.
Amazon sells a number of Fitbit products; unfortunately, the Amazon App Store has a year old version of the Fitbit App version 2.20 versus the most recent version 2.45 on Google Play. It is not easy to know if the Fitbit app in use is the most recent. My BlackBerry with BB10 has a link to check if the current software is loaded. Hint to Fitbit for an improvement.
Fitbit indicates that it has a 81% share of the connected tracker market in U.S and a 19% penetration of the U.S. population. Fitbit has found it challenging to expand the market size for tracker products. This has resulted in lowered guidance and a sharply lower stock price.
My theory with the problem of increasing market penetration is in part the difficulty in giving a Fitbit as a gift. The tracker needs to be charged, that is not a major issue. However, the tracker firmware requires updating, and that is not easily done without tipping off the gift recipient, as an account is required to download the firmware. The gift giver can use their account, but it requires disabling their tracker, adding the new tracker and then reconnecting their tracker. It is a pain. The Aria scale will not synchronize if the Wi-Fi password is not all alphanumeric. Meaning a semi-strong network password is not acceptable.
Fitbit allows users to bond and push each other via challenges. However, users need the Fitbit App to join or accept challenges, as it is not possible to do from the fitbit.com dashboard. The Fitbit Community has asked since 2014, to be able to see and or join challenges from the website. The status of the thread says "declined" without a reason.
Data from Fitbit trackers can be downloaded into a spreadsheet, except for heart rate data for the Charge HR. The heart rate data is the only reason to have the Charge HR versus the Charge.
Fitbit Customer Support for products is outstanding. They go out of their way to solve or fix a problem. If only Fitbit's Investor Relations department were responsive. Calls to the investor relations number (414-604-4106) go unanswered and unreturned. The reply to email questions took time and contained no name. For a firm desiring to be considered a software firm rather than a gadget company its surprising a signature line is not in the email. It has been disappointing that Fitbit's investor relation department is not more shareholder friendly; however, it should have been expected because non-insider shareholders do not have a say due to the directors, executives, and holders of more than 5% of the stock having a substantial majority of voting power.
Bottom Line
It has been a financial blunder for this early Fitbit tracker adopter to invest in Fitbit's stock. It has been a very poor investment unless one was looking for a tax loss. A large tax loss was taken last year, and the position was re-established at much better price. However, all investors are under water with the stock hitting an all-time low today at $5.38.
Marc Benioff filed a Form 13G/A on December 31, 2016, indicating that he ceased to be a 5% owner. Mr. Benioff controlled 6,811,824 shares or 3.84%. At December 31, 2015, Mr. Benioff controlled 5.3% of the outstanding shares with holdings of 5,311,824 shares.
Fitbit may turn out to be a good long-term investment. However, investors must realize that their vote does not matter and getting information can be a challenge. Expanding the tracker market would help Fitbit increase sales; however, it does not appear that Fitbit wants to engage with shareholders or early tracker adopters to help increase the market.
Fitbit is a high-risk stock and only suitable for high-risk capital.
What are your thoughts?
Disclosure: I am/we are long FIT.
I wrote this article myself, and it expresses my own opinions. I am not receiving compensation for it (other than from Seeking Alpha). I have no business relationship with any company whose stock is mentioned in this article.
Additional disclosure: Looking to sell calls and or puts.