The market for stocks, like just about anything else, moves based on supply and demand fundamentals. If investors collectively grow impatient with a company's story, or decide their money is better off elsewhere, supply booms and the share price falls. This fact allows a company's stock to be abnormally risky even when the company's long-term strategy and growth opportunities are at their strongest levels.
For Starbucks (NASDAQ: SBUX) speculators hoping to make a quick buck, this is a phenomenon that could spur losses after the company releases Q2 earnings. Conversely, investors who "own, don't trade" the stock, will remain well-positioned to benefit from Starbucks' long-term growth prospects I have outlined for months.
Short-Term Uncertainty
These enterprising speculators, mentioned above, are taking on double the risk than they normally would going into a Starbucks earnings release. First, the company needs to prove to investors that recent traffic declines in the Americas were as much an anomaly as management claimed it to be. This issue is compounded by a second risk: investors may cool to the idea of Howard Schultz stepping down from his role as CEO during a period of subpar earnings.
In July, when the company reported flat traffic, CEO Howard Schultz called the quarter an anomaly. Then, in November, the coffee retailer reported negative year-over-year traffic and pointed to political uncertainty as a cause, with Schultz saying "everyone is hoping that post-election there will be a return to the natural state of affairs in terms of consumer behavior."
And now, after the company's most severe traffic downturn in years -- which is still just a 2% year-over-year decline -- Starbucks' management team remains confident in the company's future, reaffirming their previous guidance of mid-single digit comparable same store sales (Comp sales) growth for full-year 2017.
Evidenced by the stock's 5% run since November, the market has largely written off Starbucks' slight stumbles as just that: slight stumbles along a trajectory of long-term growth. However, a third consecutive quarter of declining traffic in the company's primary market would be genuine cause for a market sell-off. Three's a crowd, not an anomaly.
As highlighted by the moving average line in the chart below, traffic growth at Starbucks is becoming about as consistent as the company's ticket changes. One more decline in traffic would cause many impatient investors to flee the stock, since no company -- even an operator as consistently strong as Starbucks -- can point to lackluster results as just an anomaly for four straight quarters.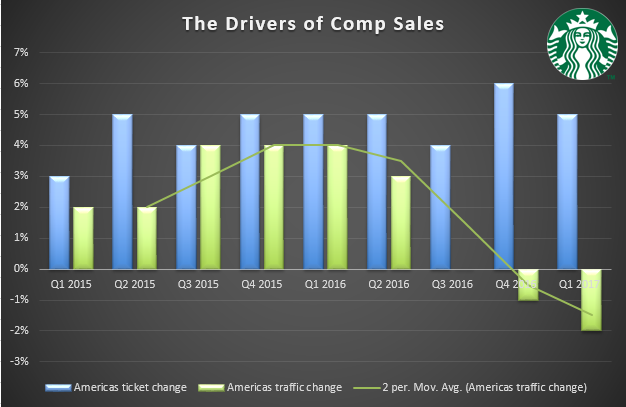 Source: Author generated with data from company filings
Another miss this quarter will lead many investors to grow impatient and abandon the stock: is Starbucks really just another retailer stranded in a rapidly evolving world? Such worries will be compounded by Howard Schultz's official transition away from his role as CEO, with Kevin Johnson set to assume responsibility on April 3rd. Skeptical investors who have hung onto the stock due to their belief in Howard Schultz's ability to lead through a changing environment will surely consider abandoning their position if Johnson is going to be tasked with mounting challenges on Day 1.
Questions will be raised about Starbucks' fate if Johnson inherits another disappointing quarter, no matter how capable Kevin Johnson is to lead Starbucks, and no matter how smooth the transition currently looks to be after Schultz handed him the "key to the company" at the company's annual meeting Wednesday. Questions, even if divorced from the underlying reality, are enough to shoot a company's stock price lower. In the short-term, perception can rattle a market, and the above risks can combine to create the perfect perception storm for bears as the financial media begins to dramatically ponder the fate of post-Schultz Starbucks.
There also remains plenty of room for analyst downgrades if the quarter disappoints again, as the vast majority of analysts covering Starbucks have a "Buy" rating; zero analysts, according to Bloomberg, had a "Sell" rating on Starbucks at time of writing.

Source: Bloomberg
The Unique Problem
There are reasons to believe the pattern of declining traffic will continue for at least another quarter: retail as a sector itself is still ailing and the company's solutions to its unique problem -- being a victim of its own Mobile Order and Pay success -- require much longer than one quarter to fully implement.
Starbucks is struggling with operational challenges around the implementation of Mobile Order and Pay, which accounted for 7% of total transactions last quarter. After baristas struggled to manage the flow of mobile orders, poorly controlled chaos swept across Starbucks stores, a phenomenon financial media personality Jim Cramer extensively covers on air and on Twitter. Customers have come to expect large pits of people cramming near the pick-up space while uncomfortably waiting for their drink. Worse yet, customers waiting in the traditional lines seeing the chaos may just walk away, or feel alienated by Mobile Orderers who appear to be cutting them in line.
Mobile Order's success, and the operational issues it posed, was largely blamed for the company's recent lackluster performance. The company appears ready to combat the challenge, with solutions to the chaos that include adding baristas at peak times, reconfiguring the layout of stores to be more conducive to the new business model, and testing text notifications to alert customers.
All of these things, except perhaps adding baristas, take more than a quarter to implement. The company cannot master the layout of its stores overnight and reconfigure them to solve all the company's issues. Baristas will have to be retrained, perhaps multiple times, to deal with reconfigurations of their work routines so as to accommodate the burgeoning mobile business. And Starbucks will take time to find the optimal technological side of the app and the way it complements in-store operations without alienating those waiting in the normal line in order to maintain rattled consumers. As a result, the negative pressure the challenge of efficiently integrating mobile orders into the functioning of a store places on traffic will be present again throughout the present quarter.
Conclusion:
The long-term opportunity Starbucks presents to shareholders (as I've detailed here, here, and here) is not disrupted by the company's short-term challenges. After all, the company's principal problem is having too much demand to efficiently handle.
Now, I have no doubt that Schultz is to be trusted in saying "We are now laser-focused on fixing this problem, but the nature of it--too much demand--is an operational challenge we have solved before and I can assure you we will solve again." The fact remains that this will take time, time that some investors may not be willing to wait.
As a result of this, Starbucks' share price will likely suffer in the near-term if Mobile Order again deters traffic this quarter, making a bet on earnings particularly risky. Luckily, Starbucks is dead set on not allowing any drama in the short-term to impact how it operates, with Schultz stating that "We've always taken the long view, never succumbing to short-term pressures and the mentality of others, but being true to the long-term aspirations of building a great and enduring company."
I will be waiting until after the upcoming Earnings Release to potentially initiate a stake in the company, as the combination of short-term risks could create a much more favorable entry point if a sell-off occurs after earnings. Shareholders looking for a short-term gain must recognize the risks inherent in doing so, and long-term investors must be committed to evaluating the company's progress rather than fixating on any individual issue.
Disclosure: I/we have no positions in any stocks mentioned, and no plans to initiate any positions within the next 72 hours.
I wrote this article myself, and it expresses my own opinions. I am not receiving compensation for it (other than from Seeking Alpha). I have no business relationship with any company whose stock is mentioned in this article.
Additional disclosure: In the past, I have served as a barista at a licensed Starbucks store and interviewed for an internship with the company.