Last week, there were rumors that Nelson Peltz's Trian Fund was trying to push General Electric's (NYSE:GE) CEO, Jeffrey Immelt, into retirement and the rumors instantly pushed the company's stock price up by ~2%. It turns out that these rumors may be true because I received the email below from GE's investor relations department: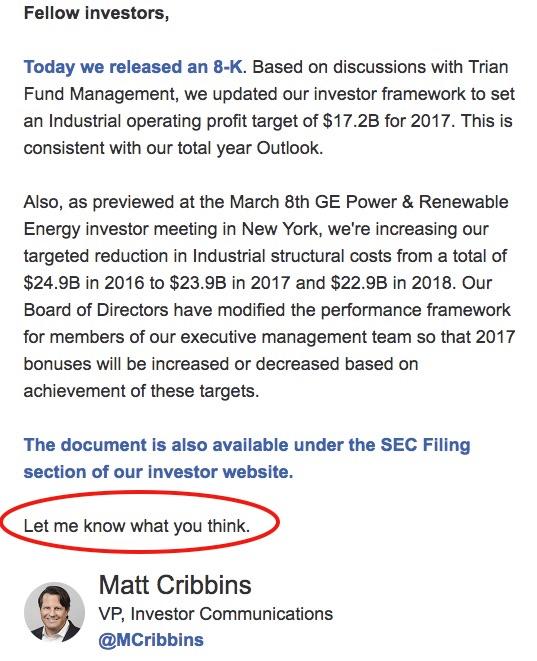 My advice to investors is to welcome the pressure that is being applied by Nelson Peltz's Trian Fund and to ignore the recent noise related to GE's use of non-GAAP (Generally Accepted Accounting Principles) measures, because this industrial conglomerate is well-positioned for the future and the stock will likely outperform the broader market through 2018. Therefore, long-term investors should treat any pullbacks as buying opportunities, especially if the activist fight and/or the non-GAAP noise causes shares to selloff.
Nelson Peltz Is Here To Save The Day
To answer the question posed in the email, I think that the Trian Fund, and more specifically Nelson Peltz, has more pull than what many people previously thought, including myself. Moreover, I believe that the latest decision by GE to update the investor framework "based on discussions with Trian Fund management" shows that Nelson Peltz will now keep GE's management in check.
Mr. James ("Jim") Cramer often talks about Nelson Peltz's Trian Fund on his Mad Money show and Mr. Cramer's takeaway is usually that investors are in good hands when they follow Peltz into new positions (see this report for a recent example). Not every "Peltz trade" works but the Trian Fund has a proven long-term track record of creating shareholder value by forcing management teams to implement significant changes that otherwise would not have occurred.
The latest GE 8-K (and email above) shows that the Trian Fund is making demands and that GE's board is willing to listen. The two paragraphs below are from the 8-K:
On March 22, 2017, General Electric Company (the Company), based on discussions with Trian Fund Management (Trian), disclosed its investor framework to set an Industrial operating profit -[a] target of $17.2 billion for 2017, consistent with the Company's total-year outlook. In addition, based on discussions with Trian and as previewed at the March 8 th GE Power & Renewable Energy investor meeting in New York, the Company increased its targeted reduction in Industrial structural costs -[b] (which consist of selling, general and administrative costs, adjusted Corporate operating profit and other fixed product and service costs, otherwise referred to as "base costs") from a total of $24.9 billion in 2016 to $23.9 billion for 2017. The Company is also targeting reduced Industrial structural costs of $22.9 billion for 2018.

On March 21, 2017, in connection with the investor framework described above and based on discussions with Trian, the Company's Board of Directors modified the performance framework for the members of the Company's executive management team (consisting of the Company's CEO and each of his direct reports at the senior vice president level and above), so that their 2017 bonuses will be increased or decreased from what otherwise would be payable to them pursuant to the terms of the Company's annual cash bonus program, based on achievement of these targets. Specifically, (1) if both the Industrial operating profit target and Industrial structural cost targets for 2017 are achieved, bonuses will be increased by 20%; (2) if neither of these targets is achieved, their bonuses will be decreased by 20%; and (3) if only one of these targets is achieved and the other one is missed, there will be no impact on their bonuses. For 2018, the Company will review its performance framework with a goal to further align incentives around the most critical financial metrics driving long-term shareowner value.
As described by the company, GE is not only adjusting several industrial financial targets based on discussion with Trian Fund's management team but the company is also linking executive bonuses to these new targets. This appears to be a last ditch effort to keep the Trian Fund happy and to avoid a messy shareholder battle. Additionally, this may be the last chance for Mr. Jeffrey Immelt, CEO to save his job.
GE shareholders should view the financial target updates, in addition to the related bonus adjustments, as a positive development because it is shows that the board is willing to make changes in order to keep the activists at bay. Furthermore, the shareholders that believe that Mr. Immelt has never been held accountable since taking over as CEO (for example, read the comment section of this article to get a feel for how many Seeking Alpha members believe that Immelt should have been fired years ago) will have nothing to complain about because management now has to either put up or shut up. In my opinion, shareholders are in a win-win situation in that GE will either meet the 2017 financial targets, which will likely lead to a higher stock price, or the company will miss the financial targets and a new management team will be ushered in, which would also likely lead to a higher stock price. Yes, I am getting a little ahead of myself but it appears that Mr. Peltz is not happy and GE fully understand this.
Does GE Have An Accounting Problem?
Mr. Abba's Aces recently published an article that touched on a highly debated topic -- is GE's use of non-GAAP measures confusing investors. Before I provide my thoughts on this topic, let's first consider what management has to say about the use of non-GAAP numbers:
"We use non-GAAP metrics to manage our business. In general, they capture items that can be controlled by management and that reflect our continuing operations. We use these metrics internally to set operational targets and incentivize our leaders through our compensation plans, as well as externally in our investor framework. We believe that the focus on our ongoing operations is particularly important as we execute on the transformation of our business portfolio to focus on our core infrastructure businesses (for example, exiting most of our financial services businesses and acquiring Alstom). Below we explain key non-GAAP metrics that we use throughout this report, including how they differ from GAAP." -2016 Annual Report (linked below)
As described by management, the non-GAAP numbers are used to "manage our business" and "focus on our ongoing operations". Therefore, management is disclosing what they consider important to understand the businesses that will be around after the major restructuring is complete. Is this not the type of information that shareholders should also want to use to evaluate GE? I think so.
It is important for investors to understand both the GAAP and non-GAAP numbers but the company plays a critical role in helping investors better understand the non-GAAP adjustments that are being made each quarter. This is actually an area that GE has improved in over the years. For example, the one-pager below does a great job describing the adjustments that are made to get to the non-GAAP numbers.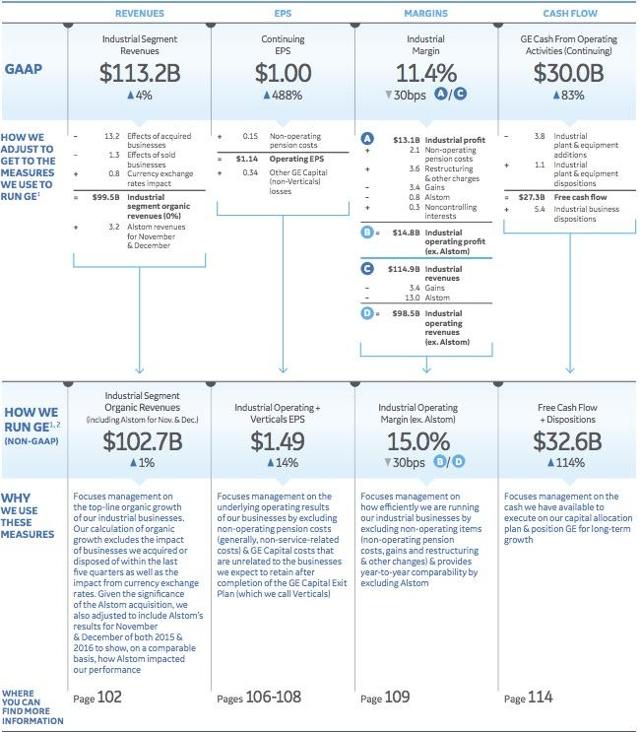 (Source: GE's 2016 Annual Report)
I am a certified public accountant by trade, so I am in no way downplaying the importance of GAAP numbers but, as a long-term investors, it is important to understand both the GAAP and non-GAAP figures. Personally, I believe that shareholders should ignore the "investors are confused by the use of non-GAAP measures" noise because, in my opinion, this should not be viewed as a concern as long as the company properly discloses the non-GAAP adjustments.
Bottom Line
I am on record for stating that Mr. Immelt should be given the opportunity to see his plan through 2018 but it appears that Mr. Peltz is not happy about the progress that is being made by the company. In addition, it should be noted that Mr. Peltz's requests are related specifically to the industrial financial targets so he is eliminating the impact of the financial engineering that has been occurring since the restructuring plan was announced, i.e. the focus is on dollar amounts and not per share metrics so buybacks will not be coming into play.
Additionally, GE's use of non-GAAP numbers should be viewed as a positive because it paints a clearer picture of where the company actually is, in my opinion, so this is no reason to sell your GE shares. GE is trading at a reasonable forward P/E ratio and the company is paying an above-average dividend, so long-term investors should sit back and get ready to enjoy the Peltz-Immelt show that will be playing out in the quarters ahead.
If you found this article to be informative and would like to hear more about this company, or any other company that I analyze, please consider hitting the "Follow" button above.
Disclaimer: This article is not a recommendation to buy or sell any stock mentioned. These are only my personal opinions. Every investor must do his/her own due diligence before making any investment decision.
Disclosure: I am/we are long GE.
I wrote this article myself, and it expresses my own opinions. I am not receiving compensation for it (other than from Seeking Alpha). I have no business relationship with any company whose stock is mentioned in this article.