Author's note: a more extended version of this write-up was originally posted last month in my Marketplace subscription, "Outsourced Analyst."
When you work on as many companies as I do, you build a mental list of "outliers" in a lot of dimensions - management (good or bad), business quality (good or bad), etcetera.
Forrester Research (FORR), the smaller (and maybe former) peer to Gartner (IT) in the technology-research space, was so strange to work on that it has created a new category of story all by itself: the unintentionally ironic stock. Over the past few years, Forrester has embarked on an "Age of the Customer" strategy to transition its business focus from selling technology research (wherein it has historically focused more on customer-facing "business technology" than back-end "information technology) to selling research on how to respond to increasingly powerful/demanding customers.
The definition of irony, for $500 please? Forrester's customers... don't like what they're selling. This is unfortunate, because as I explain in my Gartner write-up, selling technology research is actually a great business model in general - the value proposition to clients is strong (it is much cheaper than purchasing bespoke consulting and can help narrow down vendors and/or possible options before going the project route) and the recurring annual contracts with strong cash flow characteristics make it a hard business to kill even if you really try. To wit, while Forrester's revenue growth and margins haven't been anywhere near their targets for quite some time, the business hasn't imploded and still throws off strong cash flow despite sales force issues and the ongoing product transition.
Therefore, while there is a lot of "potential" here, if Forrester can boost its unit and dollar retention rates toward Gartner's, and leverage the signing of an external talent/RPO consultancy to improve persistent issues with its sales team, that potential has historically been dramatically underexploited despite what appears to be a strong brand and quality research (judging by the materials I've reviewed). On the basis of results today, the stock looks meaningfully expensive at the current price of ~$37.
Age Of The Customer: A Confusing Product Offering That Customers Aren't Ready For
In 2014, Forrester reoriented their strategy away from technology and towards "Age of the Customer," as Colony explained on the Q4 2015 call:
"Just to summarize, Forrester's strategy and focus is no longer about guiding companies to buy the right technology. We are about helping companies survive and thrive in an era of empowered customers."
Confused? Me too! This is further explained (unhelpfully) by the 2015 annual report: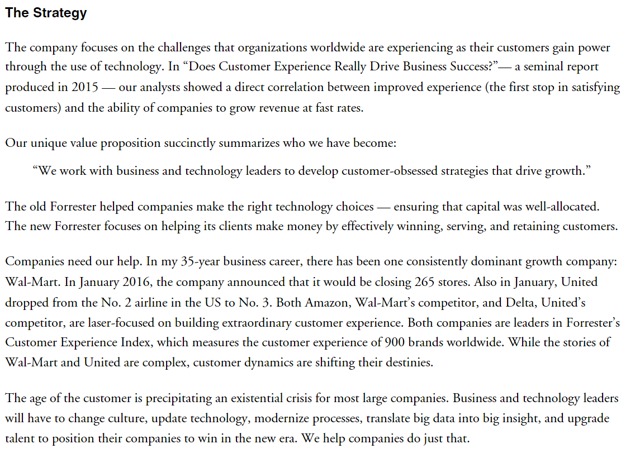 I watched founder/CEO George Colony's keynote at Dreamforce 2014 in an attempt to understand exactly what "Age of the Customer" was and I came away with… not very much. It was a presentation long on obvious premises and short on detail (in my view) - the general idea is that in the era of smartphones and Yelp reviews, customers have more power than they ever had (hence, "Age of the Customer,") and this makes back-end IT ("internal technology") less important and customer-facing "business technology" more important. It's a little self-serving, especially since the punchline is that… most Forrester customers have no clue what they're doing and need Forrester to save the day. (Which is a Steve Jobs-esque view of the customer that usually doesn't play well if you're not Apple.)
The issue is that it's not clear exactly what Forrester is doing. I've read the 10-K, eight conference call scripts, and a few pieces on their website, and I honestly can't make heads or tails of what their actual product offering is. I'm at the point in my development as an analyst where my usual assumption is that if two cups of coffee and three hours of reading don't help me understand your business model, then there's probably a good reason I'm not understanding it.
And indeed, Forrester seems to have literally abandoned a few pretty clear/good product lines to hawk "Age of the Customer" - to the disbelief of their paying customers… here is an exchange from the Q4 2015 call in February 2016, which is honestly one of the strangest exchanges I've ever read:
Mike Doyle, Forrester Research, Inc. - CFO [34]

So you had people who were no longer buying seats in those areas because it didn't exist anymore.

[...] I think when my expectation was that most of that would cycle through in 2014 and then 2015 would have a nominal effect, that wasn't the case. In actuality, it came close to our original forecast of erosion that we made three years ago and just happened to occur in 2015 as well. And so I think clients --

George Colony, Forrester Research, Inc. - Chairman and CEO [35]

I think clients didn't believe us.

Mike Doyle, Forrester Research, Inc. - CFO [36]

I think you are right, George.

George Colony, Forrester Research, Inc. - Chairman and CEO [37]

In the first 12 months. It took two cycles before they would really wake up and say, okay, these guys are seriously moving their business.
Unfortunately, retention has yet to improve, and 2016 results and 2017 guidance (merely 2% revenue growth at the high end, and sub-10% operating margins) don't show meaningful acceleration in the business.
Valuation
Forrester is one of those stocks that's a bit challenging because it seems to trade on "price-to-potential" basis rather than "price-to-results." At the current share price of ~$38, the market cap is ~$700 million (enterprise value of ~$560MM netting out the cash on the balance sheet). At the guided revenue (~$328MM) and guided pro forma operating margin (~11%), they should do ~$36MM in "pro forma" operating income, excluding $8MM of stock comp. Even before thinking about how to account for stock comp, the company is trading at >15x EV/EBIT and >25x EV/NOPAT - a total non-starter if you assume the business continues as-is.
The bull thesis would be that Forrester achieves its long-term targets (~18% pro forma operating margin and double-digit revenue growth), but history would suggest a healthy degree of skepticism. Below is a chart I prepared: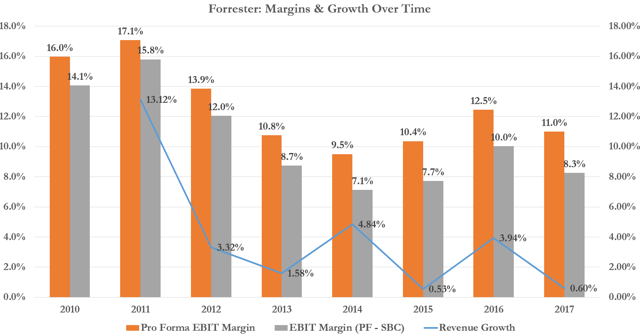 I think scenario analysis is helpful here. If you assume Forrester can get back to, say, 13%-14% pro forma EBIT margins, while growing double digits, even if you counted most of stock comp as a cash cost, you could certainly justify the current stock price - but does that seem like a reasonable "base case" to underwrite given history? (Especially considering the reflexivity - to get margin leverage, you need revenue growth on the salesforce investments you're making).
I'm more comfortable underwriting something like ~13% pro forma operating margins (giving them back a little credit for sales investments this year) and treating the majority of stock comp as a cash cost, getting me to more or less the same level of "true" EBIT as the pro forma guidance for this year (~$36 million). However, I'd only be willing to underwrite about ~10x that EBIT (~17x EV/NOPAT), given Forrester's inconsistent execution, and that gets me to a target price of about $27.
Conclusions
Forrester is a bit of an oddball - I don't understand why it's not a better business, and clearly there was at least some effort put into fixing the problems that cropped up in the 2012-2013 timeframe, but not a lot of progress seems to have been made. If the Age of the Customer strategy doesn't pay off - and soon - I have a hard time seeing Forrester sustaining its current valuation in the absence of a material tax cut (which would disproportionately benefit it, given the 40% statutory rate).
There is a price at which I'd own Forrester, as, conversely to my pessimism above, the business has survived (and even grown a bit!) and thrown off strong cash flow despite what seems like poor product and salesforce management. However, the current price implies a lot of optimism about a business that hasn't historically given investors much reason for it, and it's hard for me to believe that Forrester's AOC offering is extremely compelling if it isn't improving (and in fact appears to be dampening) their business results.
This article is part of Seeking Alpha PRO. PRO members receive exclusive access to Seeking Alpha's best ideas and professional tools to fully leverage the platform.
Disclosure: I/we have no positions in any stocks mentioned, and no plans to initiate any positions within the next 72 hours.
I wrote this article myself, and it expresses my own opinions. I am not receiving compensation for it (other than from Seeking Alpha). I have no business relationship with any company whose stock is mentioned in this article.