Event Summary
The lock-up period expires for Advanced Disposal Services (NYSE:ADSW) on April 4.
At that time, pre-IPO shareholders, including outside investors, directors, and executives, will be able to sell their 61.6M shares, which represent 73.5% of the total shares outstanding.

(S-1/A)
Downward pressure on stock price tends to be the strongest when a large percentage of total shares outstanding are restricted, the company's stock price is up from its IPO price, and outside firms hold a significant portion of the restricted shares.
ADSW's pre-IPO shareholders include three outside firms and five executive officers. We predict they may be eager to free up cash for other investments once restrictions are lifted. The three outside firms hold an aggregate of 71.49% of the total shares outstanding versus 1.12% for the total group of directors and executive officers.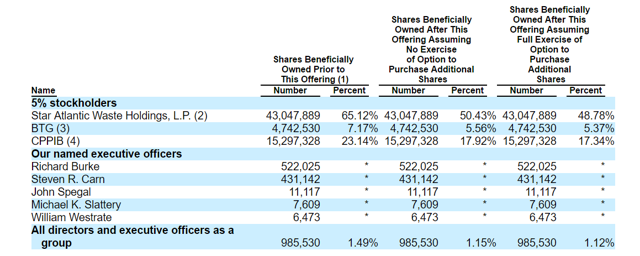 (S-1/A)
Business Summary
Advanced Disposal Services provides non-hazardous solid waste collection services, such as disposal, recycling and transferring services throughout the Eastern, Midwest, and Southeast regions of the United States as well as in the Commonwealth of the Bahamas. The company provides curbside collection of garbage in residential areas and delivery to disposal and recycling sites.
In addition, Advanced Disposal Services supplies industrial and commercial customers with waste containers; provides demolition and construction waste sites with rolling containers and waste collection, transportation, and disposal services; and rents or sells compactors through large waste generators. The company also engages in the landfill gas-to-energy operations at municipal landfills and management of third-party owned landfills.
Advanced Disposal Services serves approximately 2.7 million residential customers, 200,000 industrial and commercial customers, and 800 municipalities. Its network includes: 92 collection operations, 72 transfer stations, 21 owned or operated recycling facilities, and 39 owned or operated landfills. The company focuses its business primarily in non-urban, less densely populated regions that have limited options.

(S-1/A)
Management Highlights
Richard Burke serves as CEO and Director. Previously, Mr. Burke served as COO of ADS Waste Holding (Jan 2014-Apr 2014). Before that, he held various senior level positions at Veolia Environmental Services and Waste Management Inc. He holds a bachelor's degree from Randolph Macon College.
Steve Carn serves as CFO, Treasurer, and board member at Advanced Disposal. His previous experience includes senior financial positions at Town Star Food Stores, CFO Services, Inc., and Ernst & Young. Mr. Carn holds a bachelor's degree in business administration from the Ohio State University, and he is a certified public accountant in Ohio.
Strong Early Market Performance
Advanced Disposal Services made its market debut on October 5, 2016 and is up 31% from its IPO price (pre-market session 3.20). The company raised $347M through its offer of 19.3M shares at a price of $18 per share, which was the low end of its expected price range of $18-$21. The stock closed on the first day of trading at $20 and since then, has ranged between a low of $18.32 and a high of $24.10. Currently, the stock price is $22.74 (market session 3.22).
Financial Performance
On February 23, 2017, Advanced Disposal Services reported fourth quarter results. Highlights included:
Revenue of $352 million versus $349.6 million for the same quarter the prior year.
Fourth quarter net loss of $20.1 million, or $0.24 per share, versus a net loss of $8.8 million, or $0.14 per share, for same quarter prior year.
Fourth quarter adjusted EBITDA of $107.7 million, and adjusted EBITDA margins of 30.6%.
Full year revenue increased to $1,404.6 million versus $1,396.4 million for the prior year.
Full year net loss of $30.4 million versus $33.3 million the prior year.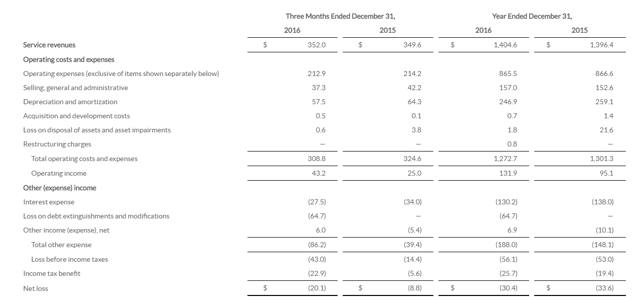 (Source)
Conclusion: Short Opportunity
Advanced Disposable Services is up over 30% from its IPO price, and we predict upcoming lock-up expirations will put downward pressure on the stock price on April 4, 2017.
As described in previous articles, our firm has found abnormal negative returns in the days (-11, +9) surrounding a particular sample of lock-up expiration events (day 0).
Given that outside investors hold such a large percentage of the total shares outstanding - if these firms decide to sell even a portion of their holdings, they could have a significant and negative impact on share price.
We therefore recommend outside investors consider selling their position or shorting shares before restrictions are lifted on April 4, 2017.
Don Dion's IPO Insights provides up-to-date information and analysis on the major IPOs each week, along with additional opportunities to invest and short these stocks at their quiet period and lockup period expirations, respectively. Consider following us at the link above. We will continue our PRO offerings on Seeking Alpha alongside our more exclusive research.
Disclosure: I am/we are short ADSW.
I wrote this article myself, and it expresses my own opinions. I am not receiving compensation for it (other than from Seeking Alpha). I have no business relationship with any company whose stock is mentioned in this article.