Summary:
Even with the lower share price and valuation, it's too early on Ascena retail group (NASDAQ:ASNA) The debt is too high and the balance sheet is too leveraged and the business is still in trouble.
Ascena retail group, Inc. is a leading national specialty retailer offering apparel, shoes, and accessories for women under the Premium Fashion segment (Ann Taylor, LOFT, and Lou & Grey), Value Fashion segment (maurices and dressbarn), Plus Fashion segment (Lane Bryant and Catherines), and for tween girls under the Kids Fashion segment (Justice). Ascena retail group, inc. operates ecommerce websites and approximately 4,900 stores throughout the United States, Canada and Puerto Rico.
(via earnings release)
Earnings:
Earnings are soft, traffic is soft, and customers are cautious. Generally, this is consistent in the retail group. I look for anything positive that companies are saying or doing that will change these trends. For Ascena, there was none.
Sales:
Net sales for the second quarter of Fiscal 2017 were $1.748 billion compared to $1.842 billion in the year-ago period. The decrease in sales reflected the impact of the 4% comparable sales decline. (via earnings PR)
Most recent quarter they reported a net loss on a GAAP basis for its fiscal second quarter ended January 28, 2017 of $0.18 per diluted share compared to a net loss of $0.12 per diluted share in the year-ago period. (via press release)
David Jaffe, President and Chief Executive Officer of Ascena retail group, Inc., commented, "Reflecting on our second quarter results, we saw a continuation of trends that have been in place for some time. While we remain generally pleased with selling performance during peaks, our base business remained soft due to ongoing store traffic headwinds and overall customer price sensitivity, which have become persistent issues impacting our larger sector. While our second quarter comp sales were in line with our guidance, we were forced to be much more promotional than planned to achieve this level of performance."
Ann Taylor Acquisition:
It's easy to criticize a company that makes an expensive, risky acquisition at the wrong time. But, that is essentially what happened with Ascena and the reason the shares are not more attractive, is because they are still digesting this acquisition. They need their cash flow to pay the debt.
Current and prior year second quarter results include certain acquisition and integration costs, as well as non-cash purchase accounting adjustments associated with the acquisition of ANN INC. (NYSE:ANN), which was completed on August 21, 2015. (via earnings PR)
Management:
From the conference call: David Jaffe, President and Chief Executive Officer of Ascena retail group
"We are developing advanced analytics and customer experience management capabilities that will enhance our opportunities to drive revenue and margin"
The shares are down 80% in the last 12 months, I doubt this is impressive to shareholders.
Capital expenditures
Capital expenditures totaled $48 million in the second quarter of Fiscal 2017.
Capital structure
The company ended the second quarter of Fiscal 2017 with total debt of $1.597 billion, which represents the remaining balance on its $1.8 billion term loan used to acquire ANN.
We will discuss the debt and capital structure later, but it is simply too high for a margin of safety in these shares.
Cash;
Investors should be aware that most of the company's cash is held outside the United States, $228M of the $300M. This isn't a huge issue, but it's an important detail.
(via earnings PR)
Price to Book
Again, the shares are potentially attractive based on the price to book but I think patience with these shares will yield a more attractive price as buyers in the sector are still hard to find.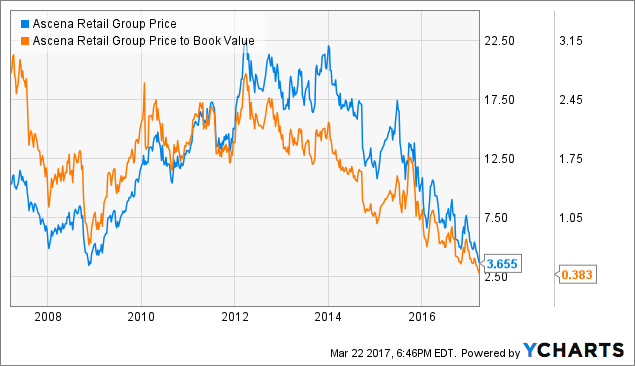 ASNA data by YCharts
Valuation:
Even though I don't like the debt level, the shares would be tempting below a valuation of 5 times cash flow.
And on the positive side, we see the extreme pessimism of the share price at bottom, but the cash flow is not as extreme, presenting the potential opportunity in the future if the shares were to drop further.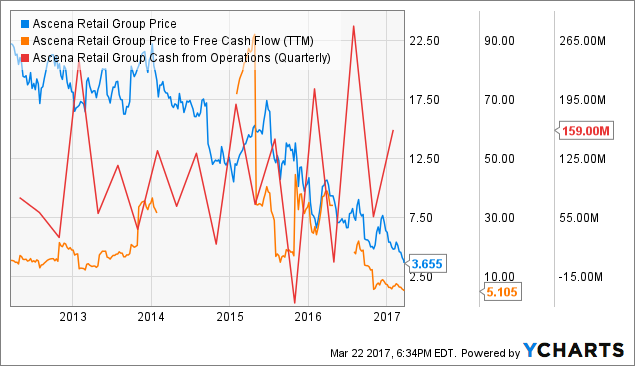 ASNA data by YCharts
Liabilities & Debt:
The company pursued a growth strategy at the wrong time and we see the debt and liabilities graphically displayed here. Debt is risk. So, the risk is off the charts literally.
Cash flow:
The cash flow definitely makes the shares more attractive and worth watching. Unfortunately, the company needs much of the cash flow to pay down the debt and the balance sheet is too levered to provide the margin of safety I would like.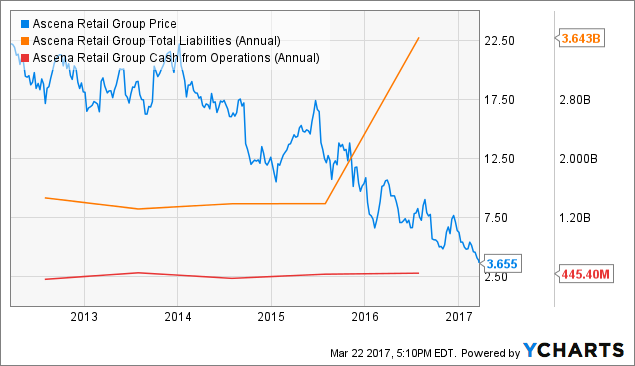 Technical Overview:
The shares have been in this serious decline for the past 12 months, along with the entire retail sector as we see below. The relative strength of the shares is 1 (via Marketsmith). That means the shares have underperformed 99% of stocks during the past year.
Unfortunately, even though the shares are deeply oversold, I think the shares are headed for the $3 level, where they would find support, from 2008 and 2003 levels.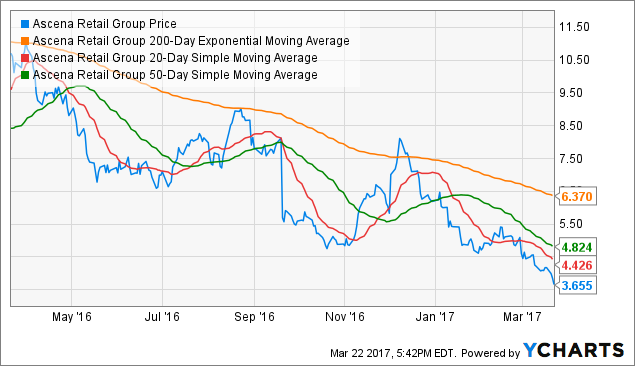 M/A:
The shares are too risky for a value investor due to the issues presented. However, the retail sector has been beaten down so significantly that it is possible that Ascena would be attractive either as a buyout by a private equity firm or a takeover.
Trading at five times cash is attractive to many firms. I am willing to take the risk that the shares get bought out and I am left behind, because there is still too much risk and the shares are not attractive on a technical basis.
It is hard to see the shares receiving a big premium in either case due to the ongoing issues.
Call Strategy:
If I already owned the shares, I might look to sell the May 19 $4 calls for .20 This creates a "synthetic dividend" of 5.47% for 59 days or 32% annualized.
I don't see a catalyst to the upside in the near term, so this makes sense to me as the investor would be paid to hold and have some downside protection. If the shares traded above $4, the investor would lose the shares, but make a return from here of 15% in 2 months, or 90% annualized.
Disclosure: I/we have no positions in any stocks mentioned, and no plans to initiate any positions within the next 72 hours.
I wrote this article myself, and it expresses my own opinions. I am not receiving compensation for it (other than from Seeking Alpha). I have no business relationship with any company whose stock is mentioned in this article.