Investors that want to beat the great oracle of Omaha may finally have their chance. Anyone that follows Warren Buffett knows that Berkshire Hathaway (NYSE:BRK.A) (NYSE:BRK.B) recently liquidated its position in Deere & Company (NYSE:DE) at an average price of $94 taking advantage of the Trump rally.
Why sell Deere now?
Even Warren Buffett doesn't buy and hold every stock forever, or hit the exact top. He obviously felt that Deere and Co. was fully valued in the $90 range. The stock is now $15 higher than Buffet's average selling price, market momentum is weakening and in my opinion the party in Deere is over for now and the stock is due a sharp pullback any day.
Here is a 2 year chart.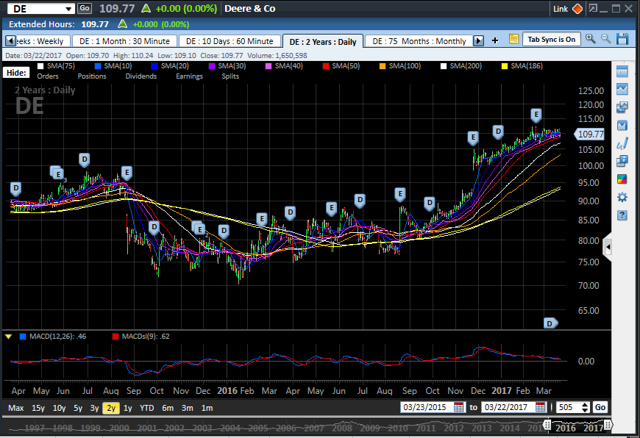 Investors can see from the chart above that the stock has enjoyed a great run, rallying from the low $70s to $109 in a year. I believe it is important to ring the register at times locking in profits before they turn into losses.
Ever wonder why a stock will continue going up after you sell it? In my view it has something to do with algorithms, computer programs doing the opposite of what you do as an investor. The same thing happens with big whale traders like Buffett. These moves are short term anomalies that will eventually revert back to the mean.
Market Sell-off on the horizon?
Just about everyone trading is expecting a violent sell-off at some point this year, the question is when? It feels a little like musical chairs at the moment, with everyone waiting for the music to stop. When market sell-offs happen, they can be violent and very quick.
Downside target potentials
I am marking three areas on the chart where I believe the stock will trade over the next 6 to 9 months and why I would avoid the stock or short it here.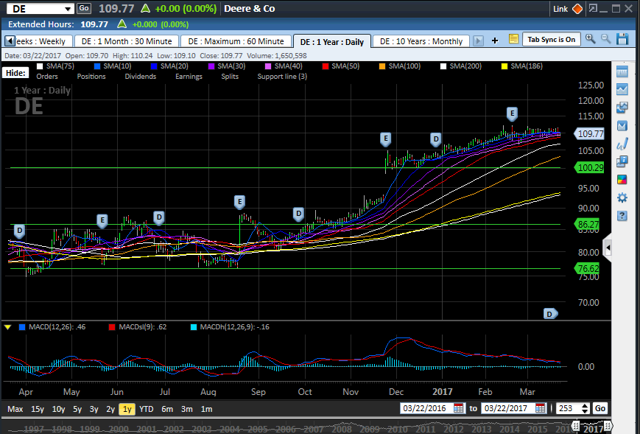 In analyzing the chart above, investors can see the gap up in November and the slow but steady grind higher as investors caught short feel significant pain.
Downside targets
I see the first downside move testing the $100 level in a market sell-off. If the stock cannot hold the $100 level, investors will likely witness a quick gap below $95 which is where the negative momentum and media comes in pointing to more weakness.
If the stock can't hold $95 then it could make a beeline to my second level of support at $86 which by the way, is weak support.
Depending on the market conditions and the actions of our government, the stock could base there for a while but as we all have witnessed; sell-offs have a climax and that will likely push Deere stock back down to the $76 level or lower.
Positive note
Deere is a great company, they have a wide moat and great stewardship for their shareholders. The corporation is doing a good job in managing their business but that does not mean the stock gets to continue the rally to infinity. I don't think Buffett was $15 wrong on his valuation of the company and the near term headwinds going forward.
Conclusion
Deere and Co. are up over 34% in the last year and due a substantial pullback. In my view the charts are telling me it is time to take your chips off the table and wait for a 25% pullback at a minimum. My 9 month price target is $78.
This is a technical trade for me, I believe the company will have issues with growing sales and revenue over the next year as comparables will be difficult going forward.
As always do your own research and always know your exit point before making any trade.
Disclosure: I/we have no positions in any stocks mentioned, but may initiate a short position in DE over the next 72 hours.
I wrote this article myself, and it expresses my own opinions. I am not receiving compensation for it (other than from Seeking Alpha). I have no business relationship with any company whose stock is mentioned in this article.