Citigroup (NYSE:C) is down 6% from the recent top, and this means a little more in this bank stock vs. similar moves in its peers. As we saw in my recent piece on Bank of America (NYSE:BAC), C is the only bank sporting a lower 2018 PE than BAC. Here is the table again as a reminder: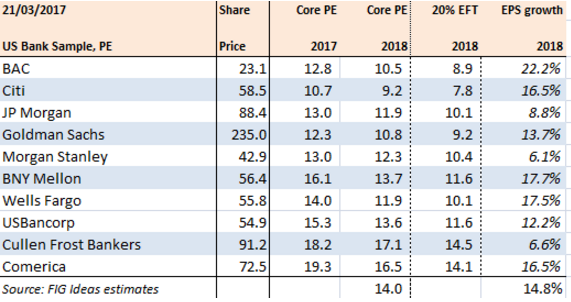 Why is the stock cheaper than the peer group of large, multinational U.S. Banks. My own guess at the reason is the massive amount of restructuring that Citi has had to undertake to make itself viable since the Financial Crisis. Let's face it, there is validity in asking whether Citi would be invented as is if it didn't exist.
That discussion remains pub talk though. As investors we can make money in banks that, when trading at a peer group PE happen to trade below book value per share. Should you be curious as to the link between PE and P/BV, it's ROE. The sub-BVs quote reflects ROE that market deems to be below the cost of equity.
A common snipe is for analysts to observe that the likes of Citi would be worth more if they wound themselves up, in so far as they could theoretically return 1x BV to investors in that situation. I find that argument facile (though I'd certainly employ it in asking management how they intended to improve returns!). These businesses aren't going to wind themselves up, they have strong capital ratios and decent capital return profiles that are driven by the price you pay for a combination of the capital they generate (earnings) and any excess capital they have on the books that may be eligible to be returned to investors.
Citigroup is a strong buyback stock. As I recommended in my last article on the group, a useful shorthand model to run in your head is $5.4 of EPS in 2017 rising to $6.7 in 2019, about half of this from buybacks, and today implying a PE of just 8.6x for that year.
On this framework then, if I am right that Citi is basically just emerging from a colossal restructuring that has clouded earnings visibility for a long time, the shares should gradually rerate. There's support in the mechanics of buybacks below book value per share for this view. Since these in themselves increase the residual BVS, there is a positive double whammy for shareholders minded to hold on. If Citi can improve ROE to a higher level over time, then whatever multiple of BV that the improving ROE warrants will apply to a higher dollar number for BVS.
Assume for the sake of the exercise that Citi keeps its common equity in the range of $205-209 billion from 2017-2019 (the 2015 level for reference was $205bn.). Also assume - as we did in the EPS guesstimate above - that the number of shares reduces by 6% annually over this period. From the 2016 equity of $205bn, we see that BVS of $74 will become ~$95 by 2019. Even absent an improvement in ROE by 2019, then, if Citi can simply retain the current multiple of trailing BV, then it will trade at $74 per share in three years' time; 28% higher.

What's exciting is that, since equity should remain broadly the same through this period growing net income for the group will also mean growing ROE.
Why won't Citi need greater equity? Because the company won't be expanding its risk weighted assets powerfully enough to need overall higher capital (it will continue to improve the mix of RWA, but absolute growth will be marginal). But with core revenue growing at 6% and cost control in very good shape, 5-6% this is a reasonable proxy for growth and thus ROE improvement over the coming years. And this is without aggressive assumptions on rate hike sensitivities and investment banking activity.
Rate hikes and an improving global economy will of course bring investors better EPS or, if you prefer, higher ROE, at Citi. This would increase the multiple of BV the market will pay for the shares. 9% ROE is eminently possible and 10% is realistically possible (if we have had five or six hikes by then) by 2020, which gets you as high as $100 per share. Citi is therefore clearly a potential near double on a 2020 view.
What might undermine this is that a higher share price earlier, makes buybacks less BVS accretive. But then of course the yield would improve.
Conclusion
Citi's EM businesses mean it isn't a pure U.S. economy "Trump" play. With Trump a little out of style, that might not be a bad thing. But away from the Trump axis, this stock has its own dynamics that make it the dark horse of the big banks: mechanistic progress towards higher BVS with plenty of reasons to be optimistic about improving ROE and thus a higher multiple of that BVS as it grows.
Disclosure: I am/we are long BAC, C.
I wrote this article myself, and it expresses my own opinions. I am not receiving compensation for it (other than from Seeking Alpha). I have no business relationship with any company whose stock is mentioned in this article.