Taro Pharmaceutical Industries (NYSE:TARO) has an interesting history, interesting ownership and an interesting balance sheet. In most cases, an "interesting balance sheet" suggests a negative surprise, but in Taro's case, it relates to the over $4 billion in cash. Taro is also able to generate significant amounts of free cash flow, which is why, although sales are expected to decline both this year and next, a simplified discounted cash flow [DCF] analysis sees solid upside potential and minimal downside risk.
Taro's interesting history referenced in the opening paragraph is explained well in this article. The near bankruptcy of the firm in 2007 is what led to its interesting ownership structure - the majority of the firm is owned by India's largest drug company Sun Pharmaceutical (OTCPK:SMPQY), which tried unsuccessfully to acquire the remaining stake in Taro back in 2013. While another takeover offer seems reasonably likely at some point down the road, this article will focus on Taro's valuation as a stand-alone entity.
Note: I invite you to read my original article that outlines the DCF sensitivity analysis methodology. The basic idea is that since the results of a DCF analysis can be heavily skewed by making minor changes to the terminal growth rate or WACC (weighted average cost of capital), I have used a range of long-term growth rates and discount [WACC] rates in my analysis below. By using one's own estimate of long-term growth and an appropriate WACC (discount) rate, each individual investor can come up with their own target price for the security in question.
Taro's previous five years of results are as follows:

The firm's strong profit margins translate into an average Operating Cash Flow to Revenue Ratio of nearly 42%. In addition, capital expenditures have been averaged approximately 2% during this time. The DCF model assumes that these figures will remain constant moving forward.
Using the analyst consensus revenue forecasts for 2017 and 2018 (source: Yahoo! Finance) leads to the following pro-forma free cash flow [FCF] projection. One issue with Taro is that only one analyst has made revenue forecasts for 2017 and 2018. The projections suggest that sales will decline 5% this year and an additional 7% in 2018. For the purposes of the model, these estimates have been used and revenue is expected to remain flat thereafter. The sensitivity analysis at the end of the article allows the reader to see how the model's share price fluctuates based on changes to the projected long-term growth rate, which is assumed to be 0% in the base case.

These free cash flows (along with a terminal free cash flow estimate) are then discounted back to the present time using Taro's projected cost of equity. Various different estimates of its beta are available depending on the time frame used, but as per the explanation in this article, the "adjusted beta" of Taro was calculated to be 0.97. Based on a 8% market risk premium and risk free rate of 2.5%, Taro's discount rate is estimated to be 10.3% (which is used in the base case).
The model is then adjusted for Taro's debt (none) and immense $1.11 billion cash hoard (equal to $27 per share, as per Yahoo! Finance). The resulting model price is equal to its current share price, suggesting the market is valuing Taro's shares approximately fairly: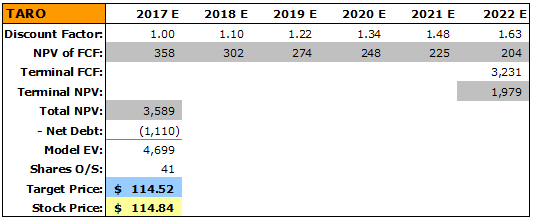 However, my favorite part of this DCF model is the sensitivity analysis. The below table allows the reader to view the results of 35 different iterations of the model using a range of long-term growth estimates and discount rates. The target prices range from $102.65 to $168.75 - the cell highlighted in red is more than 10% below the current share price, while those highlighted in green are more than 10% above the current share price:

The risk/return profile of Taro appears to be asymmetric - that is, there are more scenarios where the share price is worth substantially more than it is currently trading at and only one scenario where the share price is worth substantially less than it is currently trading at. Add in the potential that Sun takes another run at the remaining stake at the company and the result is an investment with seemingly limited downside and plenty of upside potential.
With no debt and mountains of cash on the balance sheet and strong free cash flow generation, it is not surprising that a DCF views Taro in a positive light. Assuming any sort of long-term sales growth makes the risk/reward profile of Taro Pharmaceutical even more attractive.
Disclosure: I/we have no positions in any stocks mentioned, and no plans to initiate any positions within the next 72 hours.
I wrote this article myself, and it expresses my own opinions. I am not receiving compensation for it (other than from Seeking Alpha). I have no business relationship with any company whose stock is mentioned in this article.